Making Podcast content easy to Search, Find & Retrieve
In May 2020, comedian and podcaster Joe Rogan announced that he had signed a multi-year licensing deal with Spotify, worth an estimated $100 million for his podcast, The Joe Rogan Experience. Podcasts had finally come of age, even though their origins can be traced as far back as the 1980s, and then saw a massive jump in popularity with the launch of the iPod in the early 00s. The word podcast is, in fact, a mash-up of iPod and broadcast. Aside from videos, podcasts were the second fastest growing medium of "the '10s". This growth doesn't appear to be slowing down as 2020 marked the first year ever that more than 100 million Americans listened to at least one podcast per month. Podcasts usually consist of a series of episodes of spoken audio files that a person can download to a smartphone, tablet, or computer for convenient listening. Some of the most popular podcasts today are Do No Harm, The Dan Bongino Show, Dr. Death, and The Ben Shapiro Show.
Who listens to Podcasts?
Marketers and podcast producers are always looking to reach unique, targeted audiences. Marketers are in search of media environments that people find engaging, while podcast producers are looking to attract audiences that are drawn by relevant content topics and quality material. There are only a few brands out there who have truly hopped on the podcast train and are riding it hard like McDonalds, Johnson & Johnson, GE and Canadian start-up darlings Slack and Shopify. Here are some crazy Top 5 2020 podcast stats aggregated from various sources by Musicoomph:
37% of Americans listen to podcasts at least once a month

24% of Americans listen to podcasts weekly

46% of podcast listeners are between the ages of 18-34

Podcast listeners are 45% more likely to have a college degree

Podcast listeners are 37% more likely to have $100,000+ in annual income.
In short, podcasts reach young, affluent audiences who are engaged by engaging, longer content.
What are some basic Podcast formats?
Globally there are more than 1-million active podcasts and more than 30 million podcast episodes. In over 100 languages. The content of podcasts span a variety of different formats, subject matter, topics and themes. You can find podcasts on almost any subject, from artificial intelligence, to true crime to erotica. This amount of variety is one of the main reasons podcasts have been so successful in attracting a number of different audiences and micro-audiences. Some conventional podcast formats are:
Interview. Example: The Art of Manliness
Monologue. Example: Slate's The Gist
Panel. Example The BeanCast
Storytelling. Example: Radio Lab
Theatre: Example: We're Alive
The Mash Up: WTF with Marc Maron
Old is New: Ted Radio Hour
The most popular podcast themes are Society & Culture, Business, Health, Comedy, and News & Politics. With so many hours of podcast audio, and format types, spanning across an infinite number of subject categories, the job of quickly and accurately retrieving specific content from podcasts can be a very long and tedious task. That's where Semantic Search for Audio comes in.
What is Semantic Search for Audio & Podcasts?
Using Semantic Search for Audio makes your podcast files easily searchable by semantically indexing the content of your data. Users can search your entire audio catalog for the exact content they want without any manual tagging on your end.
Semantic search for audio provides customer service teams, podcast producers, marketing departments, and heads of sales the power to search audio files by specific topics, themes, and entities. These entities include celebrities, politicians, locations, and more. Semantic search automatically annotates your podcast data with semantic analysis information without any additional training requirements. Just plug it in and get to work!
With semantic search, find anything you need at the click of a button. Say goodbye to hours spent listening to audio files and have access to what you need at your fingertips.
What are the benefits of Semantic Search for Audio?
Using Semantic Search for audio analysis, you can easily index, search, and discover topics, themes, and entities. Using this audio content analytics tool, you can also conduct sentiment analysis on your audio files to derive sentiment for keywords and topics.
The biggest challenge for quality audio content analysis tools lies in their innate ability to not only search and organize, but also access assets in a semantically relevant way. Rather than having your team manually listen to a full audio file and guess at relevant keywords and the emotion behind the voice, Semantic Search for Audio analysis offers a dimensional search and browsing interface for operating in podcast collections. This makes it easier than ever before to unlock the potential of your audio library, no matter how complicated the search seems. There are hundreds of audio analysis tools out there, but nothing compares to what Semantic Search for Audio can do for you and your business.
How does Semantic Search for Audio find content themes, topics, and entities in Podcasts?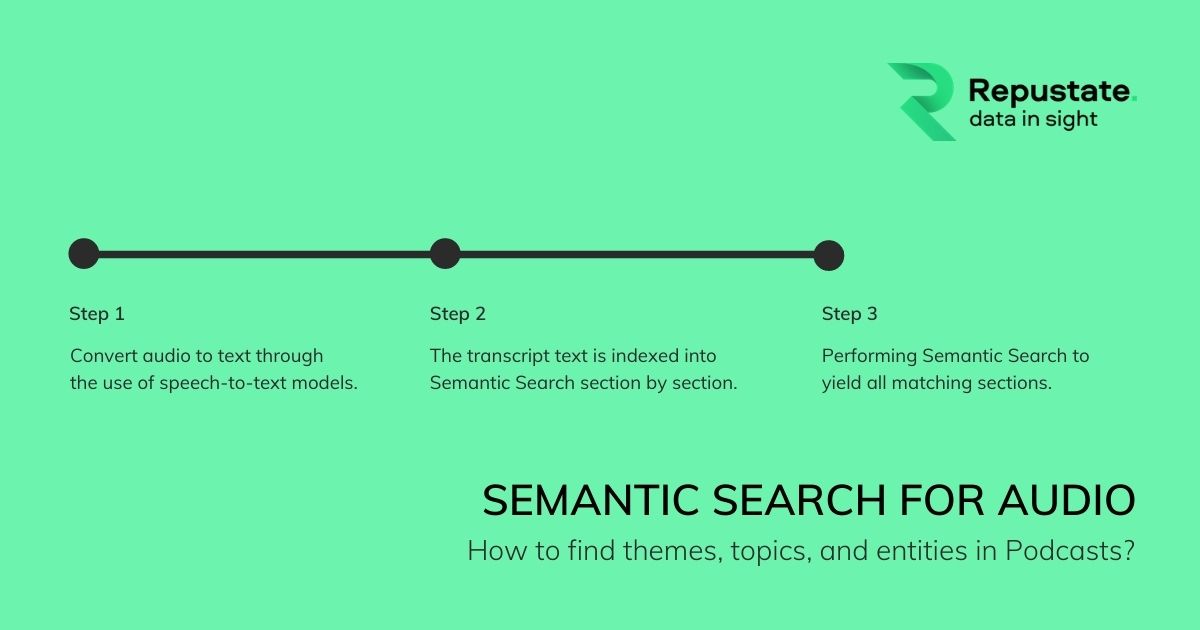 Semantic Search for Audio extracts semantic insights from your podcast content using a multi-phase approach:
First, it converts audio to text through the use of speech-to-text models. These models are unique to each language and are built using neural networks. This yields a transcript of the speech along with the timestamps for each word.

The transcript text is indexed into Semantic Search for Audio section by section. Audio can be broken up into smaller sections based on longer pauses or changes in the speaker. By analyzing it section by section, you get enough context to correctly identify entities, but not too much content as to lose the ability to associate entities with granular enough timestamps.

You then have timestamps of podcast audio associated with entities, themes, and topics found in the text, along with the associated metadata. Performing Semantic Search will now yield all matching sections, which in turn refer to snippets in the podcast's source audio.
Podcast content analysis highlights the entities found at each timestamp, allowing the user to scrub to the exact point they want for the precise content they want.
Repustate's Sentiment API can help you quickly and accurately discover all the topics, themes, and entities in your podcast content. With Semantic Search for Audio, searching podcast content is easier than ever.
Like all of Repustate's products, Semantic Search for Audio is supported in over 20 languages, including English, Spanish, French, and Arabic.