How can banks improve Customer Experience (CX)?
Customer experience (CX) is a marketing term that refers to a customer's holistic view of a company's overall brand. It's based on their various encounters with the company across multiple points such as products, branches, online, mobile, and customer service. CX can be complex as each customer has their own unique, dynamic experience that is the result of multiple brand impressions formed through first-hand encounters.
In this ever-competitive world, t does not take much for customers to turn on their banks and begin looking for alternative financial brands to switch to. Bank customers are expensive to acquire and have a substantial lifetime customer value, so losing a bank client can be costly. If banks can service their customers better, and personalize financial offerings to their specific needs, churn rates will be considerably lower.
FFor the financial sector to be more customer-centric, as opposed to product-centric, they need to listen to their customers and know how they feel about various aspects of their business such as fees, customer service, product quality, online banking, etc. This allows for their marketing and promotion to be more data-driven and confident in acquiring and retaining high-value customers. This is where voice of the customer comes into play.
Establishing an accurate voice of the customer (VoC) by listening for and gathering customer insights across various touchpoints can be a daunting task if it is not automated using tools that are both fast and accurate. This is where sentiment analysis can be an excellent complement to other customer and brand metrics such as Net Promoter Score, the golden measure of all KPIs for the banking, insurance, and investment sectors. We talk about this in detail, a bit later.
Many financial institutions have implemented marketing technology stacks to reduce or eliminate tedious manual tasks, scale more quickly, measure campaign effectiveness, and drive more cost-effective results. Sentiment analysis, the identification and classification of customer sentiment in text, has also become automated. Natural language processing (NLP) and machine learning applied to text analytics increase accuracy, speed, and overall efficiency. When a more granular level of emotion analysis is applied through aspect-based sentiment analysis, the insights are even more detailed and powerful.
This has made it easier and faster for financial institutions to understand their customers, improve the net promoter scores, and enhance the customer experience across their branches, online banking, mobile app, and call centers.
How can Aspect Based Sentiment help Bank CX?
Sentiment analysis consists of the identification, extraction and scoring or consumer feelings and opinions as they appear in social media, customer surveys, emails, client reviews, etc. Sentiment analysis tells you whether the content of a piece of text data is positive, negative or neutral.
Aspect based sentiment analysis goes one step further than typical sentiment analysis by automatically assigning sentiment to predefined categories. It involves breaking down text into smaller chunks, allowing more granular and accurate insights from data. With aspect based sentiment analysis, it can be distinguished which features of a bank's customer experience are liked and which ones can be improved.
In typical reviews, consumers often touch on many aspects of customer experience. Complaints or praise for online banking, branch line-ups, all be mentioned in one comment. Sentiment analysis at aspect level first determines which categories are being mentioned and then calculates the sentiment for each of those categories. When compiled in aggregate across a large number of reviews, the strengths and weaknesses of a business' customer experience surface quickly and actionable insights become obvious instantly.
For example, the banking sector in South Africa is highly competitive. All major brands have comprehensive mobile banking offerings, attractive savings accounts, and innovative products with which to win demand deposits. Churn rates tend to be high, with banks making attractive offers to win customers over from rivals.
What is Net Promoter Score in Banking?
Net Promoter Score or NPS is a key performance indicator or metric used in customer experience programs. The ultimate aim of NPS is to measure the loyalty of customers to a company.
The idea of developing one simple metric or key performance indicator for customer experience was first put forth by best-selling author, speaker, and business strategist Fred Reichheld in 1993. It was later built upon by consultancy firm Bain & Company and Satmetrix as a way to predict customer purchase and referral behavior.
At the core of the NPS sits the ideas of customer loyalty, and the power of client referrals to drive new customer acquisitions. If one of your present clients has had really positive customer experiences with your brand, they are more inclined to promote you to their friends and family through word of mouth, social media, or reviews. This is not only free marketing, it is also the most authentic, trusted, and effective form of promotion, because consumers trust other consumers most.
NPS evaluations are determined with a single-question survey and reported with a number from -100 (very unloyal and prone to switch) to +100 )very loyal with a high propensity to promote. This metric measures customer experience based on one simple question: How likely is it that you would recommend - Bank X/Financial Product Y/Insurance Service Z - to a friend or colleague?
Respondents give a rating between 0 (not at all likely) and 10 (extremely likely) and, depending on their response, customers fall into one of 3 categories to establish an NPS score: Promoters respond with a score of 9 or 10 and are typically loyal and enthusiastic customers. Passives respond with a score of 7 or 8. They are satisfied but not enough to openly promote your brand.
Detractors give a score of 0 to 6. These are unhappy to very unhappy customers who are highly unlikely to buy from you again, and may even dissuade others from buying from you. NPS results are reported with a number from -100 to +100, a higher score is desirable.
Thus, your Net Promoter Score is calculated by taking the percentage of promoters minus the percentage of detractors.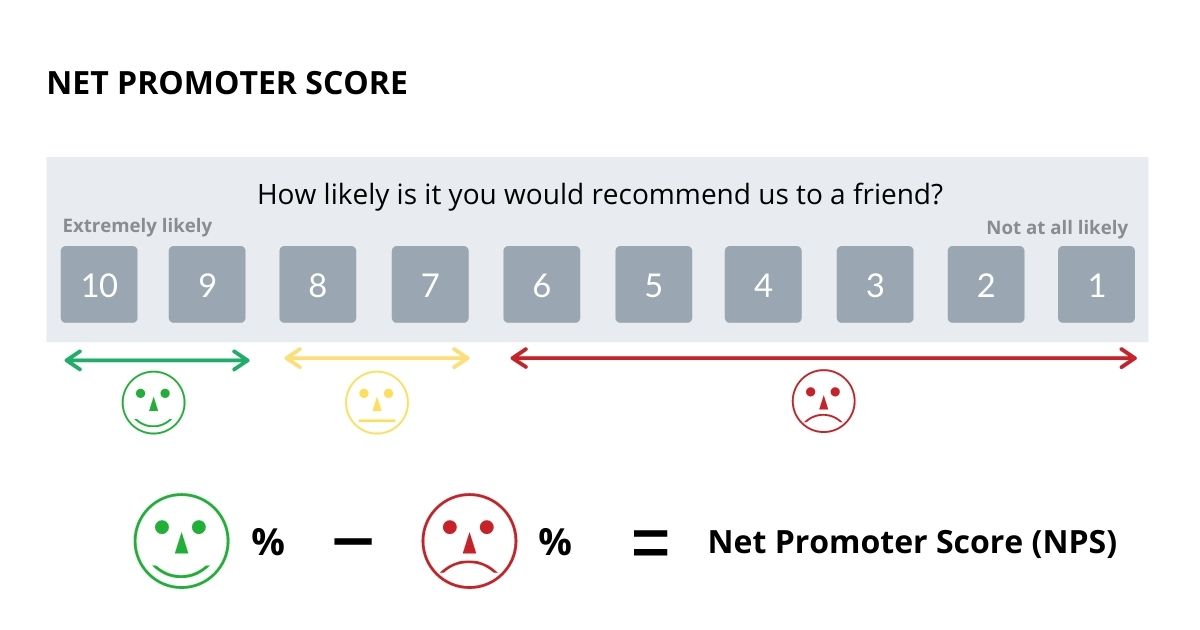 Although the NPS is a simple, clean metric for customer loyalty, it analytically falls short in providing banks, investment firms, and insurance companies enough direction when looking to improve loyalty and customer experience. It does not provide any insights as to the specific aspects of customer experience that require the most attention or can provide the greatest return on the investment of budget and resources. In short, NPS does not give enough details on what specifically is right or wrong with a financial institution's CX, nor does it begin to direct companies toward possible solutions. That is why you need sentiment analysis.
How can Sentiment Analysis help Net Promoter Scores?
Text analytics and sentiment analysis can help the financial sector by providing NPS with additional, complementary data analysis that can begin to fill in the "why" and "how" of CX change. Sentiment analysis can analyze text for expressed customer feelings in social media, surveys, forums, and blogs. At the cornerstone of customer experience lies consumer conversations that banks must listen to in order to discover vital, granular insights. The challenge is to go through multiple sources of customer data while extracting the most relevant information that can shine a brighter light on various parts of CX.