Recharge Your Employee Experience Strategy with A VoE Tool - 5 Things You Need To Know
To ensure the continuing success of your company, it's vital that your employee experience strategy is as efficient and productive as possible. To achieve this, you must nurture your workforce effectively to create an environment that caters to your employees' needs, expectations, and fosters career growth. It's crucial to know what your employees' opinions are and what they expect of you as their employer. In other words, you need to give your employees a voice.
But how do you accomplish this? In this blog, we give you the information you need to understand how voice of the employee (VoE) is enabling companies in fostering employee experience (EX). And how you too can use VoE to your advantage with a good employee experience platform.
How is VoE Changing the Employee Experience Strategy?
It's only recently that brands have shifted their focus from creating and selling products to recognizing employees as individuals and improving engagement which, ultimately, results in increased productivity and efficiency. As a result, employee experience now lies at the core of workforce management and an organization's success. Yet, despite its importance, many organizations still struggle with implementing the right employee experience strategy.
A Deloitte survey says most organizations rate employee experience as important, while only 22% are successful in implementing the necessary strategies to create stellar employee experiences. To a large extent, this is because companies rely on outdated methods to gather and analyze employee feedback. In turn, they lose out on important insights from their data that an AI-powered employee experience platform could have given them.
When using voice of the employee data in conjunction with a natural language processing (NLP) driven AI-lead EX platform to develop your employee experience strategy, you'll be able to make improvements unlike before. So let's look at how VoE is shaping the employee experience strategy.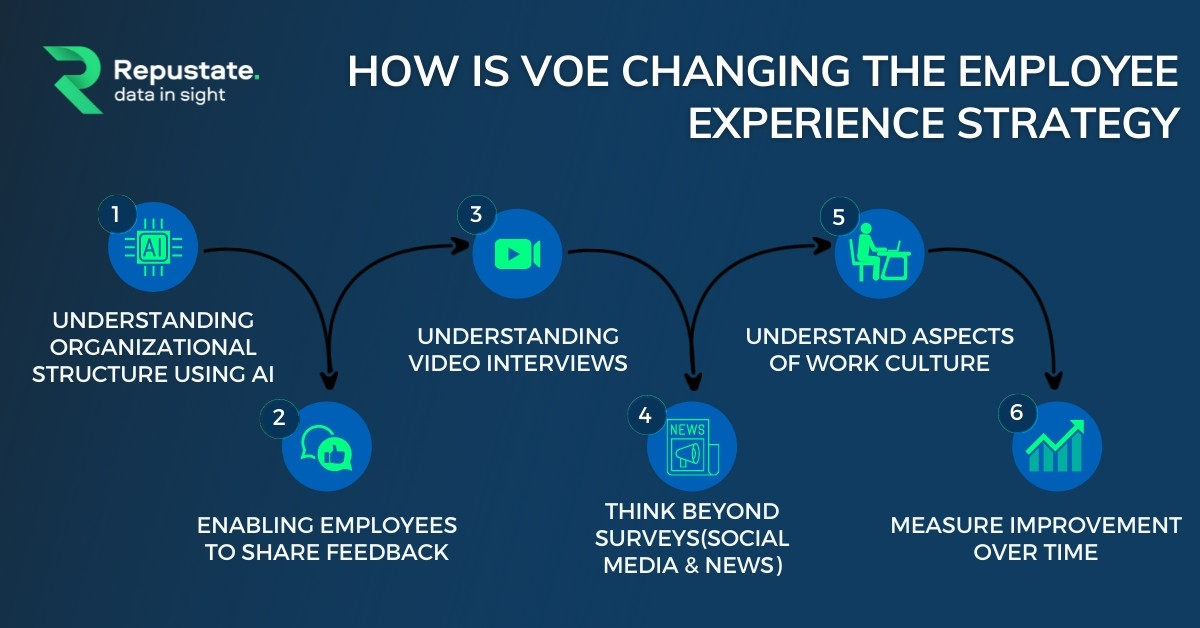 1. Understanding Organizational Structure Using AI
When processed through a reliable employee experience platform, VoE gives you valuable insights into your work landscape. You'll get to know the following key details:
What tools they need in their workspace to do their job and daily tasks more efficiently

What the biggest obstacles that prevent them from working efficiently and productively and achieving their daily goals are

Whether they have access to the right technologies and platforms to give them the information they need

More about their relationships at work, not only with their peers but also with the management
Ultimately, by knowing the above, you'll be able to recognize inefficiencies in your business processes. Or, you might give yourself a pat on the back knowing that your workplace culture is a point of envy to others.
2. Enabling Employees To Share Feedback
Employee feedback is the cornerstone of improving the employee experience. You need to gather feedback throughout each step of the employee journey, from the moment a new employee is onboarded to the day they leave you. To be truly effective, it's vital to incorporate regular feedback into the employee experience strategy. So, you should aim to get continuous feedback through various methods, not least of which is feedback forms and open-ended questions.
Feedback forms are a simple and effective way for you to get insights into your employee experience and what employees expect from you. However, VoE goes further than this. With an employee experience platform that incorporates a sentiment analysis tool that can extract sentiment from open-ended questions through text analytics, VoE can get you indepth insights into what your employees are really thinking.
In turn, these insights shape your employee experience strategy to allow you to increase job satisfaction, make your workforce more conducive, and improve efficiency.
3. Receiving Feedback Across Channels
Another key reason for the right balance between an employee experience platform and VoE, is that an effective employee experience strategy should include capturing feedback from various channels including video, audio, and text. So, while surveys can be effective for gathering feedback, VoE requires deeper insights into employee satisfaction levels which can often be obtained from video or audio sources such as YouTube, Facebook, or even LinkedIn or Xing.
For example, through video content analysis, you can extract valuable insights from videos like candidate interviews or employee satisfaction surveys. It, in effect, allows you to search in video and identify relevant topics, themes, and subject matter that, in turn, allows you to discover deep insights into how your employees truly feel.
Likewise, to enable voice of the employee, it's vital that you gather feedback from alternative sources like social media and review sites. This is simply because, as mentioned earlier, social media and online engagement are becoming increasingly popular, so employees are likely to share their opinions and sentiments online.
Here, social media listening helps you extract these opinions and sentiments from social media platforms and review sites. It enables you to do this by giving you the ability to flag certain keywords and identify them. As a result, you're able to gain a broader view of your employees' satisfaction levels. So it's crucial that you implement these capabilities into its employee experience strategy.
4. Better Data Insights About Different Aspects of Work Culture
If you want to implement an effective employee experience strategy, it's imperative that you truly understand your own work culture. A great work culture encompasses the values, traditions, and beliefs that underpin employee behavior. It's vital because it's something employees experience constantly throughout their day. Therefore, it's also key that you understand what your employees expect of you, and what you expect of your employees.
Here, an employee experience platform that uses voice of the employee methods can give you great insights into what your employees do, how they use the resources provided to them, their work environment, and whether they're engaged. In simple terms, it throws a better light onto different aspects of your work culture so you know what you can do to improve or boost those areas.
5. Enables You to Measure Improvement Over Time
As mentioned earlier, it's impossible to improve your employee experience if you don't measure it. Here, voice of the employee gives you the ability to gauge how your employees feel at any given point in time in relation to different aspects of their work like ease-of-technology, team members, work timings, workload, etc. So, it gives you a benchmark of employee satisfaction levels.
As a result, because you're able to set a benchmark and measure employee experience over time, you're also able to measure improvement. So, you're able to see which parts of your strategy are working and which parts are not and then improve your employee experience strategy where necessary.
What is the Importance of an Employee Experience (EX) Platform?
It's simple, when you're not able to measure something, you won't be able to improve it. That's why a good employee experience platform is an important part of an employee experience strategy**.** A great EX tool allows you to gather and analyze employee feedback across all channels so you can see which parts of your organization work well and which parts need work.
As a result, you'll be empowered with the insights you need to make better data-driven decisions and improve employee engagement, performance, retention, and development.
Here are the top reasons why an EX platform is so vital.
The present generation is more upfront
The new generation of employees feels, thinks, and behaves differently from the generations before them. It's therefore crucial that you, in order to improve employee experience, offer them a variety of opportunities to give their feedback so you can get a deeper understanding of their thought processes and opinions.
Employees expect more personalization
In recent years, there's been an increasing shift among consumers who now expect more personalization when shopping. Likewise, employees expect the same from their employer and want to be treated as a unique person - not just a person behind a desk. A brilliant employee experience platform will easily bring this aspect of personalization upfront through sentiment analysis.
Change is the only constant
Organizations are changing at an incredible pace. They need to. How else can they quickly adapt to evolving customer expectations and changing market conditions? As a result, it's crucial that you understand what impact these changes have on your workforce and the employee experience and that's how you can weave it into your employee experience strategy.
Social media is not always your friend
With social media exploding in popularity, the possibility exists that employees can air their grievances and issues online. Obviously, this isn't ideal and damaging reviews could lead to significant reputational damage. As a result, you now need to be more transparent to protect your brand's reputation.
Increased competition for the best talent
Everyone wants a piece of the pie, no wonder headhunters from recruiting agencies are always on the lookout to poach excellent candidates.This means, to attract the best talent, you have to differentiate yourself from the competition. An excellent employee experience platform is invaluable in this aspect. It can allow you to develop nurturing HR policies through the insights it provides so you stand out from the crowd.
Boost Your EX Strategy With Repustate IQ
A reliable employee experience platform is an extremely valuable tool that you can use to improve your employee experience strategy. By enabling you to give your employees a voice, it allows you to:
Improve and optimize your employee satisfaction levels

Build a nurturing work culture where trust, not only between employees but also toward your organization, is at the forefront

Take proactive steps to reduce employee turnover

Create meaningful relationships with your employees which not only enhances managerial efficiency but also organizational efficiency

Improve employee productivity
Repustate IQ, Repustate's flagship sentiment analysis solution for employee experience enables you to do all this and more. Available in 23 languages, you can be assured that wherever your employees are located, you will obtain the most accurate insights because Repustate never uses translations. Every single language has an individual speech tagger made precisely for that language, unlike other platforms in the market. Video content analysis ensures that even if your VoE data is in the form of a video blog or video feedback, it will be assessed and analyzed with the same accuracy and detail as if it were text data.
Repustate, with its innovative approach to sentiment analysis and text analytics, is truly a comprehensive employee experience platform that makes it possible to analyze employee sentiment across all channels to give you the insights you need. Use it as an on-prem installation or on cloud.