Understanding Healthcare Analytics With Practical Use Cases
Healthcare analytics has evolved during Covid19, enabling us to better understand what patients express on telehealth consultations, live feeds, and social media channels. The sudden onset of the pandemic has resulted in a paradigm shift in the way healthcare has been traditionally managed and delivered. Governments and healthcare organizations have realized that AI-driven technologies can be optimized for patient care and patient voice data in newer and better ways. This has also lead to a better quality of healthcare data that is being used to improve care through sentiment analysis of the gathered information..
AI-driven Healthcare Analytics
Covid19 has forced healthcare organizations to lean momentously on artificial intelligence (AI) technologies in their race against time to meet the escalating demands on critical care. Healthcare analytics, by leveraging data collected from patient voice and healthcare organizations, has resulted in the growing acceptance that basic care does not need to be dependent on sophisticated infrastructure. There are two major strengths that have emanated from this scenario:
Leveled regional shortages: AI-powered virtual care has ensured better time management and efficiencies by leveling the playing field in healthcare distribution. A very important development has been in increased access to quality care because regional shortages and uneven distribution of specialists have been supervened through virtual healthcare delivery models. Thus virtual care powered by healthcare data analytics has lead to people living in small towns having the same access to healthcare as those in major cities.
Increased patient engagement: Another facet has been the increase in better chronic disease management brought upon by increased patient engagement in their treatment plans. Patients no longer have to visit a physical location unless there is an actual need for a physical consult. All of these efficiencies have helped augment healthcare analytics tremendously as the data gathered is more varied and diverse, and has an increased level of input from the Voice of the Patient.
The diagram below represents how AI-driven healthcare analytics has helped virtual care in bringing crucial advantages to existing medical delivery models.
Discover More: NLP in Healthcare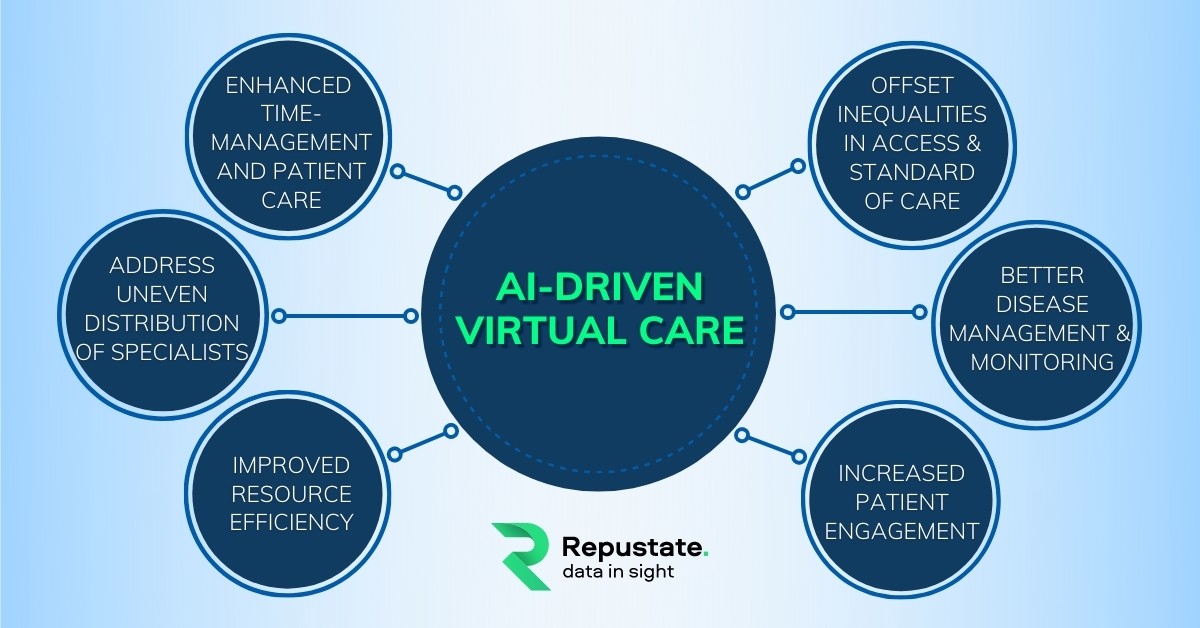 See Repustate's healthcare data analysis in action.
What are the new sources of healthcare data?
New sources for healthcare data analytics include electronic health records, voice notes, patient forums, video consultations, social media, surveys, and customer care data.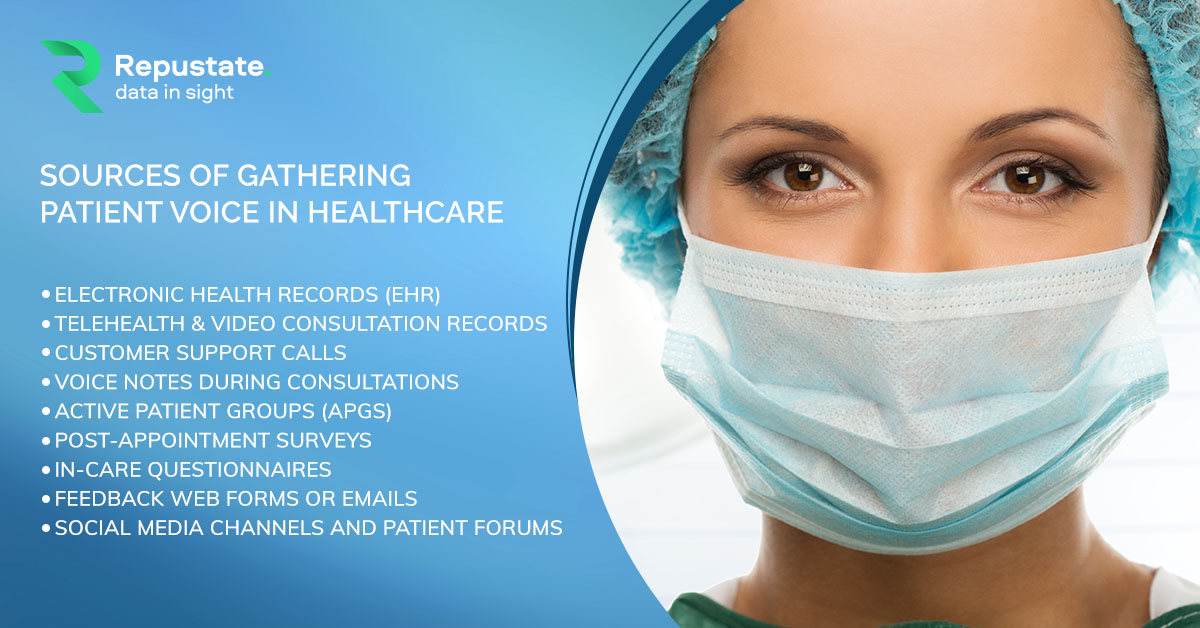 In-care questionnaires:

In-care questionnaires are vital to monitor the quality of care and psychometric performance in critical areas like oncology, cardiovascular, burn units, and intensive care medicine. They are equally important in geriatric care, where plans of treatment and healthcare data analytics are enriched through the patients' perspective of their experience.

Feedback forms and emails:

Healthcare analytics benefit greatly from feedback web forms and emails as they are useful in cases where people may not prefer an impromptu customer care telephone call for feedback. This could be because of patient limitations like age-related disparity or because of personal choice. This form of feedback can be used for all age-groups thanks to user-friendly smartphones and designs that are developed also keeping the elderly in mind.
Take a quick tour of Repustate's patient voice solution.
Customer care records:

Customer care records contain information on a number of topics such as wait times, admissions procedures, insurance processing, out-patient care, billing information, patient complaints, and various other areas. This information is especially noteworthy in how it is being used to sensitize doctors into adopting a more empathetic approach towards patients. Customer insights from sentiment analysis of this data can offer remarkable benefits to healthcare organizations when used strategically.

Social media and patient forums:

Social media channels and patient forums are useful sources of data for two purposes - first, to check the spread of incorrect information about diseases and vaccines, as has been seen in the case of covid19 fears; and second, to promote factual information and increase awareness. Healthcare analytics backed with sentiment mining of this data is immensely helpful to government agencies as it is to pharmaceutical companies, in formulating important decisions on hygiene, medicine, outreach, and costs.

Active patient groups:

Active patients groups (APGs) consisting of patients undergoing treatment provide a lot of useful information, especially for chronic disease management. They have active communities and forums where they share their experience for the benefit of others. This includes how they feel about their doctors, clinicians, and other staff. Information can be mined for healthcare data analytics and emotion mining to enable a hospital to promote increased patient involvement in treatment plans and better post-procedure care.
Use Cases - How Healthcare Analytics is Improving Patient Care
Healthcare analytics in improving patient care through four major areas: Hospital management; doctor and clinician offices; critical staff and healthcare employee satisfaction; and an enhanced patient voice. We detail each of these areas with live examples below:
Let Repustate's patient voice analysis uncover your hidden insights
The Future of Healthcare Data Analytics is here
AI-based techniques are impacting and improving healthcare using natural language processing and machine learning, right from intensive care monitoring, scheduling surgeries, to dealing with hospital issues that can overburden physicians. Sentiment analysis and advanced healthcare data analytics are opening up gateways to improving disease monitoring, clinical workflow optimization, hospital resource management, improved geriatric care, patient empowerment, and more.
Repustate has helped clients in North America and in the EMEA (Europe, Middle East & Africa) region discover new insights from such intrinsic data and beyond. From helping clients analyse 12 million annual healthcare surveys, to bridging the language divide through a Patient Voice solution that understands 23 languages, we have helped organizations connect and understand their data. All this without compromising on accuracy and speed.
Take a deeper look at our Patient Voice Solution to understand more.
You can also reach out to us for a discussion. And we will help you steer your strategy in the right direction so you can utilize your data to its full potential.