Measuring Healthcare Worker Satisfaction using Sentiment Analysis
The year 2020 will forever be remembered as a time when the COVID-19 pandemic forced a very bright light on frontline medical workers' workplace conditions. Seared into our minds are pictures of nurses, doctors, and other masked essential caregivers desperately trying to provide care to a growing number of patients suffering from one of history's most far-reaching and devastating viruses. The irony of the healthcare system is that the closer employees work with patients, the more stressful their jobs, and the greater the risk of burn-out or turn-over. Using sentiment analysis to measure aspects of these stress levels can be the first step towards managing this emotional turmoil and burnout.
To ensure that employees are happy and engaged at their jobs, it is in healthcare institutions' interest to understand how workers feel about various aspects of their work like management, recognition, benefits, culture, life/work balance, etc. This is the first step in understanding why employees feel the way they do, and then strategically improve specific areas of need across a healthcare enterprise. This will not only improve healthcare employee satisfaction but patient experience as well. The task of establishing a healthcare voice-of-employee begins with automated, machine-learned text analytics and sentiment analysis.
What is Healthcare Voice-of-Employee?
An engaged, purpose-driven staff drives excellent healthcareaff. Employees, regardless of their position or duties within an organization, must feel a sense of worth, purpose, and recognition in order to properly service patients and best meet their needs and expectations. This is why Patient Voice and Voice of Employee are closely related to each other and why many progressive healthcare institutions and facilities survey and measure their progress in both groups simultaneously. Positive employee experience and engagement levels not only influence healthcare quality but also have a major impact on the degree of patient safety, another important metric and goal in healthcare. The organizational structure of a hospital generally consists of several layers. Organizational culture encompasses the beliefs and behaviors that influence an organization's dynamic between leadership, management, doctors, nurses, allied health professionals, and administration. The nature of this dynamic ultimately affects the quality of medical care that an institution delivers to its patients.
Voice-of-employee, or VoE for short, is the practice of analyzing employee feedback with the aim of improving workplace satisfaction. Healthcare voice-of-employee is typically gauged by utilizing employee satisfaction survey tools and feedback systems. Healthcare voice-of-employee is simply how healthcare workers feel about their jobs and different aspects of their work. It is the extent to which people like (positive) or dislike (negative) their job. Most health care organizations understand the importance of employee feedback analysis and how it can motivate engagement and increase job satisfaction. But many of healthcare institutions are relying on archaic methods to extract the data they need to better understand what their employees are trying to say.
One of the biggest challenges of the healthcare industry today is harnessing data and analytics to drive strategic change and decision making. Using employee feedback and voice-of-employee methods, your healthcare firm can gain valuable insights into where you excel and where you might need improvement. Measuring employee satisfaction doesn't have to be over-complicated; with a Text Analytics API, you can measure your healthcare staff satisfaction and improve retention rates.
Discover More: NLP in Healthcare
Text Analytics, Sentiment Analysis, and Healthcare Employee Satisfaction
Text analytics is the automated process of extracting relevant insights from unstructured text data such as employee surveys and uncovering important information quickly and accurately. It empowers companies to be more confident and data-driven in their strategic decision making, helping them provide the best customer experiences possible. Sentiment analysis is the semantic mining of unstructured text data to extract, classify, and understand the feelings, opinions, or meanings expressed in text data like healthcare employee surveys.
Measuring and monitoring job satisfaction changes usually begins with surveying staff on various topics relevant to job satisfaction and employee experience. Surveys can be written to gauge inclusiveness, purpose, recognition, contentment and personal engagement. Once surveys are filled out, close-ended questions are collected, and the data can be processed, analyzed, classified, and visualized. For open-end responses, named entity recognition is used to identify the topics clusters before applying sentiment analysis. The purpose of this process is to begin to understand patterns and trends in the data. This will help leadership focus on top areas that require special strategic focus to change and upgrade for the purpose of improving job satisfaction across all staff. Text analytics and sentiment analysis extract, classify and gauge feelings toward the various topics that have been identified as essential measures of job satisfaction such as the following:
Nature of Work – responsibilities, interest, and growth.
Management - people focus, direction, and process.
Leadership - vision, communication, inspiration, and values.
Supervision – the quality of technical help and social support.
Teamwork – collaboration, social harmony, and respect.
Career Opportunities – up-training opportunities and advancement.
Patient Interactions - safety, communication, and support.
Life-Work Balance - flexibility, holidays, and time-off.
Pay – adequacy of pay and perceived equity vis-à-vis othersBenefits - coverage, relevancy, and usage.
General Satisfaction
Learn more about the importnace of employee experience analysis.
Once the answers from the surveys have been processed using the Text Analytics API, the sentiment is scored and classified according to the topics most relevant to healthcare job satisfaction. Below you can begin to quickly see how this organization has major issues with Life-Work Balance, Patient Interactions, and Career Opportunities. After completing this exercise the organization can strategically begin to formulate and plan ways to address these areas and then monitor their progress by reviewing quarterly the change in sentiment over subsequent surveys/time.
Learn more about analyzing healthcare data.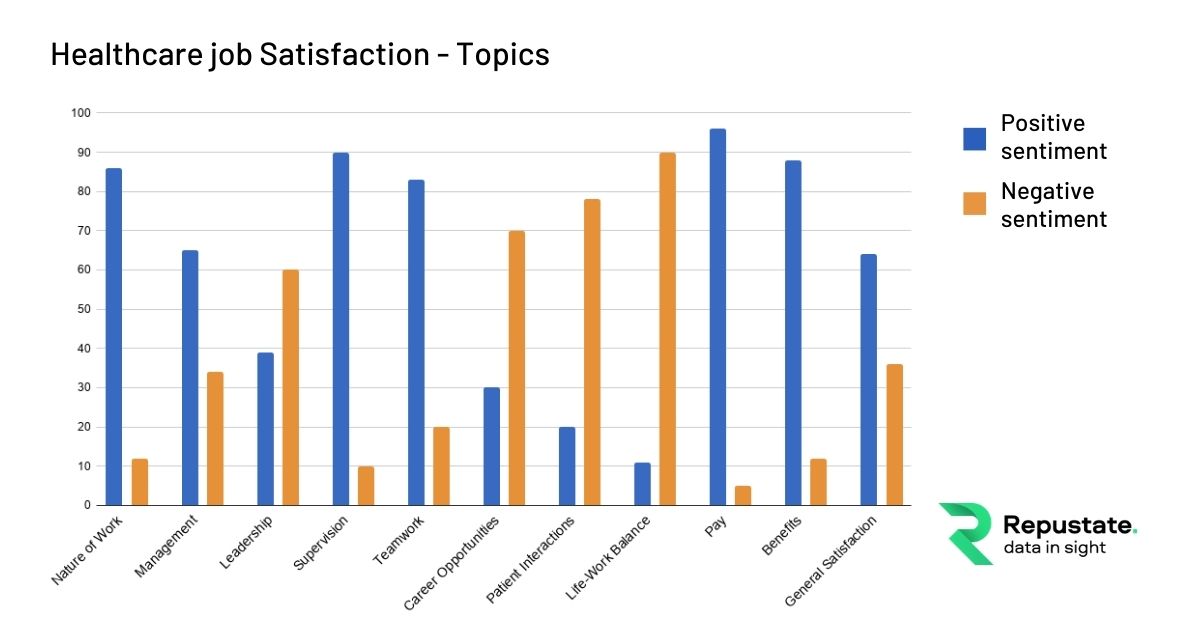 What are the Benefits of Sentiment Analysis in Healthcare?
There are multiple benefits that the healthcare industry can gain from using sentiment analysis. Here are just a few:
Automate manual processes by applying artificial intelligence and machine learning to natural language processing to generate overall workflow efficiencies.

Extract vital information from open-ended patient and employee surveys.

Measure, monitor, and enhance healthcare voice-of-employee with the aim of creating a more positive employee experience.

Improve employee satisfaction by better understanding how workers feel about various aspects of their workplace culture.

Develop a more attractive organizational culture that promotes belonging, purpose, achievement, happiness, and employee engagement.

Increase employee retention and staff turnover.

Identify, extract, and analyze high value biomedical and healthcare information and insights buried in your text data such as Electronic Health Records.

Establish Patient Voice and Patient Experience insights necessary to improve your healthcare delivery strategically.
Ultimately there is a proven and undeniable correlation between high employee satisfaction and a positive patient experiencing. High job satisfaction also results in positive workplace outcomes. A positive healthcare employee experience results in more effort, better work, and worker retention.
Read more about the importance of Data Analytics in Healthcare.
Give your Employees a Voice, and Create Positive Employee Experience
Get fast, reliable, and accurate results every time, no matter what language your employees speak. Our intelligent sentiment analysis API understands and can effectively process information in over 20 different languages, including English, Spanish, French, and Arabic.