Understanding Voice of the Patient & Its Importance in Healthcare
Patient voice helps healthcare providers and facilities offer better healthcare delivery. It helps them understand how their patients truly feel, their needs, expectations, and concerns during every point of the care journey. Analyzing voice of the patient data allows healthcare professionals to leverage the feedback data not only for better operational aspects but also for diagnostic needs. These insights thus gained can help shape strategic treatment plans, even as healthcare providers and decision makers use data-backed information to build the foundation of patient-centric healthcare.
What Is Patient Voice?
During or after treatment, many healthcare organisations like hospitals, clinics, and doctor's offices gather patient feedback through post-appointment surveys, in-clinic questionnaires, feedback web forms, or even phone calls. Patients and caregivers may also take to social media to air their opinions. Patient voice is the process of analysing this feedback, including social media listening data, with the help of NLP in Healthcare.
Analysing patient voice data helps healthcare facilities gather valuable insights into not only what patients' opinions are but also information about the treatment plan and the effects of medicine dosages. By acting on these insights, healthcare companies can implement the necessary strategies to improve patient experience as well as help medical staff with important patient data.
What Is the Importance of Patient Voice in Healthcare?
Ultimately, patient experience is all the interactions a patient has had with a healthcare provider or facility. And in an increasingly patient-centred world, patient experience is crucial. Healthcare companies are increasingly using patient voice data to enhance their offerings, better quality of care, decrease unnecessary costs associated with wrong diagnosis, and more. Let's know them in detail.
Improve healthcare delivery
Once hospitals and care facilities identify shortcomings in their processes, they can implement the strategies to enhance their healthcare delivery. As healthcare delivery forms the foundation of the patient experience, its improvement will directly correlate to better patient experiences and so better business growth.
By considering the voice of the patient, healthcare organizations see what can be done to improve the quality of care. Do patients need better insurance and discharge services, better post surgery care, cleaner bathrooms, shorter wait times? All of this can be addressed through patient voice data.
Consider patients as customers
When clinics and hospital chains view their patients as customers, they work towards a patient-centric approach to patient care. That is why wellness retreats, dentist offices, maternity homes, hospitals, all give a personalized feeling to patients. They remember your birthdays, remind you of your next check-up appointment, and even help with financial considerations.
Achieve cost efficiencies
When considering the voice of the patient, healthcare providers can take a value-based approach to patient care. This involves a cost to benefit analysis which could bring about cost efficiencies not only in treatment but also in facilities management. Wrongful diagnosis means a waste of resources, not to mention the bad reputation that comes with it. Voice of the patient data helps organizations to review patient charts, medical histories, and even compare similar cases for more accurate treatment plans.
How Can We Derive Patient Voice From Healthcare Data Sources?
Patient voice data and feedback can be collected from a variety of sources including:
Electronic health records (EHR)

Telemedicine and video consultation records

Customer support calls

Active patient groups (APG)

In-care questionnaires

Post-appointment or post-treatment surveys

Feedback forms or emails

Social media channels or patient forums
In order to derive insights from this data, we use sentiment analysis. In turn, sentiment analysis relies on machine learning algorithms and natural language processing (NLP) to extract detailed information from the voice of the patient data. This involves a four-step process.
Step 1: Data Collection
The first step is data collection. It is an important step in the sentiment analysis process because the quality of the insights you will gain from healthcare feedback data depends on the quality of data used for the patient voice analysis. Poor quality data will lead to poor insults and the converse is also true.
There are two options for collecting data. Firstly, feedback data can be uploaded using APIs. For example, social media feedback can be uploaded through live APIs. Likewise, other digitally available information, like health records, emails, or forum data can be collected in the sentiment analysis platform using APIs.
When data is not available through APIs, you can upload data manually. This data could be patient feedback gathered through surveys or notes made during consultations.
Step 2: Data Processing
In this step, raw data is extracted from the patient voice data sources. Several machine learning tasks are involved in this process, including:
Audio transcription - This allows the ML model to transcribe the audio from video and audio files like video consultations and customer support calls to text.
Video content analysis - Video content analysis is an ML task that examines the video data itself such as video consultation records and video interviews, and captures information from it by categorizing entities and aspects. Video data processing includes caption overlays detection and analysis, logo identification, and image recognition and extraction.
Text analysis - Text extraction captures text and extracts it for semantic and sentiment analysis. This is a valuable way to extract feedback data from surveys and questionnaires.
Step 3: Data Analysis
The next step in the sentiment analysis process is the actual data analysis. Here, healthcare data analysis using sentiment analysis comprises several subtasks:
Training the model. The first is training the model. Cleaned and manually labelled healthcare data sets are used to train the ML sentiment analysis platform. Another set of data called the validation data set will be later used to test the model.

Multilingual data analysis. A truly multilingual platform will have native language speech taggers for each language it can assess. It will automatically detect the language and process it for sentiment analysis.

Custom tags. During this process, the sentiment analysis API creates custom tags for topics or aspects. During emotion mining and text analysis, the data will be segregated automatically based on these custom tags.

Topic classification. Here, the API analysis voice of the patient data under a certain topic or themes like "clean", "punctual", "helpful", "admission process", "outpatient", etc.

Sentiment analysis. During sentiment analysis, every aspect or theme is isolated, and the data analysed for sentiment. The sentiment analysis API will score each sentiment on a scale of -1 to +1. Here, neutral sentiment is classified as 0. The API will calculate an aggregate score which reflects patients' sentiment towards a healthcare provider or facility.
Step 4: Data Visualization
During data visualization, the insights gathered through healthcare data analysis is presented as reports, graphs, and charts on a sentiment analysis dashboard. This dashboard gives a granular, aspect-based overview of their patients' sentiment including aspect-emotion occurrences so organizations can know exactly which aspect has what kind of perception in the market.
Which Are the Modern Patient Voice Collection Platforms?
Here are the top performing modern voice of the patient collection platforms that give healthcare providers the insights they need to improve their patients' experience.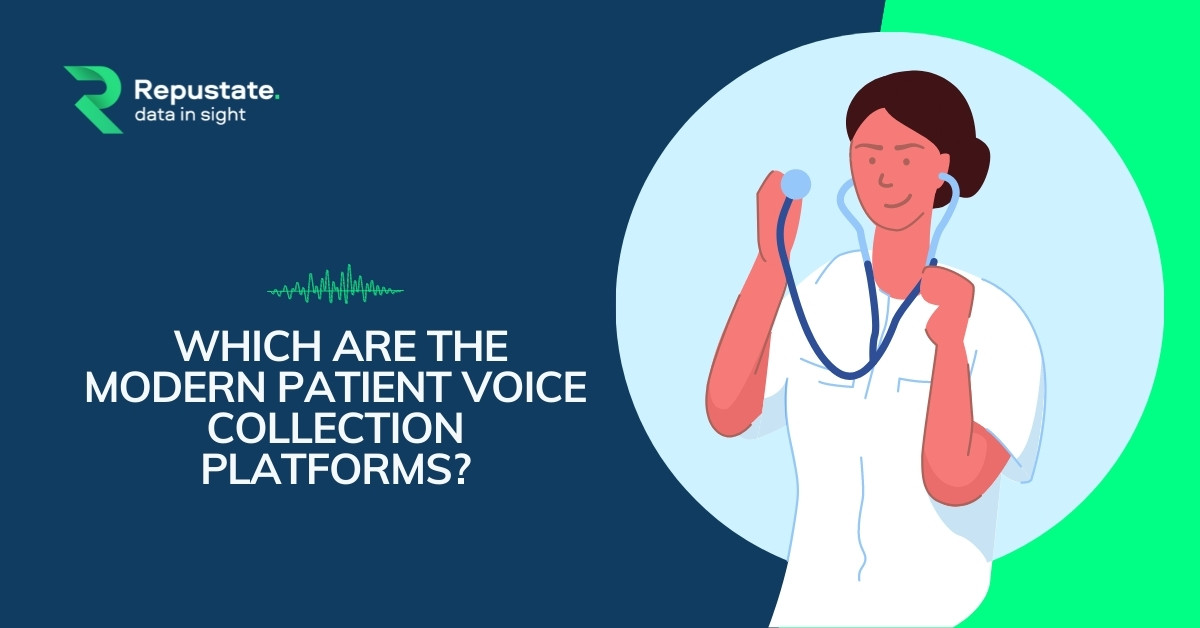 Patient-voice.com
Patient Voice allows patients to leave feedback quickly and easily to any registered care organisations in the UK. In turn, this allows healthcare organisations to improve their patient experience and the quality of care that patients receive. Know more.
Patientvoices.org.uk
Another UK-based organization, Patient Voices give healthcare providers the ability to gain valuable insights into their patients' experiences by using first-person digital storytelling to demonstrate their patients' feedback and opinions. They conduct workshops for healthcare professionals, carers and patients to develop their own stories and narratives, provide consultancy and support of digital stories within healthcare development programmes, and help in the development and identification of resources. Read more.
Rarepatientvoice.com
Rare Patient Voice makes it easy for patients and their caregivers to voice their opinions about healthcare providers and products by giving them the opportunity to take part in paid surveys, interviews, and online communities. The organization also partners with patient advocacy groups, and helps market research firms find respondents and patient panels. Know more.
Thepatientvoice.com
The Patient Voice gives healthcare providers the ability to uncover the voice of the patient across all their operations and reach 100,000 patients across 496 different conditions. Organizations use the findings to develop data-backed strategies for marketing, sales training, business development, new product planning, medical affairs, and new market access. Know more.
Talkingmedicines.com
Talking Medicine's social intelligence platform allows healthcare providers and facilities to gather social media feedback about their services or patient experience in a single visualization dashboard. In turn, this allows them to gather insights on how their patients' opinions and how they truly feel. Know more.
Leverage Patient Voice Data With Repustate IQ
Repustate's multilingual sentiment analysis solution for healthcare extracts valuable insights from patient feedback and gives healthcare providers the insights they need to deliver more engaging patient experience. In an ideal setting, the patient should lie at the core of effective and efficient patient care. With an AI-based platform to analyze patient voice, healthcare organisations like you can leverage patient feedback and opinions to ensure the best patient experience at every stage of the patient journey. And in this way, grow business significantly while ensuring quality of care.