TikTok And Instagram Social Listening For Influencer Marketing
Social listening for influencer marketing can give you brilliant insights for building a successful Influencer campaign for your target demographic. In this article, we explore why Influencer marketing has so important and how you can build an effective Influencer marketing program using two important social media channels, TikTok and Instagram, through sentiment analysis.
What Is Influencer Marketing?
Influencer marketing is a marketing tool that comprises the use of Influencer for brand amplification. These influencers are active social media users who have millions of followers. They are called Influencers literally because they have the ability to influence their fans who follow these accounts because they find the content relatable. That's why when a TikTok or Instagram Influencer promotes you, there is a high likelihood that more people will be interested in the product or service, trust your brand better, and choose you over your competitors.
Influencer marketing is also a cost-effective way of marketing and promotion as you do not need to engage an agency and pay for all the production costs associated such as the models, lighting technicians, videographers, photographers, makeup artists, etc. Where there have been cases where famous people are infamous for having fake followers, most Influencers on TikTok and Instagram are just regular people who have found a way to become relevant on social media.
Social listening for influencer marketing allows you to figure out which of these influencers are apt for your brand identity and then you can build a plan to incorporate them into your marketing strategy.
What Are The Benefits Of Social Listening For Influencer Marketing?
Influencer marketing can reap many rewards, the most important of which are as follow: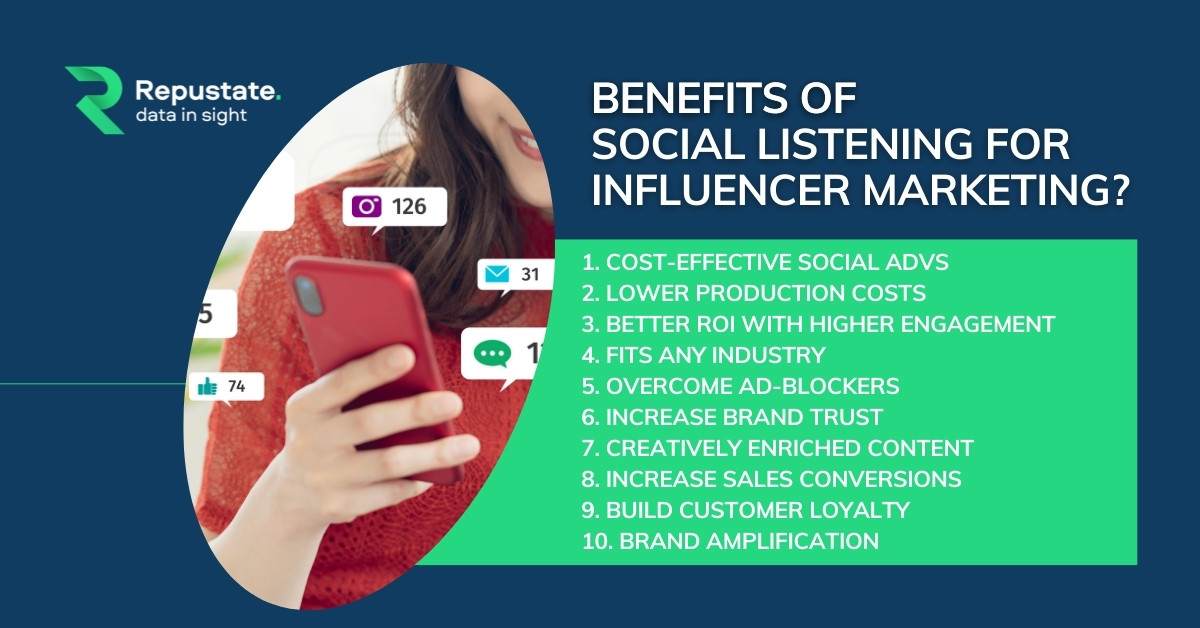 1. Cost-effective social media advertising
Where a mega influencer, who has more than 1 Million followers may charge a ballpark sum of US$2,500, a social media and digital advertising strategy to reach that strength will easily be over US$10,000.
2. Lower production costs
An agency charges no less than US$4000 to create a 50-second brand video with a simple voiceover animation. That's aside from the actual cost of video marketing spend. However, with Influencers, brands have the benefit of having a glamorous brand endorsement poster or video with a model, location, lighting, editing, and outreach, all at a fraction of this cost and with better content engagement.
3. Better ROI with higher engagement
An Instagram cost per thousand views is around US$10, while brand engagement is around .05%. But when you use social listening for influencer marketing and find the right Influencers, your costs are much lower while your engagement rate moves up to 2% per Influencer.
4. Fits any industry
More than 70% of Instagram users are below the age of 35. This is a perfect group that has spending power and is historically open to new experiences and brands. Therefore, whether you are in the hospitality industry, healthcare services, banking, e-commerce, or travel and tours, TikTok and Instagram social listening for Influencer marketing offer a great opportunity to reach out to this audience.
5. Overcome ad-blockers
A World Stat Report mentions that out of 4 Billion plus internet users, about 47% use ad blockers. This number is only increasing. With Influencer marketing, you don't have to worry about losing your investment to an ad blocker and thus reach your target audience without hurdles.
6. Increase brand trust
When it comes to trusting a brand and recommendations, people tend to trust social media Influencers more (33%) than their own friends and family (17%) as a report by gen.video found.
7. Creatively enriched content
Social media sentiment analysis can give you a deeper view of what type of content is most relatable to your audience. Thus you can get enriched, high-quality content from TikTok social listening for influencer marketing as well as for Instagram than you would by traditional advertisement.
8. Increase sales conversions
Influencer marketing can lead to better sales conversions because more than 90% of people trust an Influencer they follow rather than brand ads with or without traditional celebrities.
9. Build customer loyalty
Customer loyalty comes when brands offer a fulfilling brand experience that is enduring and steady. By engaging with customers, keeping in turn with market sentiments, and having the right Influencers, you can nurture brand loyalty for repeat customers.
10. Brand amplification across social media channels
As social media posts go, Influencer posts can be spread across the social media spectrum via followers and this leads to an increase in brand awareness and amplification than traditional methods.
How Do You Use TikTok and Instagram Social Listening for Influencer Marketing?
You can use social listening for Influence marketing on TikTok and Instagram by ensuring that you have the right Influencers for the job based on your objectives and budget, and then track their performance by analyzing the sentiment trends for your brand. The following points explain this better.
1. Research your audience and industry
Knowing your audience, their purchase motivations, buying habits, order history, and such, are important criteria. You can use automated machine learning tasks such as survey sentiment analysis for your research purposes if necessary or other specific tactics like Instagram sentiment analysis.
2. Plan your campaign diligently
As with any marketing campaign, you must define your objectives and plan your strategy carefully. This is essential for developing a successful influencer marketing strategy. Your objectives could be as simple as highlighting your brand or being part of a complex product marketing strategy like British American Tobacco did with their £1bn Influencer campaign.
3. Plan your budget
You will have to set aside a budget based on the insights you get from your social listening for influencer marketing. You must take into account that Influencers charge different rates based on their reach and followers, and therefore your Influencer budget has to be different from your overall social media marketing spend.
4. Choose the right platform
Sentiment analysis applications can tell you very granular details about your customer for social media channels, not just for TikTok and Instagram but also for others like Twitter. This can help you make an informed decision as to whether TikTok is right for you or if your target audience leads more towards Instagram or any other social channel.
5. Choose credible Influencers
The success of your influencer marketing program rests on whether you have chosen a credible influencer for your business or not. A sentiment analysis API can help you gauge the overall sentiment around the Influencers you have vetted for your campaign so you don't just depend on vanity metrics of likes and number of followers because they could very well be fake.
6. Choose the right Influencers for your brand
Every industry is different and so are customer expectations and behavior. As important as it is to choose trustworthy Influencers for your marketing campaigns, it is also important that they fit the bill when it comes to your industry-type and the nature of your audience.
7. Track and measure brand performance
Once you have scouted and chosen the right Influencers for your program you need to measure their performance by analyzing sentiment for your brand through an AI-driven platform like Repustate IQ. The platform gives you comprehensive customer and brand insights in the form of overall sentiment trends, aspect trends, word cloud, source-based sentiment analysis, and others through its customer experience visualization dashboard.
Conclusion
Embarking on a journey based on social listening for influencer marketing on two hot channels like TikTok and Instagram can seem daunting at first. But it's important to realize that Influencers are professionals like others in the marketing environment and are as dependable as agencies. Several popular Influencers also hire virtual assistants in order to maintain a cadence for audience engagement, planning and scheduling their posts, and ensuring that brand guidelines are met.
Sentiment analysis can help you keep track of whether your Influencers are giving you the return you expect on your investment. With these emotion mining metrics in hand, you can alter your social media tactics to improve engagement ratios.