Why Should We Use Sentiment Analysis In Social Media Mining?
Social media sentiment analysis is a strategic way to monitor trends and patterns in the feedback people give about your brand on different social platforms. More than 3.6 billion people actively use social media to drive conversations, and so gathering data from these social sites is a great place to start. This article gives a brief overview of how you can use social media mining and social media sentiment analysis to define a growth strategy and sense customers' sentiment about your brand.
Once data is gathered, what matters most is how you translate it into actionable insights to improve customer experience at multiple touchpoints in the sales cycle. For this, you need to conduct sentiment analysis on all our data for insights.
What Is Social Media Sentiment Analysis?
Social media sentiment analysis is a natural language processing (NLP) technique used for understanding the emotions behind user-generated content from social media mining. It gives a clear sense of how people feel about your brand.
Social media sentiment analysis gives you insights far more detailed than just the number of likes, comments, and shares of your posts. It allows you to gather and analyze comments from the public and see if they are positive or negative. Just because your post or video has garnered 100,000 views and 400,000 comments, it may not mean that this metric is all positive, or vice versa.
Social media tactics to get the maximum number of impressions leaves out the fact that the comments and videos posted may not all be good for a company. The internet is rife with strangers getting into fierce arguments, which is bad for a brand. So for all you know, more than half of your 400,000 comments could be people who are saying things against your brand. Without sentiment analysis of these impressions, there is no way a brand can know where they stand in the public eye just with empty metrics of number of likes and comments.
A sentiment analyzer of social media that can objectively and precisely analyze emojis, hashtags, comments, and even video content through video AI, will give you the exact picture of your social media performance brand metrics.
How Is Social Media Sentiment Analysis Done?
Social media sentiment analysis is done in four stages.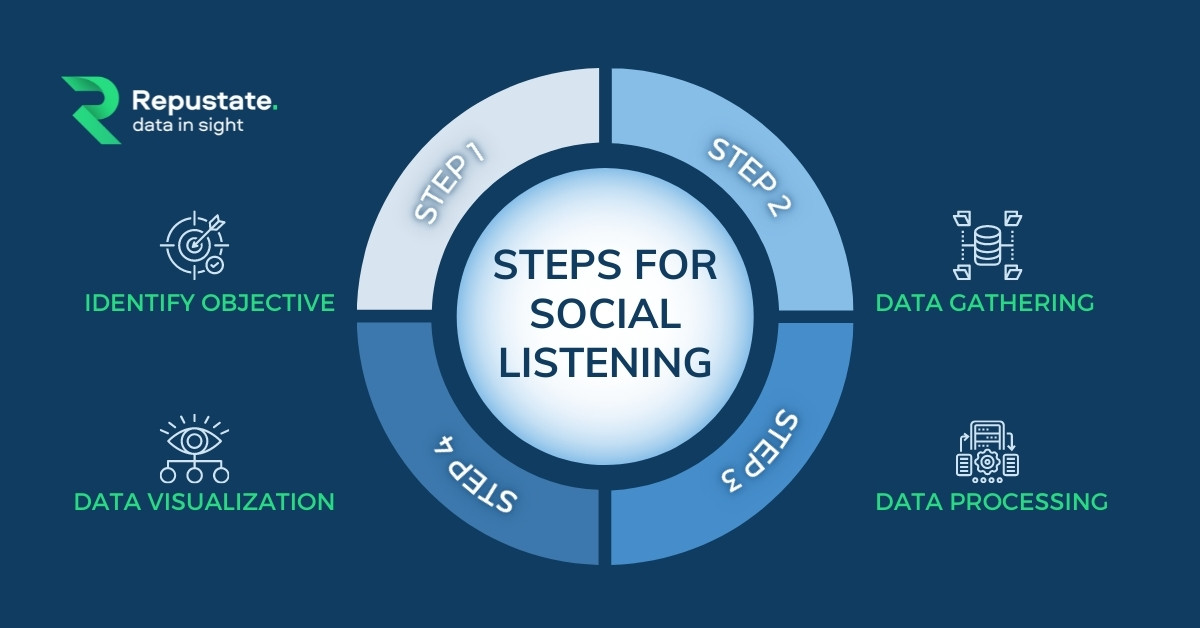 Platform Identification The first includes identifying the social media platforms that you want to conduct social listening on.

Data Collection The second is extracting the social media data through live API integration like you can do on Facebook or YouTube, or through data scraping as on Instagram. This will give you insights into new trends and also keep a tab on your brand reputation through checking all your mentions and scouring the root of the issue if the mentions are negative.

Data Analysis The third stage is where sentiment analysis is conducted on text as well as video data. This is crucial because it can help you keep a close eye on the kind of people following you and study account demographics, evaluate influencers, and even spot potential brand ambassadors.

Data Visualisation In the fourth stage, all these insights are presented in a customer experience dashboard where you can set alerts for real-time notifications for keywords or brand mentions, and even see the correlation between customer emotions and different aspects of your brand.
Get in-depth details about the Social Listening Process.
Why Do We Need Sentiment Analysis On Social Media?
Sentiment analysis of social media data can tell you if customers truly like you or not. This is far beyond empty numbers in a metrics tool. If they share your post, if it is because they are writing a positive review, or because they are tagging you to be sarcastic? An intelligent social media sentiment analysis platform can identify emojis, and this means, you will never get false positives from sarcastic comments. Most tools neglect emojis in comments because they are not text.
Similarly, suppose there are hundreds of comments in hashtags, you can sieve them for positive and negative emotions. Not only that, through the insights from your tool you can also classify user accounts that share common interests and create targeted brand activities. These and many more benefits can be garnered from the application of sentiment analysis on social media listening.
Some of the benefits of using a sentiment analyzer of social media are listed below:
Discover new market trends

Design targeted marketing campaigns

Track brand awareness

Develop a personalized brand experience

Conceive new product ideas

Discover and use influencer marketing

Develop more engaging online content

Monitor competitors
Read more about the benefits of social media listening.
Common Channels for Social Media Mining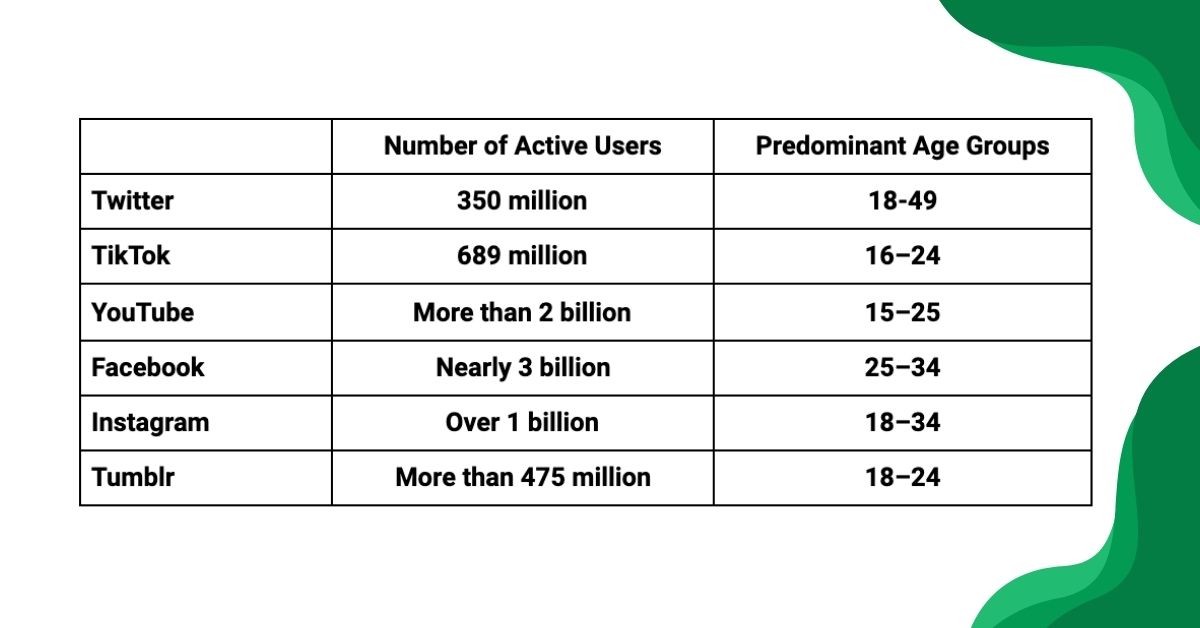 With more than 350 million active users, Twitter is one of the most important channels for customer engagement. About 70% of Twitter users fall between the ages of 18 to 49. For brands targeting this age demography, Twitter is an effective tool for market research, audience listening, and data mining.
TikTok has more than 689 million monthly active users who share short, creative video content. The platform has helped build a niche community, and is ideal for brands with younger consumer groups since 60% of TikTok users are between the ages of 16 and 24 years.
Douyin is a short video app launched in China specifically for Chinese residents by tech company ByteDance in 2016. Douyin was later, in the same year, launched as TikTok, internationally. Douyin was an instant success and currently has over 600 million daily active users. Most of its user base is educated and come from comparatively affluent backgrounds. Learn more about Douyin marketing.
YouTube analytics is another effective data source for social media data mining. YouTube allows you to upload videos that are up to 12 hours long. It also supports live video content sharing. Users interact with YouTube content through likes and dislikes, comments, and follows. It has more than two billion monthly active users, and the bulk of these users are between the ages of 15 and 25.
Facebook is the world's biggest and most famous social network. With nearly three billion active users and 1.84 billion visitors every day, it is one of the favorite voice of the customer research channels for B2B and B2C businesses.
Facebook allows users to share content in different formats, including text, video, and pictures. You can also build communities using Facebook groups, and share live content with their friends and followers.
Instagram has over one billion active users spread over different age groups, especially people aged 18 to 24, and 25 to 34. Instagram allows users to share pictures and videos. It also has additional features like reels, stories, Instagram guides, and live chats. Users engage through shares, likes, follows, tags, mentions and also save posts they find interesting.
Tumblr hosts more than 475 million blogs. It allows bloggers to share curated multimedia and other content as short-form blogs with their audience. Tumblr is popular among all age groups, but most of its users are 18 to 24 years old.
What Are the Challenges of Social Media Mining?
Social media mining carries many challenges such as the volume and quality of the data itself. Add to this, the difference in multimedia formats can pose a limitation. Data security is also a critical factor. Let us examine these and more issues that can arise in data mining.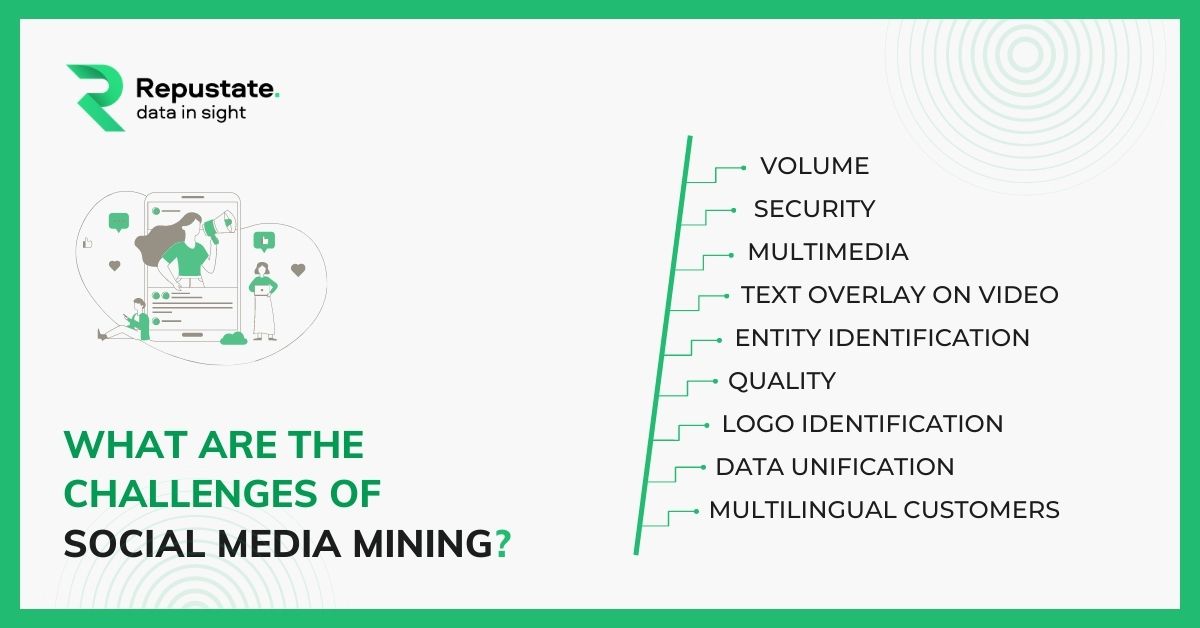 Volume
Social media mining involves extracting large volumes of data from multiple social media platforms. It can be challenging to put these big data sets into meaningful categories to understand your customers. The large scale also means that the solution for sentiment analysis needs to have a high speed of processing capacity.
Security
When you're handling large data sets, you need to be mindful of data security threats. Data breaches and leaks can compromise valuable customer information and ruin brand reputation as consumer information can be highly delicate.
Multimedia
Raw social media data is in multiple file formats. For instance, Facebook data is in text, video, and image files, while Instagram data is primarily videos and images. Sorting data and extracting insights in these multimedia formats can be tedious and time-consuming.
Text Overlay On Video
When analyzing visual channels like TikTok for valuable data, you need to extract meaningful insights from caption overlay and dialogue. Repustate's social media listening tool helps you categorize these insights from audio data via speech to text, and analysis, text overlay for videos and background images from branded content.
Entity Identification
Entity identification automatically classifies key elements in data sets into predetermined categories or entities like location, product, person, and organization. With large-scale multimedia data, it becomes difficult to identify and extract relevant entities from a pool of diverse data formats.
Quality
To accurately understand consumers' sentiments and predict their behaviors, you need to extract high-quality data during social network analysis. When accumulating data at scale, it is easy to compromise the semantic quality. This results in multiple data errors and omissions.
Logo Detection
Logo detection is an essential data mining technique. For example, a Facebook user can add your brand's logo to a post without explicitly showing positive or negative sentiments towards your business. Data analytics helps you to interpret this behavior accurately to know what it means for your brand.
Data Unification
Data unification is a complex process of cleaning different social media datasets and merging the result into a single, accurate data source. Since you're dealing with large data volumes in multiple formats from different social media platforms, you need the right sentiment analysis dashboard, or this process can easily become frustrating.
Multilingual Customers
If your existing customers and target audience are spread across multiple geographic locations and speak different languages, this can affect your data mining. With Repustate, you can detect different languages and understand your data using a custom sentiment analysis model.
How Sentiment Analysis Improves Social Media Mining Results
After gathering and categorizing large data sets, you need to interpret them to arrive at meaningful insights. Every interaction a social media user has with a brand in terms of likes, comments, shares, follows, and mentions communicate some feeling or attitude.
However, there's no way to figure out whether these feelings are positive or negative without sentiment analysis. Let's show you how social media sentiment analysis helps businesses to understand the meaning of comments, audio, videos, and brand mentions.
Having a high number of brand mentions on social media can initially feel like a good sign. However, when you take a deep dive with sentiment analysis, you may discover that a number of these mentions are more negative than positive. Sentiment analysis helps you to understand the true emotions behind brand mentions on different social platforms.
You can use sentiment analysis tools to analyze comments about your brand for opinion-polarity to know if these comments are positive, negative or neutral.
More than understanding the emotions behind textual references like comments and mentions, sentiment analysis also helps you to extract insights from audio-visual content on social media platforms like TikTok and Instagram. Using the right tools, you can extract vital brand insights from short-form videos. You can also identify branded content in the background of a video, for example if a social media user wears a shirt with your company logo.
With sentiment analysis, you can understand which features of a product or service are liked by your customers. Check out this example of how YouTube video analysis is done to extract sentiments for different features of the new PS5 in comparison to the XBOX Series X.
Unlike social media monitoring, sentiment analysis is all about interpreting different opinion mining use cases to discover the emotions behind them. Depending on the business needs, the social media sentiment analysis spectrum can focus on polarity precision, emotion detection, or aspect-based sentiment analysis.
In a general sense, here are four ways sentiment analysis can improve social media mining results for businesses:
It helps to sort and organize large volumes of data.
It highlights pressing issues that need to be attended to right away.
It outlines standard and consistent criteria for data interpretation.
It allows us to monitor sentiment associated with trends.
Read more about the social listening best practices
What Are The Top Ten Social Listening Tools?
Here are the top 10 social listening tools:
1. Repustate IQ
Repustate IQ analyzes customer feedback and employee reviews in 23 languages across platforms such as TikTok, Glassdoor, surveys, Reddit, YouTube, Twitter, etc. Its intelligent dashboard gives you insights such as aspect-based sentiment scores as well as sentiment trends based on language, social media sources, timelines, Influencers, authors, and more. You can get real-time insights or insights from existing data. You can also customize aspects based on your needs, without coding.
2. Sprout Social
Sprout Social enables you social media sentiment analysis, respond to social mentions, filter your data for brand mentions or keywords, as well as repost content. You can collaborate with different marketing departments as well as integrate the tool with your CRM tools.
3. Agora Pulse
Agora Pulse is similar to Hootsuite in the sense that it allows you to publish and manage your social media content but also lets you filter your inbox for keywords. Primarily used for Twitter, the tool lets you share data as well as assign an item to your team member. Twitter allows real-time data and Agora Pulse lets you effortlessly glean insights from this live data.
4. Sprinklr
Sprinklr gives you quantitative social media metrics i.e. the number of likes, shares, posts, etc. Aimed at large organizations, the tool handles multiple social channels and has a friendly customer dashboard where you can monitor insights easily and allows you to monitor competitor activity. You can handle a massive amount of data easily. You can view the results as is or in templates that the tool has in-built.
5. Meltwater
Meltwater, like Repustate IQ, allows you to analyze posts and videos from social media content. You can track your social media performance, activate search queries, discover areas that need improvement, and receive insights in various formats. Meltwater too is great for large organizations.
6. Synthesio
Synthesio allows you to export pre-filtered data sets and evaluate your social listening metrics with performance data. You can monitor several channels like Facebook, Instagram, and others for social media sentiment analysis. The tool gives you all the information you need for business intelligence in the form of visual aids like charts and graphs.
7. BrandMentions
BrandMentions lets you monitor various social media channels for brand mentions so you can track your performance for customer sentiment. You also get alerts and notifications so that you can timely action in case of negative mentions.
8. YouScan
YouScan is a brilliant social media monitoring platform that lets you scan social conversations from various social data sources by filtering for topics, keywords, or hashtags. You can access multiple social channels, discover customer sentiment, and see insights on a user-friendly dashboard.
9. Awario
Awario is great for companies starting out with social media listening. It scans text data from many social media websites such as Twitter, Facebook, and even YouTube. It can't analyze videos, for example from TikTok or Vimeo, but it does analyze comments that accompany them. This is useful because collecting data from varied sources increases the chance of better insights.
10. Buffer
Buffer is a free social media listening tool that you can use to track social media conversations. It comes with a user-friendly dashboard and allows you to post content and engage directly from the dashboard.
Read about these social media sentiment analysis tools in detail.
Social Media Sentiment Analysis - The Repustate Advantage
Repustate helps you carry out effective social media listening and gather helpful information to drive decisions. With our text analytics tools and multilingual sentiment analysis, you can get easy, accessible insights at scale.
Sentiment Analysis Dashboard for Data Visualization
You can track analytics and measure your performance on different social media platforms from one place. Whether it's TikTok, Twitter, Facebook, or Instagram, you can monitor all conversations simultaneously. With a single button, you can view data on keywords, trending hashtags, brand mentions, and more.
Real-Time Social Media Listening
Never miss out on relevant conversations on your preferred social media platforms. Our real-time data capabilities track brand mentions as they happen. It empowers you to resolve issues quickly and boosts customer experience for your clients.
Competitor Analysis
With Repustate, it is easy to know how you measure up against the competition. More than viewing relevant insights on your brand, you can also track conversations about your competitors for comparative analysis.
Social Listening From Audio or Video Stream
You have access to not only text data but also all mentions on streaming channels and social media platforms. We provide deep-level insights on brand mentions in other media formats with astute audio and video content analysis capabilities.
Stock Market Sentiment Analysis
The stock market can be a competitive and cut-throat industry. High-frequency trading algorithms search for any disruptions in the market and use them in sub second transactions. Having accurate information at your fingertips means that you can make the right call on any given trade.
Customer Trend Analysis
Repustate interprets existing trends to reveal the behavior patterns of your customers. You can track customer experience insights over defined periods, and figure what likes and dislikes are common amongst your customers.
With the right sentiment analysis model, you can effectively interpret data from social media mining. Thus making it easy to define your brand's messaging and growth strategy around things that your customers care about. Our social media listening solution will help you understand not only your customers but also your competitors.