Top 10 Social Media Listening Tools: Best Social Analytics
Social media listening is the most reliable way to get the pulse of your customers. Social media measurement and analytics are conducted through natural language processing tasks that are run alongside text analytics and sentiment analysis algorithms on machine learning platforms. These social media listening tools can help you grow your business by giving you metrics that can improve your customer experience. Additionally, social listening is also instrumental in helping brands protect their online reputation by thwarting any negative mentions that can snowball into a PR crisis.
In this blog, we articulate 10 social media listening platforms that can help you in this endeavour. But before that, we will take a small detour to see what features constitute a really good social listening tool.
Which are the most important features of a social media listening tool?
Video AI, mention extraction, hashtags and emoji reading abilities, multilingual capabilities, real-time metrics, an intelligent dashboard, are some of the most important features that should be present in a social media listening solution in order for you to get social listening benefits in detail.. Let's get to know why.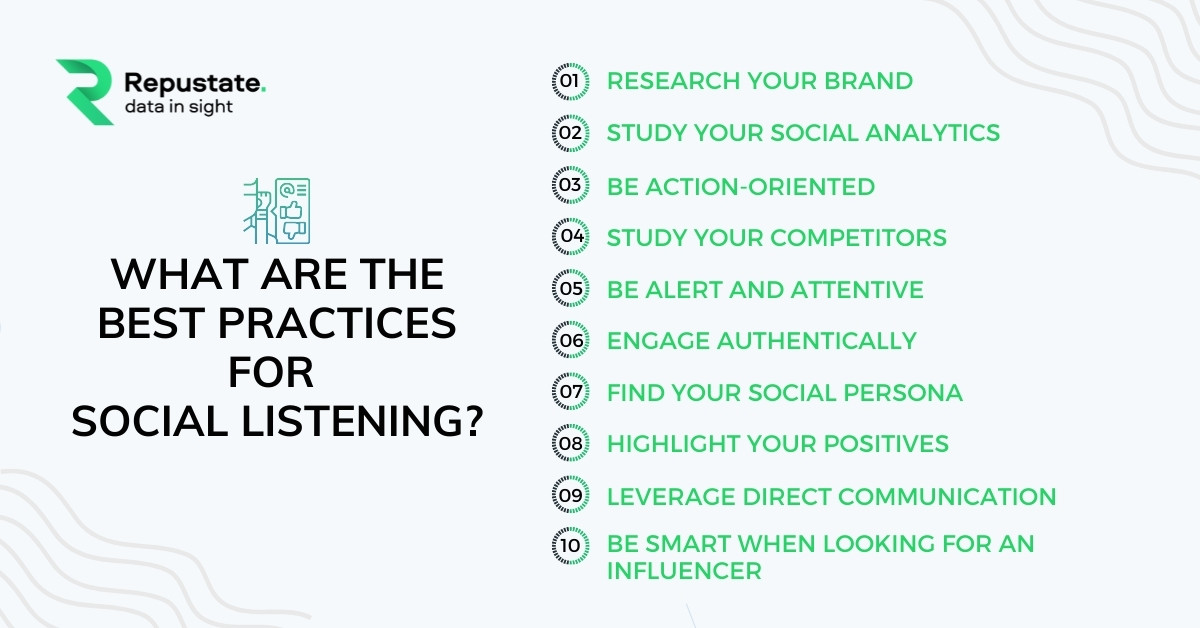 1. Video AI
TikTok has become a game-changer in marketing. What was first considered unfit for business is today top of the list when it comes to brand amplification. Look at this creative way user-generated videos are leading to brand amplification. Needless to say, video content analysis is one of the most important features needed in a social listening tool.
2. Optical Character Recognition (OCR)
User-generated videos can be of many kinds, but the most common ones on channels like YouTube are product reviews. The image recognition feature in a social media listening tool can identify any other brand logos that appear in the video including on clothes or in the background - say on a poster.
3. Social Mention Extraction
Named Entity Recognition is a machine learning task that identifies and categorizes information that is deemed important by the user. These are called entities. For example, names of people, businesses, brands, products, locations, are all entities. This feature is vital. The social mention extraction feature can help a company know in what context that entity was used in conjunction with them. Thus giving a comparative picture of where they stand.
4. Multilingual capability
A truly multilingual feature in a social media listening tool reads the social data in the native language. It doesn't need to translate the text. This increases the accuracy of the sentiment analysis results that you gain from the solution.
5. Hashtags recognition
This feature is also key in a social listening tool because hashtags define trending news stories. The natural language processing code in a text analytics API that is part of the tool is written specifically to understand the difference between regular words, phrases, and hashtags.
6. Emoji recognition and extraction
Similarly, the tool must be able to distinguish between emojis and special characters. In many cases, social media listening platforms do not have this express capability. By not being able to read emojis, the tool may give false positives or negatives when a sentence may actually be negative. For example, "Yeah, right. The customer service was so good." sounds like a positive comment without the emoji giving it away as a sarcastic one, and hence negative.
7. Emotion Analysis
The social listening process to gain customer insights is driven by emotion analysis and opinion mining. A social media listening tool must have a very sensitive sentiment analysis feature. Sentiment analysis is what helps a brand know its customers and business environment better. Through having aggregate scores on aspects such as "design" "ambiance", "ease-of-use", "robustness", "cleanliness" and the like, brands can come to know many details pertaining to different parts of their business. Whether it's clothing retailers, car manufacturers, or healthcare organizations, social media sentiment analysis is pivotal for market intelligence.
8. Real-time metrics
A social listening tool must be able to provide real-time metrics at any given moment. This is very important during an advertising campaign. You can immediately address a negative mention or a sudden spike in your social mentions, and also keep a tab on what's trending hot.
9. Speed & Accuracy
Speed is critical in a social media listening tool because the sooner that you get results, the more ahead you are in your action strategy. Similarly, sentiment analysis accuracy is of utmost importance as incorrect data can mean that you face the danger of wasting precious funds on a strategy that may be redundant.
10. Visualisation Dashboard
This feature allows you to gain insights in the form of charts, graphs, and tables so you can understand the data better. You can see what's working in your favour and which aspects need more attention, and so study historical and current patterns in customer behaviour.
Read more about the social listening best practices.
Top 10 Social Listening Tools
Below are the top 10 social listening tools in no particular order.
Repustate has an AI-driven social listening platform that also includes video AI. It recognizes more than 20 languages without translations, with precision, across any social channel. It can analyze millions of posts and remove irrelevant mentions while assigning sentiment scores to mentions that are relevant to you. Whether it's TikTok, YouTube, Instagram live, DouYu, or any other channel, the tool extracts all social mentions, hashtags, and emojis. Its social media mining capabilities ensure that you don't get false positives or negatives. You can work together as a team and share insights that can be historical or real-time. They can explore volumes of data by refining your search filters in its visualization dashboard that also lets you set alerts for spikes in mentions or for a filter you specify.
This is an all-inclusive social media listening tool that enables social listening, includes social CRM tools, and allows collaboration within teams through its in-built capabilities. The tool allows you to respond to social mentions, repost content, and filter your inbox by keywords and hashtags. The software allows you to track brands and refine your searches as well. This way you can sieve through mentions that are genuinely meant for you. Sprout Social is a platform that is used by large enterprises as well as medium-sized organizations because of the many features it allows you to integrate into your workflow, which is especially useful for large enterprises.
A straightforward social listening tool, Agora Pulse allows you social listening with filters where you can also include words that you don't want to appear in your social media comment searches. You can filter by location or language on Twitter and also take actions like click on a monitoring item, retweet, reply, or respond in a private mode. Actively used for Twitter messages, the software allows you to also share and assign an item within the team.
This is a social media listening tool that is mostly targeted towards enterprises. The suite allows social engagement to enhance your social branding. Meant for large organizations, the tool reads several social channels. It has a friendly customer dashboard that can give real-time insights and allows you to monitor competitor activity. The tool lets you explore large amounts of data by coding-required queries manually, and also gives you templates if that's what you need. Additionally, you can get insights in real-time or historically.
Here is a social listening tool that provides clean and clear insights. It enables social media monitoring as well as engagement. It analyzes posts and videos, and conducts sentiment analysis automatically. Thus you see what's trending negatively and positively about you. The tool allows you to keep a tab on your social media performance, activate search queries depending on your requirements, and also helps you find areas that need your attention. It has several dashboards, which is actually a good thing if you are a large organization.
This is a social media listening tool that is multilingual and has customizable dashboards that can display large amounts of data. The tool lets you track views, replies, retweets, etc from Twitter, Facebook, Instagram, and other channels while also supporting you with business intelligence. Like other social listening tools, this platform too enables you to export pre-filtered data sets through an API and assess your social listening metrics with performance data.
This social listening tool scans social media channels for relevant mentions so you can keep an eye on how your brand is performing in a timely manner. It also offers emotion mining and allows you to search for queries that you can use to include competitor brands to keep an eye on how the trends are moving. It provides you with link notifications so that you are aware of your mentions as quickly as possible.
YouScan is also a social listening tool that allows you to search and scan social conversations that affect you and are relevant to you. You can filter data through topics, keywords, or hashtags. This tool also offers alerts and notifications so that you are immediately aware of your mentions whenever they happen. This way you can take preemptive measures to make sure negative mentions don't affect you. You can access multiple social channels and get data on a user-friendly dashboard.
This is a social media listening tool that is an easy buy for small companies with its starter plan. It can get you data from publicly available online information from sites like Twitter, Facebook, YouTube comments, etc. Like the others, it doesn't uniquely analyze videos from TikTok, Vimeo, and other channels, but it does analyze comments that may accompany them. You can get real-time alerts, track mentions, and access several social media channels.
This is a bonus one on our list. Buffer is a free social media listening tool that you can use to track social media conversations. It's pretty basic, has a team-oriented dashboard, and helps you in social engagement by letting you post content and engage directly from the dashboard.
Making The Right Call
All the tools listed above are great in their own right. You need to choose a social listening tool that suits your purpose the most and gives you the most bang for your buck. Being on top of the changing trends in customer opinions and expectations is the foremost thing that makes or breaks a brand. Brands are scrambling to be noticed, and even though the social media landscape is driven heavily by videos, not all social listening platforms provide video analysis. All the tools mentioned above are very useful for text analytics but the truth is that online chatter today is driven by videos.
Repustate stands out in this aspect because with Repustate's social media listening tool you get to explore videos as easily as text-based social conversations from Twitter, Youtube, Facebook, and such. Not only that, you can also scan other channels and websites like LinkedIn, Xing, Glassdoor, and the like. This kind of precision-driven, NLP-based social conversation listening is extremely useful in customer experience, patient experience, or employee experience. A tool like this helps you discover brand influencers, and keep track of your online performance and reputation, like no other.