TikTok for Social Listening: Analytics With Insights
TikTok social listening allows you to data-mine comments and videos for customer and brand insights that go beyond standard dashboard analytics of likes and shares. And when you go beyond plain numbers, you'll learn various facets that motivate customer behavior, sales challenges, and how your products or services can be better. You also get insights for more targeted advertising strategies.
TikTok announced an estimated $1.9 Billion in revenue in 2020, all of which came from e-commerce offerings, in-app purchases, and advertising. This figure was a whopping 457% increase year-on-year. By the end of 2021, TikTok surpassed 1 billion users. Given these stats, it's not surprising that TikTok for social listening is extremely helpful with voice of the customer analysis.
So let's get down to the brass tacks and understand how you can use TikTok social listening for your brand's success and new market opportunities.
Which Sources Of Data Help In TikTok Social Listening?
The foundation of TikTok social listening is finding the right data that will provide you the insights you need - whether it's for strategies for a new market opportunity or to revamp your advertising and e-commerce offering. The following are three main sources where you can find such data.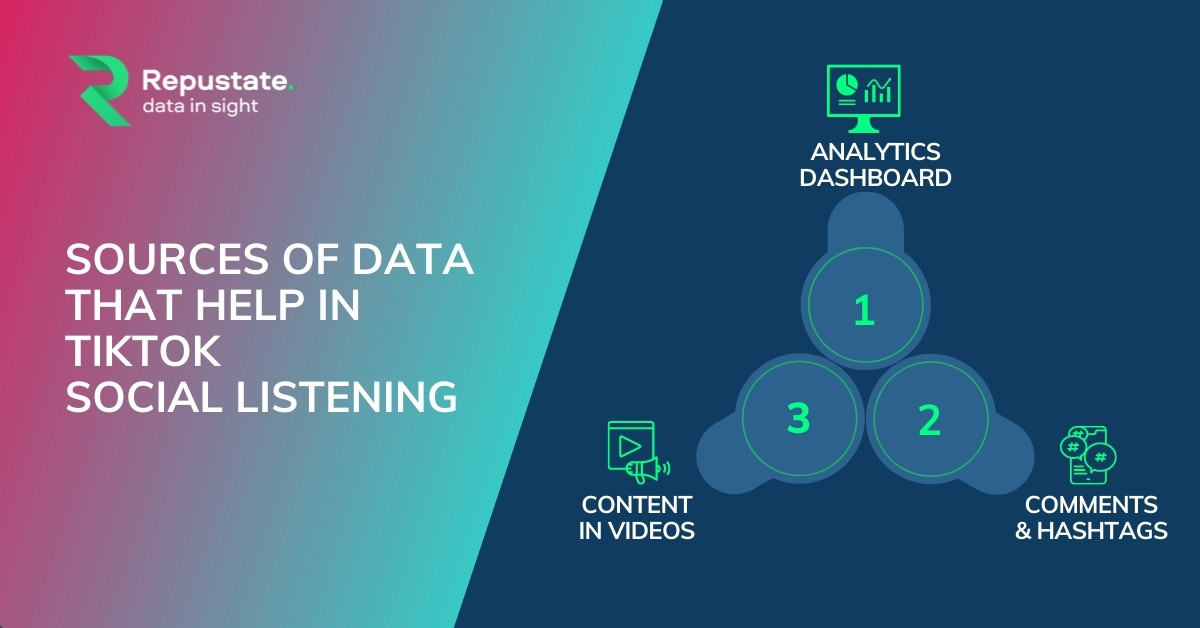 1. Analytics dashboard
The starting point is the numerical metrics available within your profile on the app. These give you insights such as the number of followers you have, the average watch time of your videos, web traffic, and more.
2. TikTok comments and hashtags
For a more advanced use of TikTok for social listening capabilities, text analysis is used to analyze comments and hashtags to provide deeper customer insights.
3. Video content
The most valuable data from TikTok comes from video content analysis. This data is key to obtaining customer insights and measuring influencer effectiveness.
Learn more about finding TikTok influencers.
How Can You Check TikTok Analytics for Social Listening Within Your Profile?
The first thing you will need to do to check TikTok analytics is to create a professional account with TikTok. Once you've done this, you can access the analytics by tapping the Me button at the bottom right of the TikTok app. From here, you can navigate to Creator and choose TikTok Analytics.
The analytics dashboard displays metrics for your account, including the:
Number of videos posted
Number of videos trending
Number of views
Number of times a specific video has been viewed
Number of followers
Number of likes and shares
These metrics can tell you a lot about your social impressions and whether they meet the benchmarks that you have set for yourself. However, they do not tell you the reasoning behind the numbers. You also do not know, for example, what is the common theme in the comments your post has garnered, and whether they are positive or negative, unless you manually go through all of them. With TikTok setting an annual revenue goal of 12 Billion for 2022 through ad revenue, one can imagine the number of opportunities a business can explore to revv up its ad strategy for aggressive growth.
In a business setting, this can be an ambitious task, also one which can be rife with inaccuracies due to human errors and bias. In order to gain a complete understanding of what your metrics means to you in terms of business intelligence, you will need to analyze comments and hashtags as well. These will tell you about trending topics and whether the spikes in your impressions are to your advantage or there is an issue that you need to address regarding your brand associations or advertising strategy.
How Can You Do TikTok Social Listening For Comments & Hashtag Analysis?
For advanced TikTok insights, you'll need to use a sentiment analysis API that provides text analytics through natural language processing (NLP). With it, you'll be able to extract insights from the text in comments or hashtags. As more companies turn towards influencers to boost their TikTok marketing strategy, it is more crucial than before to ensure what type of sentiment is prevailing in comments and hashtags about your brand, and whether your investment in your influencer is bringing in the returns it should.
To achieve this, Repustate's solution uses a four-step approach for TikTok social listening:
1. Text collection
The process starts by collecting the text to be analyzed. In the case of TikTok for social listening, text collection is done by using an API through which data is gathered and uploaded. Since the process depends on the quality of the data, analysis ultimately depends on the quality of the text data that has been sourced
2. Text processing
The next step is to process the gathered data. Here, all the text is extracted from comments and readied for the sentiment analysis process. During this step, it's crucial that the sentiment analysis API also extract all non-text elements like emojis, hashtags, and special characters.
3. Text data analysis
During the analysis process, the sentiment analysis API uses a pre-trained model to extract all the themes and aspects from the text and analyze them for customer sentiment. When analyzing these themes for sentiment, the API will assign a sentiment score to every theme. Based on these scores, the sentiment analysis API will then calculate an average score and the overall sentiment.
4. Visualization
Once the process is complete, the API will present its data as graphs and charts visually. This differs from platform to platform and the specific use case. For example, when doing voice of the customer analysis, the API will present the insights on its customer experience dashboard. No matter what the platform, through this visualization, you'll be able to see where your business is performing well and where you need to improve.
Checkout a few Insights from our dashboard: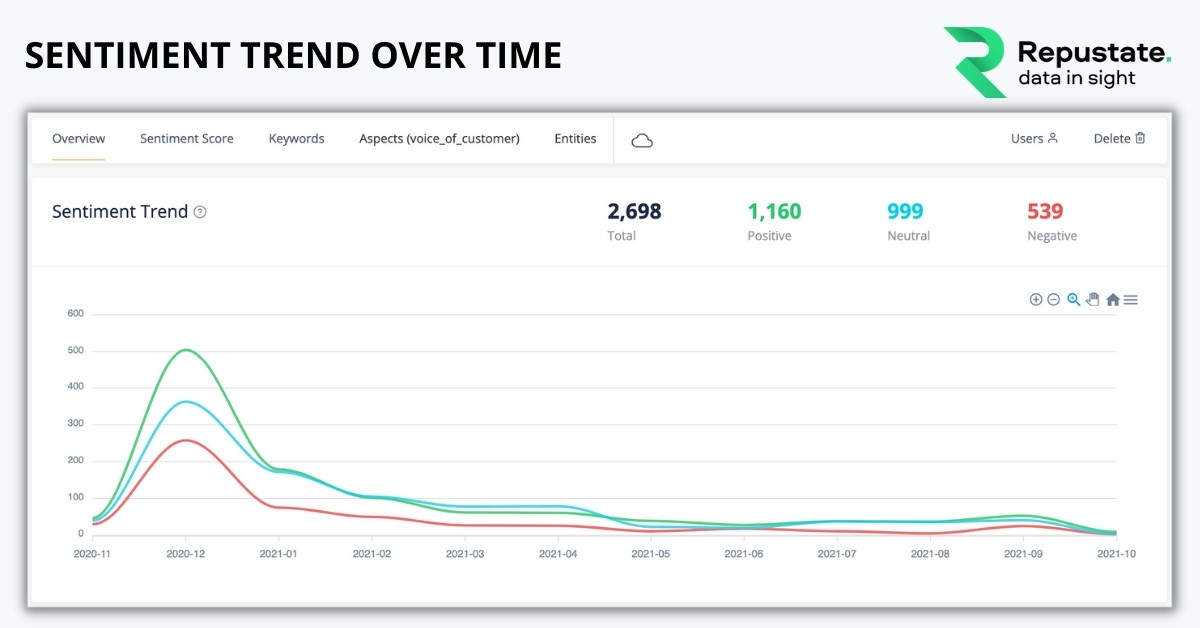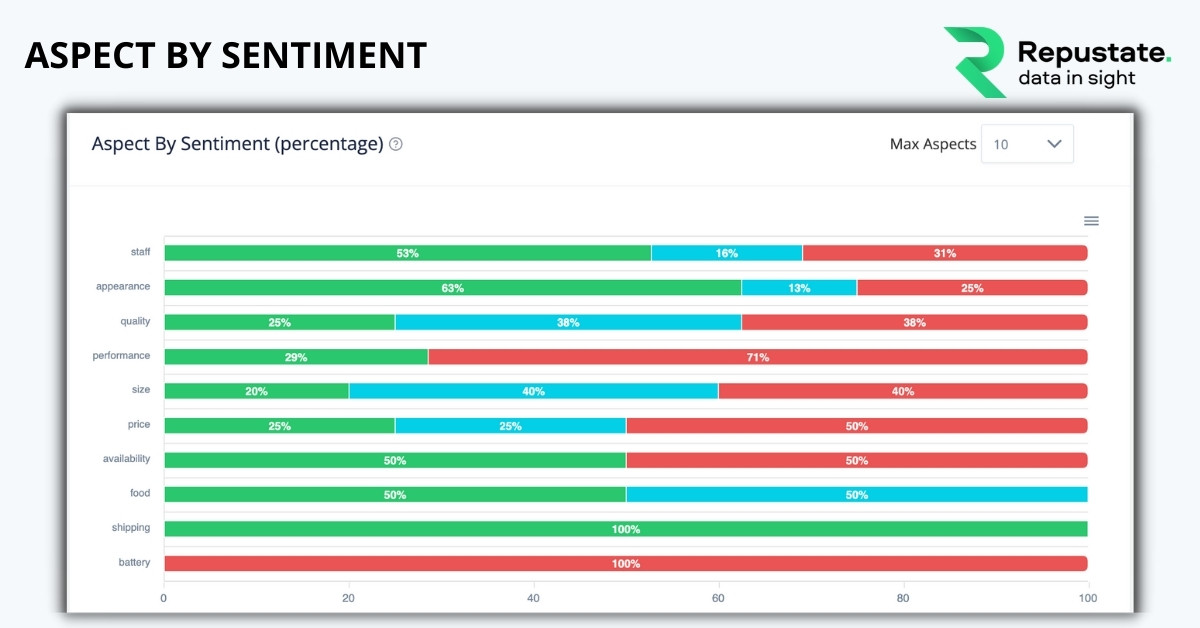 Click here to see other insights inside sentiment analysis software.
Here is a video that shows how brands can use TikTok social listening can help you understand your customers:
Learn more about the how brands are using TikTok.
How Can You Do TikTok Social Listening Using Video Analysis?
Although extracting customer experience insights from text could be reasonably easy with the variety of tools available, doing the same with video content is more complex. For this reason, you'll need a sentiment analysis API that uses powerful machine learning and natural language processing algorithms and incorporates video content analysis and search inside video features.
When using TikTok for social listening, we fetch all videos using a #hashtag search or the specific URL of the video we want, and then extract insights using the below process:
1. Analyzing the audio channel
Firstly, the API analyzes the audio channel by processing the videos with a speech-to-text neural network. It then uses its text analytics API to analyze the text for insights.
2. Detecting the caption overlay
During the next step, the API will detect if there are any captions overlaid on the video. If there are, it will extract the text from the captions. Once this text is extracted, the text analytics API will process and analyze it.
3. Identifying any branded content or images
Finally, the API will use a pre-trained neural network to detect and identify any images, logos, or branded content in the video. It's worth mentioning that, in both this and the previous step, the API converts the video to a series of images that are analyzed.
As is the case with extracting insights from tiktok comments and hashtags described above, when using TikTok social listening, the API will present its insights on its dashboard once the analysis is complete.
Drive TikTok For Social Listening With Repustate IQ
TikTok social listening can provide you with all the relevant and key insights you need about market opinions regarding your brand, products, and services. With these data-backed insights, you can shape strategies to improve your customer engagement and give your audience a more personalized experience that results in better sales conversions.
Repustate's sentiment analysis solution, Repustate IQ, offers the enviable capability of video content analysis that is crucial when you need to use TikTok for social listening. You can employ the solution to predict and determine trend analysis with sentiment, predict sales, monitor hashtags, and even the performance of your social influencers and brand associations.
Use Repustate IQ for a better business strategy through social media marketing.