Plan your Twitch Ad Campaigns with Semantic Customer Insights
Launched in 2011, Twitch is an interactive live-streaming platform for content creators and spectators who participate via online chat. Streams can vary from a few minutes to several hours (in the case of epic gameplay sessions). In this blog, get an inside view of why sentiment analysis is important for Twitch Advertisement and how to plan your Twitch ad campaigns with semantic customer insights.
Who Advertises on Twitch?
Twitch is not like other social media platforms. Although it's owned by Amazon, it retains an edge as most of its users are tech-savvy gamers. These people are typically used to high levels of interactivity and love sharing their experiences. Users skew heavily male (65%) and young (41% are aged 16-24 and 32% are 25-34).
Given the demographics, it's not a surprise to learn that B2C companies that sell apps and games, gaming tech, fast food, beverages, and workstations, dominate when it comes to advertising. Top advertisers include Ubisoft, EA, KFC, Hershey's, Red Bull, and Guess.
Guess's a collaboration with key influencer Adelaide Kane is a rare example of a brand leveraging the female minority using the site. That said, Kane has over 2 million followers on Twitter, so Guess clearly saw a cross-platform opportunity to link their fashion label with this influential young star.
Understanding Twitch as a Commercial Platform
As well as its singular demographic, Twitch is unique in that its users may not be watching content on their desktops or phones, but on web-enabled TVs, PlayStation, and Xbox. By advertising on Twitch, you are potentially reaching users who are invisible to other advertisers.
Like all platforms, however, Twitch has a range of video and banner ad opportunities, both cross-platform and targeted at desktop or mobile users. From homepage ads to cross-screen videos to interactive spots and even influencer partnerships, there are a host of ways to push your product in front of its likely adopters.
Here are some key stats on the platform:
140 million monthly active users

Up to 127,000 live broadcasts running at any one time

Over 100 million app downloads

9.2 million live streamers (as opposed to viewers)

2 million viewers on average at any one time

Over 24% of users are based in the USA
Source: MediaLix
These figures make it a major player in live-streaming, although not at the level of YouTube, TikTok or China's DouYu. However, if your product matches Twitch's unique demographic and character, you might see a great return on investment (ROI) when you advertise there.
Like YouTube, Twitch content producers can monetize their streams, with a revenue-sharing model. Unlike YouTube, users can also sell subscriptions, if they so choose, offering perks in exchange for high-level membership (rather like Patreon). It's worth noting that such perks may include ad-free content delivery.
Twitch also has a unique in-app currency called "Bits". These can be built up by users and traded on-site for special access privileges like shout-outs to streamers they favour.
How Can Semantics Drive Better Ad Placement On Twitch?
With semantic analysis, you can get a more targeted and qualified market for your business outreach. You can strategize a better stream of revenue by identifying customer personas, strengthening partnership campaigns, and leveraging social media listening data.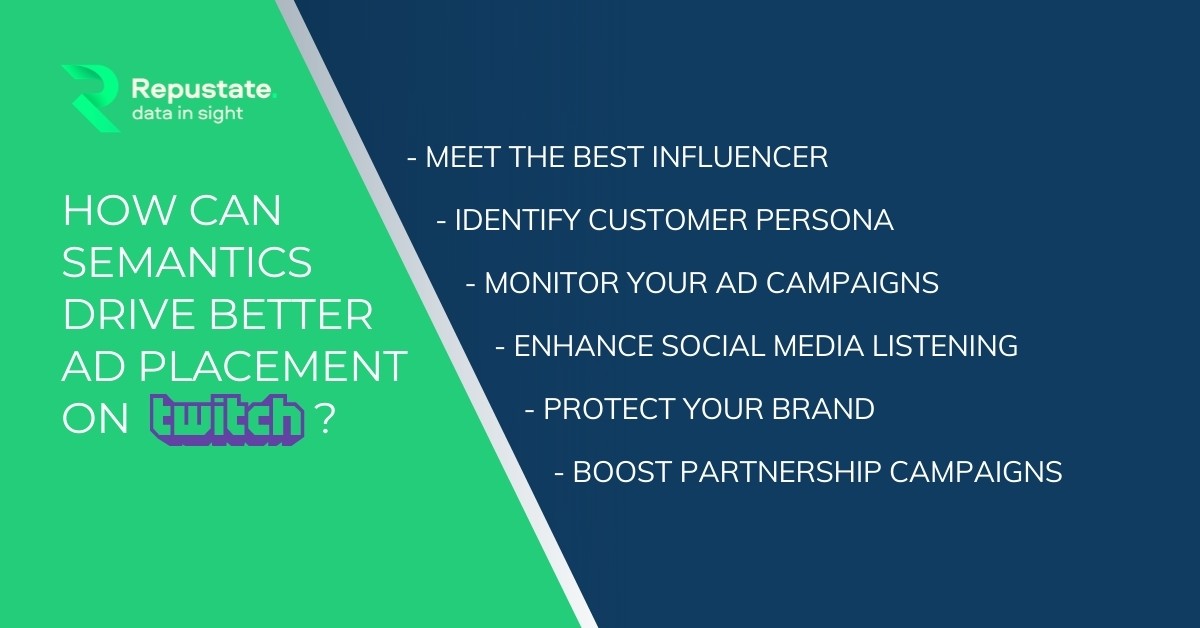 Meet the best influencers for your brand
A semantic API can scan millions of posts and chats to highlight the tone and themes in the influencers' posts and chats. These themes can help you go beyond just the number of followers to a better quality of followers.
Identify your customer personas
With sentiment analysis you can identify the customer persona from a streamer/influencer's communication point of view, using pre-trained models. You can fetch the basic profile information from Twitch and create customer persona sets and see how they match your ideal target market.
Monitor your campaign
With time-stamped semantic search, audio-video images and texts related to your brand mentions can be captured for analysis. For example, if a streamer promotes a super-fast gaming processor, you can study how viewers respond to it.
Protect your brand
You can protect your brand reputation using real-time or near-time semantic mining. You can ensure that these mentions are not associated with an influencer who does cyberbullying and promotes or protects an inappropriate idealogy reflected by extremist, racist, sexist or xenophobic remarks.
Capture social media listening
Social media listening on Twitch can help place ads in front of users predisposed to certain products or create campaign content which chimes with how Twitch users actually feel. On a platform like Twitch, customer insight is a little more complicated, since you're mining chat, rather than star ratings. You're also doing so with large volumes of real-time dialogue. Sentiment Analysis can help you here because it utilizes AI and machine learning to identify the meaning and emotional content of a piece of media. It's a vital tool for maintaining your brand reputation online.
Boost Partnership Campaigns
By using the right API, advertisers can also identify key influencers to target for partnership campaigns. This can be done by regularly scraping for channel ranking, viewers, and the number of followers of each participant on a live stream at a particular moment. You can identify which games generate the most popular live streams, then identify the most popular streamers of those games by the number of followers. This will let you know who the most influential Twitch users of those games are.
From what Data Sources Can I Obtain Customer Insights on Twitch?
Live streams, chat content, and channel information can all be mined for customer insights using a sentiment analysis platform. Twitch has an API for this too. Using Python or a similar language, code can be constructed to pull together data from relevant tags. Let's break down what information you can get from the three main data sources.
Live Streams (audio and video)

With video and audio content analysis, it is possible to read emotional responses from Twitch users, as well as transcribe and analyze spoken utterances. By leveraging this information, you can gain access to the unfiltered, in-the-moment responses of Twitch streamers.

Chat

On Twitch, a sentiment analysis solution must be particularly sophisticated in its semantic breakdowns to analyze and understand chat comments. There are a few challenges though that such kind of data usually has:

Gamers have their own jargon, terms everyday dictionaries may lack

Chats can have regular language sprinkled with youth subculture slang

Acronyms such as AFK (away from keyboard) and DLC (downloadable content)

Typing at speed generates a lot of typos, grammatical shorthand, and a lack of punctuation

Twitch users draw upon a range of proprietary emoticons, called Emotes, which encode specific types of Twitch interactions, like teasing laughter or boredom

Whatever the ease of the data generated, it can only help provide deeper insight into Twitch users' interests, needs, and thoughts about a product or service. You can also web scrape Twitch for topic keywords to dig further into the content of what is being said.

Channels

The thumbnails of Twitch channels can be analyzed for brand logos which can provide insights into product mentions and brand awareness. Similarly, text analytics can be applied to freeze frames excerpted at regular intervals, using a range of specialist APIs. Channel data such as subscribers, site visitors, most popular streams, and other key data can also be extracted from a Streamer's channel page.
How is Sentiment Analysis done on Twitch?
As we've seen, there's a wealth of data and insight that can be gleaned from Twitch, if you use the right semantic analysis and emotion mining solution. Here are the steps in which Repustate processes this complex task.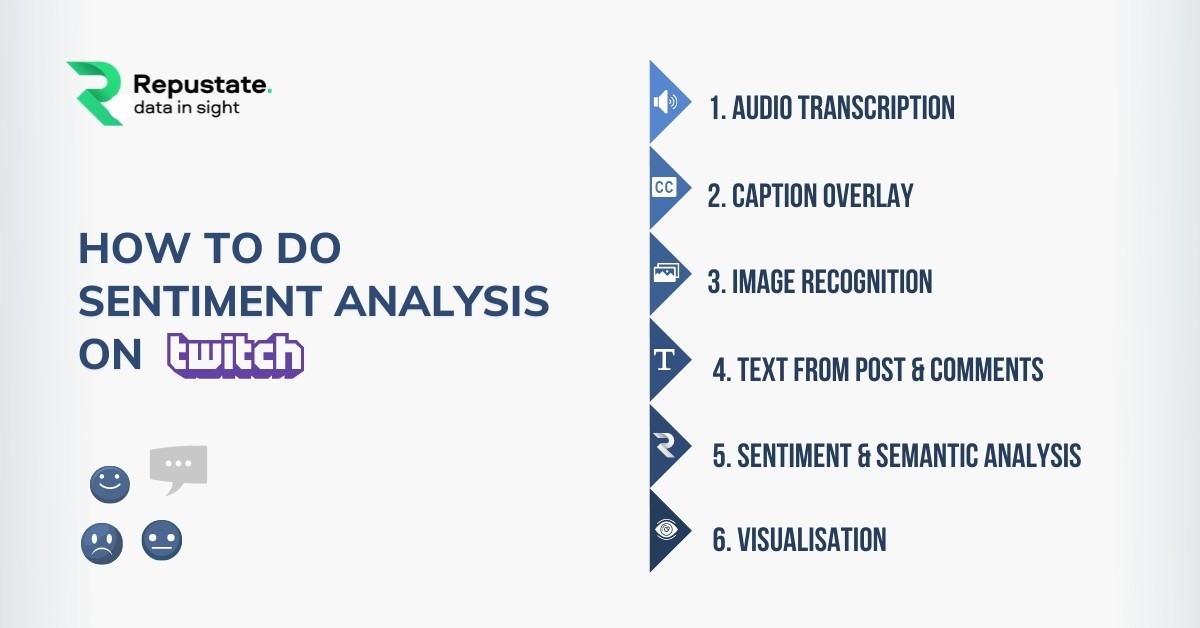 Audio Transcription: Video files are gathered and converted to text using a speech-to-text program.

Caption Overlay: The video analysis API breaks videos down into frame-by-frame images, which are then analysed for any keywords related to entities and aspects. They are identified, extracted, and converted to analyzable text.

Image Recognition: Similarly, logos and brand-specific imagery are identified and categorized.

Text from Comments: Any comments which accompany a live stream recording are passed through a text analytics API. This includes Twitch-specific emotes, acronyms, and jargon.

Sentiment Analysis Application: Key topics and recurring themes are extracted from all the above data and analyzed for the sentiment. They are then scored with sentiment polarity; +1 being for positive and -1 for negative.

Sentiment Visualization: Finally, insights are displayed graphically on the Repustate sentiment analysis dashboard, with easy-to-read graphs, charts, and reports.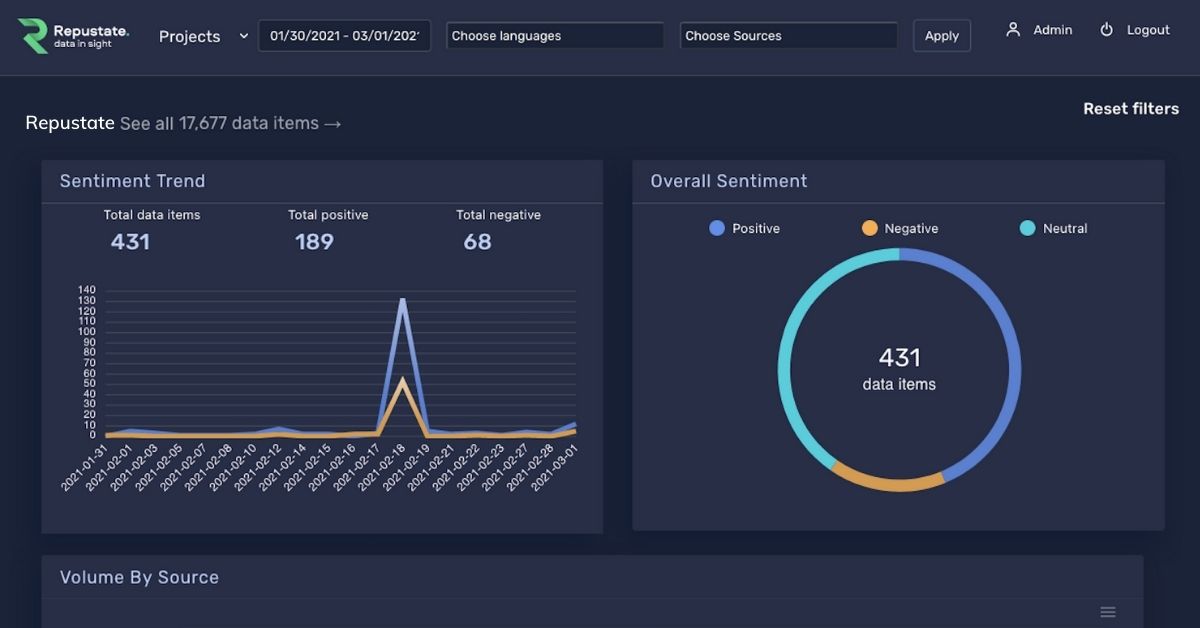 Empower your Twitch advertising with Repustate
Twitch is a unique and growing live-streaming platform with great potential to expand into live performance and podcasting arenas. It provides access to an unusually loyal and specific market sector for brands and advertisers who want to reach that younger demographic. Getting hold of that data can be the sticking point since you need to use cutting-edge technology, automation, and sophisticated AI-driven tools to analyze mountains of data.
If you'd like to make the most of the customer insight that Twitch can provide, why not partner with a specialist company offering cutting-edge AI-powered data analysis? Repustate's video content analysis can help you find out what Twitch users are really thinking, and provide you pure, unfiltered insights for your marketing and advertising campaigns.