Douyin Analysis: Organic Social & Advertisement Insights
Let's deep dive into how brands can use AI-enabled video content analysis to mine consumer sentiments from Douyin advertisement content. With more than 800 million users of Douyin worldwide, and with a customer base with increasingly high purchasing power, the platform is a mecca for luxury brands wanting to take advantage of this lucrative market segment. With a huge reservoir of user-generated content, it's easy for brands like you to gain customer insights and use them in your marketing and advertising strategies on Douyin to resonate with your Chinese customers. Read on to find out how you can use Douyin advertisement insights for market expansion.
The Advent of Douyin
Douyin took the Chinese digital space by storm when it entered the market in 2016. The app allowed users to make short, interesting videos themselves instead of just scrolling past videos created by agencies and brands. It gave a new sort of freedom to people in terms of their entertainment and also gave the opportunity for anyone to be their creative best and become a star overnight. Brands were also given a chance to market themselves through Douyin advertisement and immediately felt more acceptance and return on ROI than they did on TikTok.
Unlike TikTok, Douyin consumers are vastly educated, come from metropolitan areas in China, are affluent, and have a wide exposure to foreign consumer brands. This has made the app very successful for brand marketing. Added to this, the rising purchasing power of the Chinese populace, Douyin's entry into the e-commerce market, and the ability of the app to amplify brand promotion and awareness tactics, has lead to a surge in premium international brands making a beeline to promote themselves through Douyin marketing.
Brands that have engaged Douyin include the likes of Tiffany & Co., Gucci, Miu Miu, Prada, and Michael Kors. In its latest, Douyin even opened its first online store for luxury brands in March of 2021. The feature includes vouchers, product and brand recommendations, and offline store information. AI-enabled platforms can help companies gain key Douyin advertisement insights from the data thus available on the app for brand amplification.
How to Succeed With Douyin Ad Campaigns?
The success of Douyin advertisement campaigns depends on the kinds of advertising that you choose to do on the platform. These are: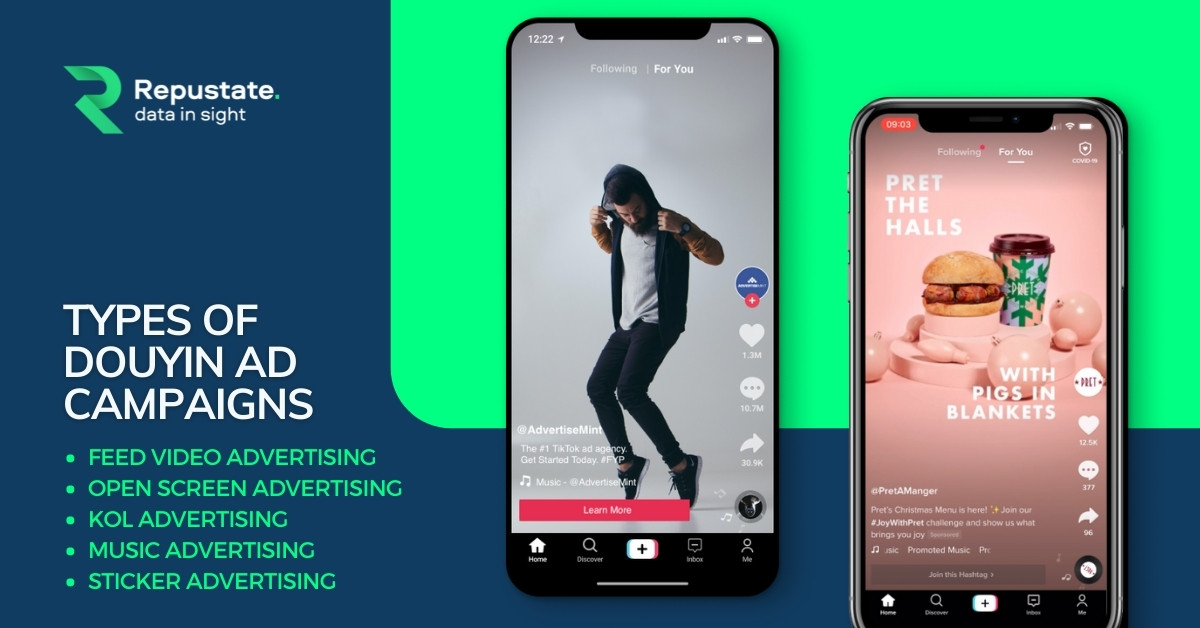 1. Feed video advertising
A company can promote its brand video in the Douyin feeds. These ads do not interfere with the content of the feeds and can be expanded to a full-screen format. Brands can create as many as 60 ads to be displayed on feeds. Users can also share an ad, if they like it, with their friends and followers not just on Douyin but also on other channels and platforms like WeChat, Watsapp, Messenger, etc. The source is connected to the brand's Douyin advertisement account, so this helps in increasing the brand's followers and helping in brand building. You can gain Douyin advertisement insights from your own account too through the impressions and social media sentiment analysis of your brand content.
2. Open screen advertising
As the same suggests, these are ads that run each time the app is opened. These can be static 3-second ads or video-based 5-second ones. There is no limit to the number of times these ads are displayed per user because they are charged by cost per thousand (CPT) impressions.
3. KOL advertising
Key opinion leaders (KOLs) are Chinese celebrities who have a large following and use Douyin to promote your brand using creative videos. Brands sponsor KOLs or Douyin influencers to promote their products or invite users to take part in challenges.
4. Music advertising
Companies can create commercial music videos of their brands and upload it in Douyin's music library. These music numbers are copyrighted and so cannot be used by any other company or person for another brand promotion. If users like your music, they can search for you using your tagline or brand. However, Douyin does not support third-party monitoring, and will take the final call to upload your music to their library based on Douyin advertisement protocol.
5. Sticker advertising
You can make creative, customised stickers to promote your brand and add them to your product videos or create funny content. You can integrate them in a challenge and give prizes. Sticker ads are quite popular because they linger for a long time on the screen and thus inspire and stimulate brand recollection and so increase the probability of people choosing your brand over others when the need arises. Stickers can give a lot in terms or Douyin advertisement insights because they can appear regardless of a brand video or a user-generated one.
Douyin Advertisement Success criteria
Apart from this, you need to keep in mind certain criteria if you want to excel at your Douyin advertisement. These are:
You can either join a current trend on the app or launch your own challenge, it's totally up to how much effort and money you want to put into your advertising campaign. If you are a beginner, you could begin by joining a current trend and use a sentiment analysis platform to gain customer insights, and then launch your own challenge eventually. With regards to a challenge, if it's simple, makes the user feel special, and gives them an avenue to showcase themselves, it's usually going to be a success.
Douyin users are prominently from metropolitan Chinese cities and so are more educated, affluent and have more purchasing power. Cutting-edge videos, music, innovative product enhancements based on consumer experience insights can help boost your success on the platform. You can use AI-based video analysis tools to understand the voice of the customer and this can actually help you create relevant content.
You can reach out to key opinion leaders (KOLs) who can help promote your brand further through Douyin advertisement. KOLs are Chinese influencers who are popular actors, singers, bloggers, and media personalities who have a strong influence on the customer demographic that uses Douyin. You can use Douyin advertisement insights to see which KOL is more suited to your brand, who their followers are, and approach them to be ambassadors for your brand.
The timing that you choose to post your videos on Douyin is very important. Weekends, lunch hours, or early mornings and late evenings are preferable as those are the times people either want to unwind or start the day on a peppy note.
Learn more about the importance of Douyin marketing
How Can Video Content Analysis Help in Douyin Advertisement?
Analyzing comments is important but analyzing the video itself for insights is even more so, given a video-heavy platform like Douyin. Let's take a deeper look at how.
1. Analyzing video and audio
Video content analysis (VCA) uses speech to text transcription to understand the very video itself. Natural language processing algorithms extract topics and themes from the video and segregate them into categories, which are analyzed for sentiment. This means that even if the comments for a video are turned off, you can still gain insights from what was the general sentiment behind that video.
2. Analyzing comments
VCA can analyze the comments in the video for mining the emotions from the opinions voiced by the users. There are many insights that can be gained from this kind of Douyin advertisement analysis such as the sentiments of consumers to different aspects of a brand such as the design, make, colour, price, convenience of purchase, return policy, etc. This is the same concept that is used when leveraging VoC data for formulating a customer experience strategy either for gaining TikTok insights or for branding on any other channel.
3. Multilingual content analysis
Video AI can give you all the Douyin advertisement insights you need from the videos you want to analyze, even if they are in a different language. These videos can be mined for consumer emotions and brand insights through multilingual sentiment analysis.
4. Analyzing caption overlays
Douyin advertisement can have stickers and captions on brand videos and ads. These can be analyzed for caption overlays because Repustate's VCA capability can identify and analyze them just like text data for competitor brand intelligence and emotion mining.
5. Logo identification
Repustate's video AI platform can analyze the logos or brands appearing in the background behind the person performing in the video. Coupled with comments analysis, this can translate to a more granular understanding of competitor or complimentary brands, and why they were used or were present in the background.
6. Video tagging & indexing
You can use the Repustate VCA platform to tag, index, and organize your video content. Brands can produce up to 60 videos in a month and at the end of a quarter you need to ensure that your video content repository is organized and can be searched with a control filter for relevancy, brand aspect, topic, etc. These can also be indexed per Douyin advertisement insights that you have gained.
Repustate's powerful analysis video content solution is available in Mandarin and gives you enviable accuracy, speed, and name entity recognition (NER) capabilities. See how we outperform major players in the market in these key areas.