Analyze Fan Experience With AI
Fan experience analysis ensures that you give your fans the next level in fan experience (FX). One that drives phenomenal in-stadium experiences that are in line with what a fan expects, and that propels repeat attendance. AI-driven insights can help sports leagues and teams fortify their strategies to boost their revenues and get better ROIs while challenging stagnating stadium attendance.
Sentiment analysis of FX analytics data helps you with this quotient through artificial intelligence algorithms that use natural language processing, semantics, knowledge graphs, and neural networks to understand fan data in social media. Let's understand how.
Why Do We Need To Analyze Fan Experience?
Delivering a great fan experience is not the same as it once was before the arrival of the digital revolution. Stadiums too are no longer just arenas that offer safe and clean seating arrangements, a good view, and an exciting ambiance. They are billion-dollar enterprises that offer luxury suites for a personalized fan experience, live entertainment, video boards, and so much more.
But all of this costs money. And so does maintaining it. In addition, in-home entertainment enhanced with AR and VR puts up a tough competition when you're trying to get more fans to attend live matches. Customer experience analysis helps you understand industry and market trends so that you know exactly what you can offer to different kinds of fans that will stimulate the conversion ratio.
How Does Sentiment Analysis Help Boost Fan Experience?
Knowing how your fans feel and giving them what they want, is the secret to coming out on top in a tough market. Take, for example, the San Francisco 49ers. They introduced a mobile app in 2015 as a food-delivery convenience to fans at the stadium. Today the app helps fans with numerous facilities that enhance their stadium experience. This includes integrating parking access, instant replays, express pick-ups, directions to seats, directions to stadium facilities, and more.
Garnering insights from this fan experience analysis data from the app has helped the 49ers increase revenues by USD2M. Not only that, this data has helped the team better the app so the downloads are 6X the industry standard. It's a horse before the cart, and the cart before the horse scenario, but one that has resulted in a win-win for the team.
Sentiment analysis allows you to gather insights from FX analytics data to this end. The data can be collected from fan forums, merchandise reviews, social media listening, video analysis, comment analysis from news websites and articles, and other sources. These AI-driven insights are what you can leverage for many advantages. Some of them are below.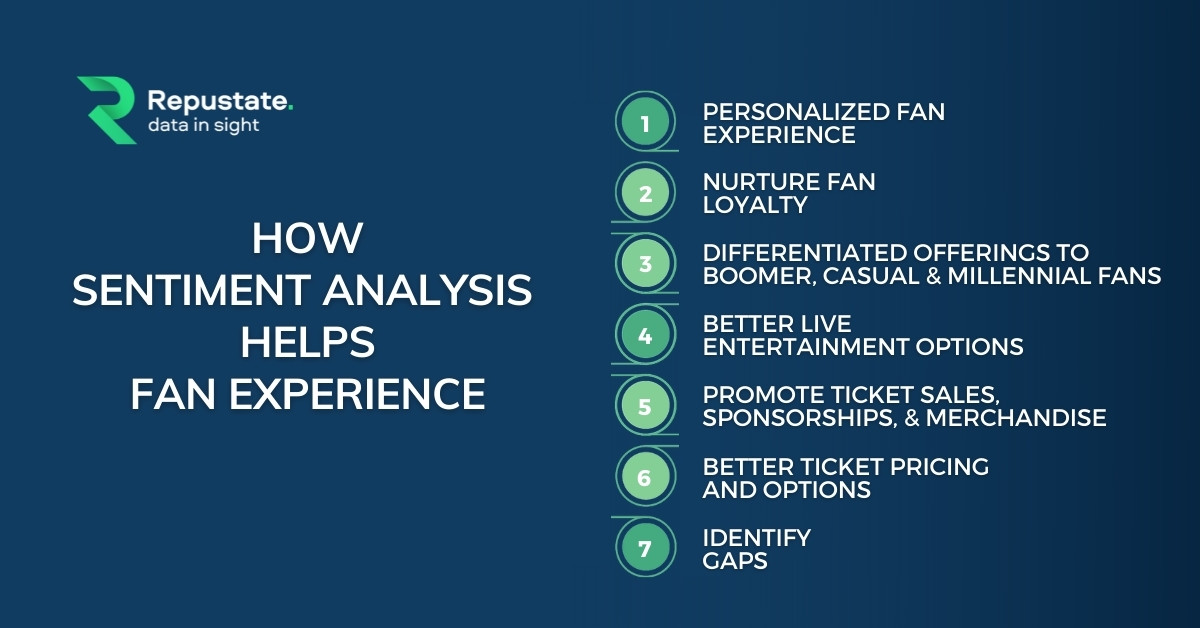 1. Personalized fan experience
Who hasn't seen a brawl break-out during the game in the stands. Most stadium goers find this occurrence problematic, especially when accompanied by family and younger children. Gather data, analyze it, and use the insights to offer fans a more individualized stadium experience such as the option to choose seats alongside fans of the same team. Anyone would love a personalized service like this.
2. Nurture fan loyalty
Personal identification with a team is on the top of the list for many fans. Sentiment analysis helps a team figure out what exactly it is that connects fans to them, and leverage that information to enhance their on and off stadium experience.
3. Differentiated offerings to boomer, casual, and millennial fans
While boomer fans come from a pre-internet era, the things that attract them to a big game are not the same as those that attract millennials, who are more digitally savvy and spoilt for choice. AI-driven fan experience analysis can tell you how to keep these two very different demographics satisfied while encouraging casual fans to become repeat attendees for a live game in a stadium.
4. Better live entertainment options
Being able to know what the current mood is, helps tremendously in ensuring that you give fans the experience of their lifetimes. This is what attracted 7.7 million fans to the FIFA Fan Fest during the 2018 FIFA World Cup Russia. In comparison, only 5.2 million fans attended the 2014 edition of the Fan Fest. From mascots to fireworks to live bands, you can know exactly what keeps your fans excited throughout a game with voice of the customer analysis.
5. Promote ticket sales, sponsorships, & merchandise sales
Sentiment analysis helps with giving you the right fan experience information to help with product cross-selling. Insights give you the ability to influence the sale of merchandise, and services, in addition to the main item, i.e. tickets. A trend analysis of current and past data can show key differentiating factors that you can use for funneling strategies for sponsorships, ticket sales, and television programs.
6. Better ticket pricing and options
Enticing a fan to come to a game is not an easy thing. While for some, going to watch a live game may be a once-in-a-lifetime experience, fanatic game lovers would love to have ticket prices that are optimized. Sentiment analysis allows you to develop pricing strategies that please fans and at the same time meet your revenue targets.
7. Identify gaps
Analyzing fan experience with AI helps to identify gaps in fan engagement. Given that over USD50Bn is spent by fans on stadium experiences, this is not something that should be taken lightly.
How Do We Analyze Fan Experience With Repustate IQ?
Repustate IQ analyzes data in 4 distinct steps. In order to explain this process, we analyzed fan experience data on social media related to the Toronto Maple Leafs.
Step 1: Creating the Project
First, we registered with Repustate IQ and then created a project.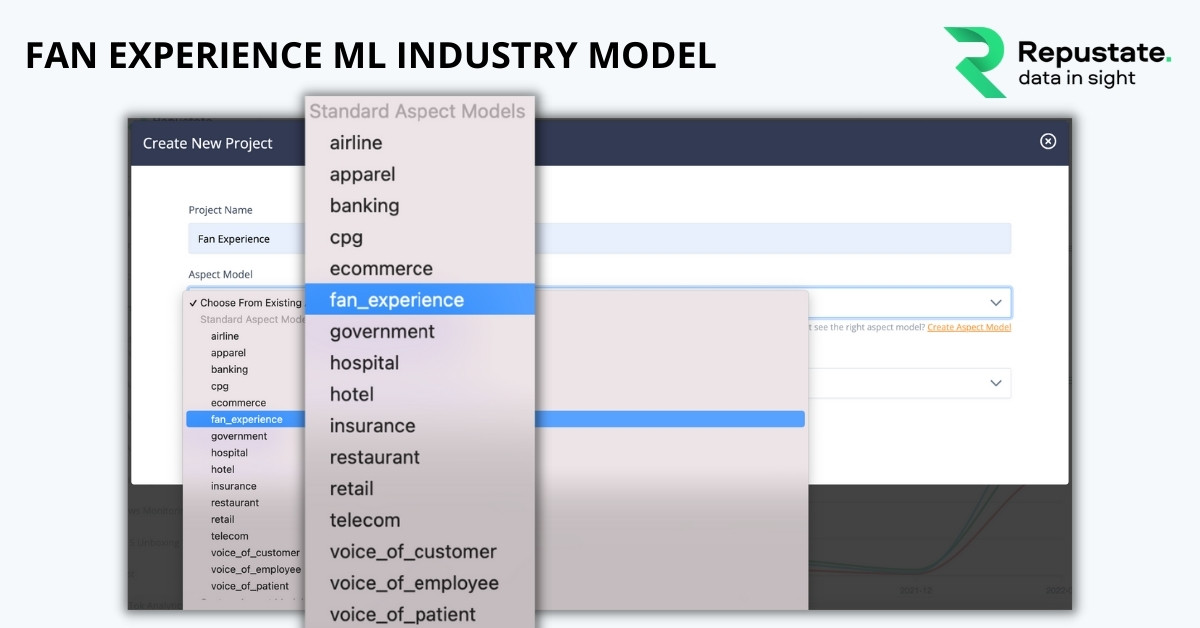 Step 2: Fetching the Data
For this example, we chose to analyze the hashtag #leafsforever on Twitter and TikTok. We entered the hashtag in the search, and the platform pulled the data from both data sources.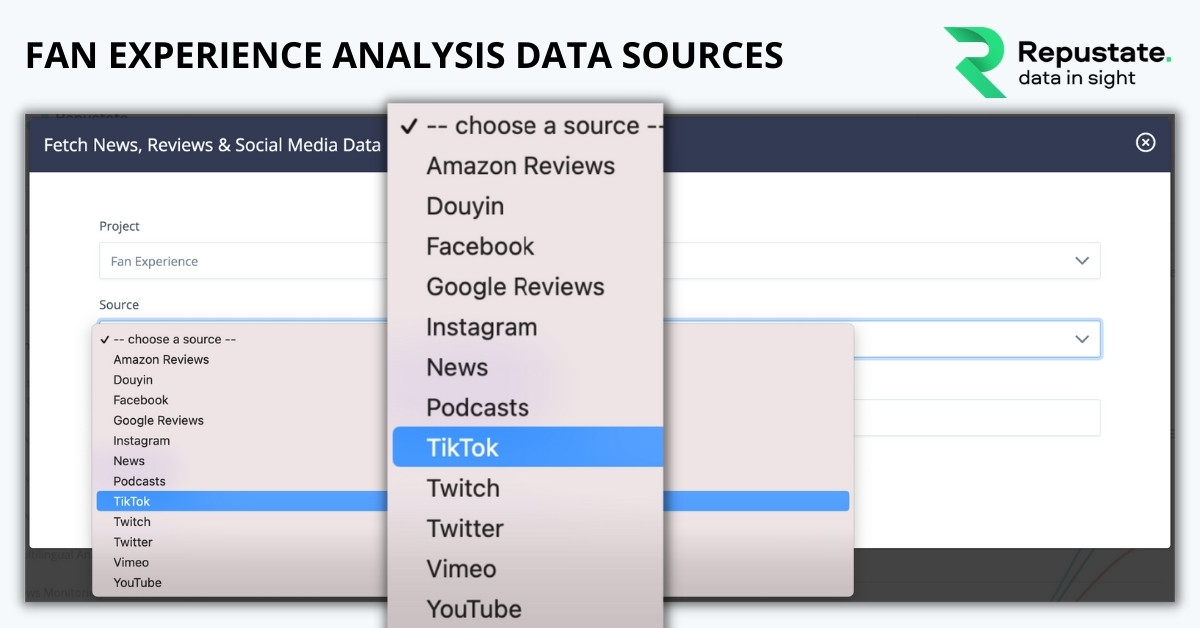 Step 3: Process and visualize data
Repustate IQ immediately pulls all the fan experience data from Twitter and TikTok related to the #leafsforever and gives TikTok customer insights as well as those from Twitter in the form of color-coded charts. You can see sentiment across the years highlighted for positive, negative, and neutral emotions.
You also see the sentiments based on the source of the data, as well the number of sources the data was gathered from.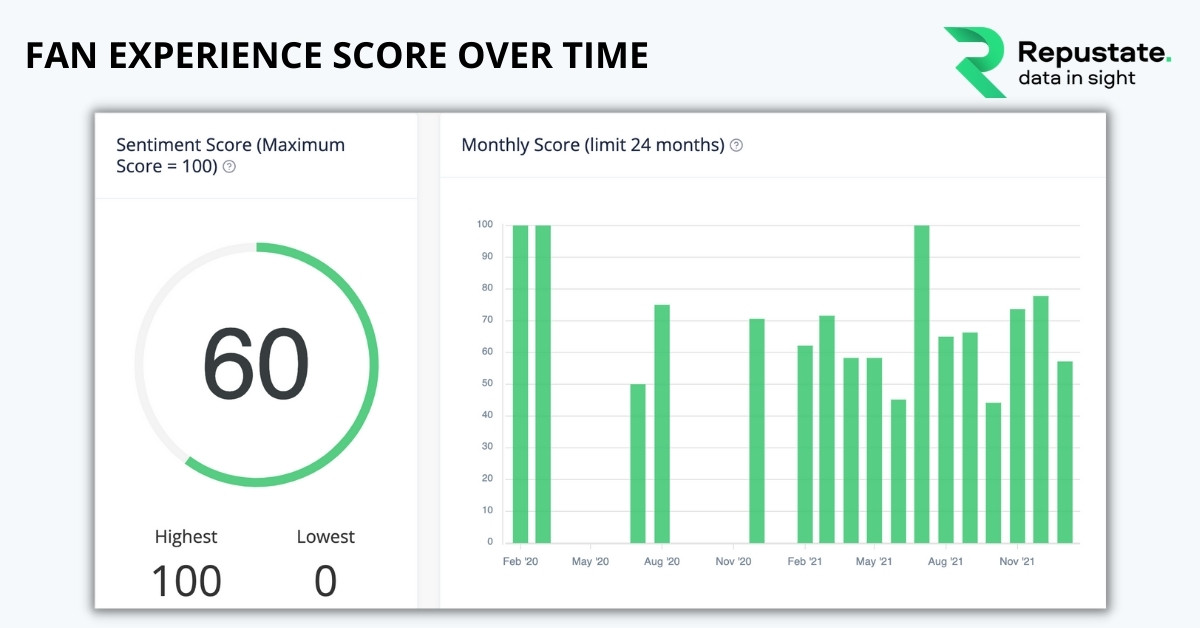 Step 4: Training your Model without Coding
In the last step, you can create your own sentiment rules and add custom entities for your specific requirements, all without coding. See below.
Create Custom Sentiment Rules
Create Custom Entities
What Insights Did We Derive From Fan Experience Analysis From Social Media?
Repustate's sentiment analysis dashboard gives you insights from fan experience analysis of social media data so that you can formulate strategies for a more cohesive in-stadium experience. Use the insights to drive repeat attendees, increase the number of season ticket holders, offer more enticing giveaways, get better sponsorship deals, offer more personalized services for stadium goers, and more.
Let's get more specific and see what brand experience insights we can get from Repustate IQ for the same data that we processed in the above example for #leafsforever.
1. The overall sentiment of #leafsforever
The dashboard gives you an at-a-glance picture of what is really going on in the videos and comments that were collected under the #leafsforever. You see that the platform has processed 3936 units of data in a matter of seconds and immediately gives you a breakdown of how many of these were negative, positive, and neutral.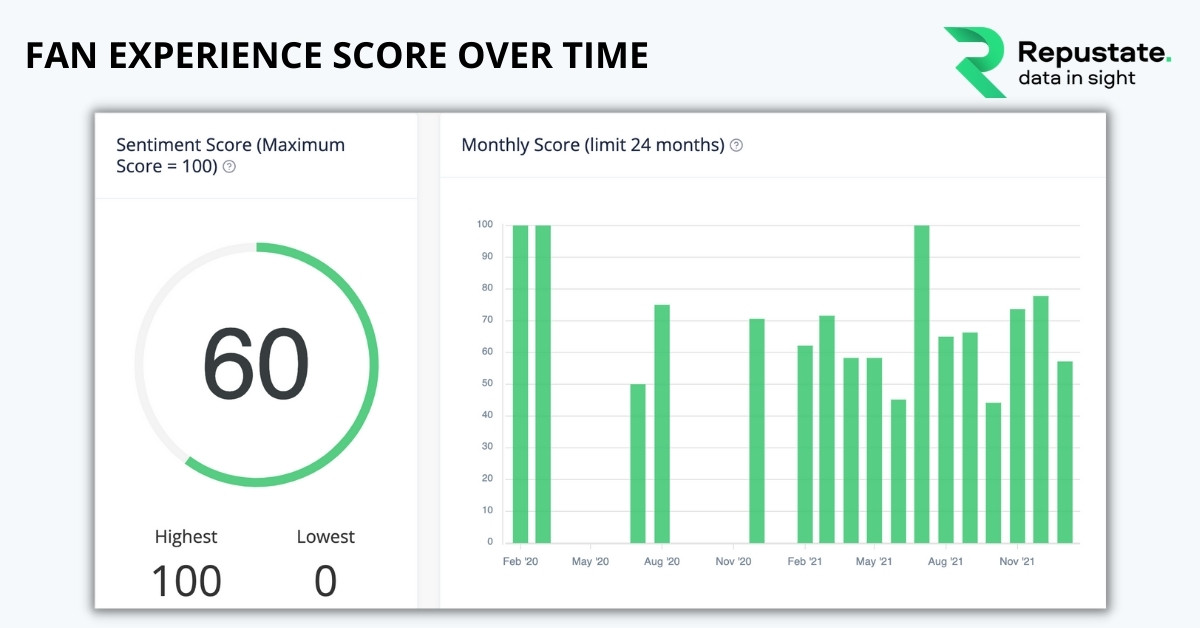 It is important to note that were we doing a fan experience analysis in real life, we would need as diverse a data set as we could possibly get. This means we would be using a diverse set of hashtags. This is because, just like a survey, the wider the scope of the data, the more precise and bias-free the results will be. You could also use hashtags for different teams, different stadiums, or a specific match.
2. Aspect-based sentiment by volume and percentage
The dashboard gives you details about what aspects it discovered from the data and their comparative percentages so you know which aspects were talked about the most. This is an indication of what action items you would have to compile during further analysis.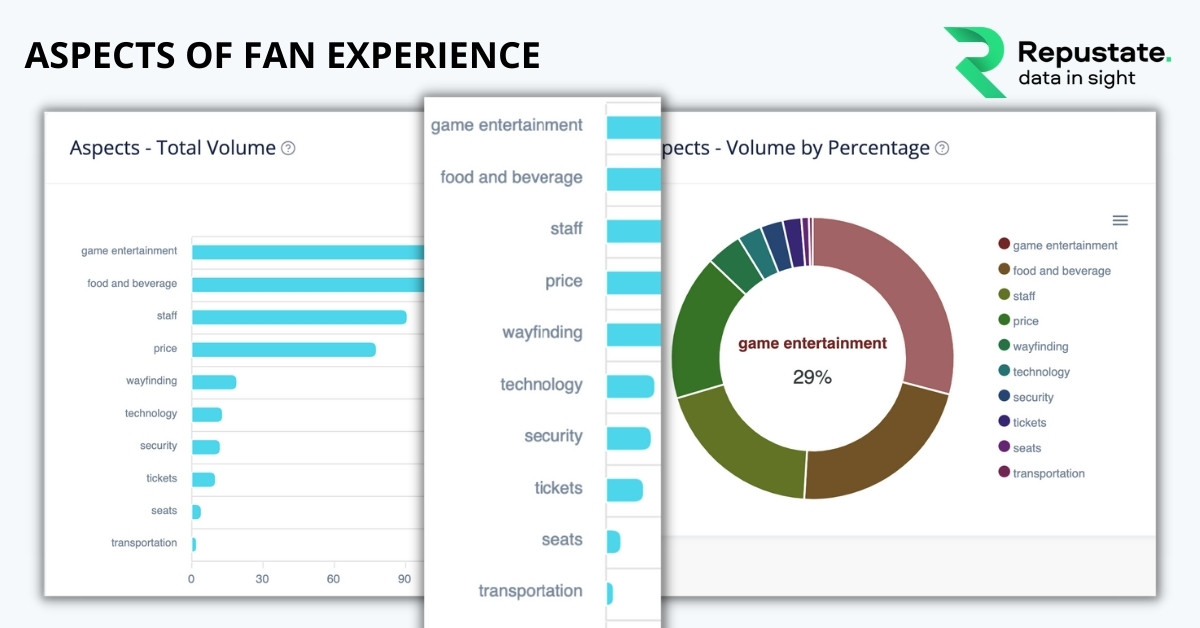 3. Most mentioned phrases
As the insights get more granular, you get to see what phrases were used most for #leafsforever. In this example, you can see that while around 300 phrases appeared about the game per se, amongst the players, there were only two who were mentioned, Nylander, and Mathews.
Again, the more data we analyze, the deeper the insights will be. In a real-life business scenario, we would analyze multiple hashtags, and then see what phrases might pop up. This will give us a better understanding of what's trending amongst the fans.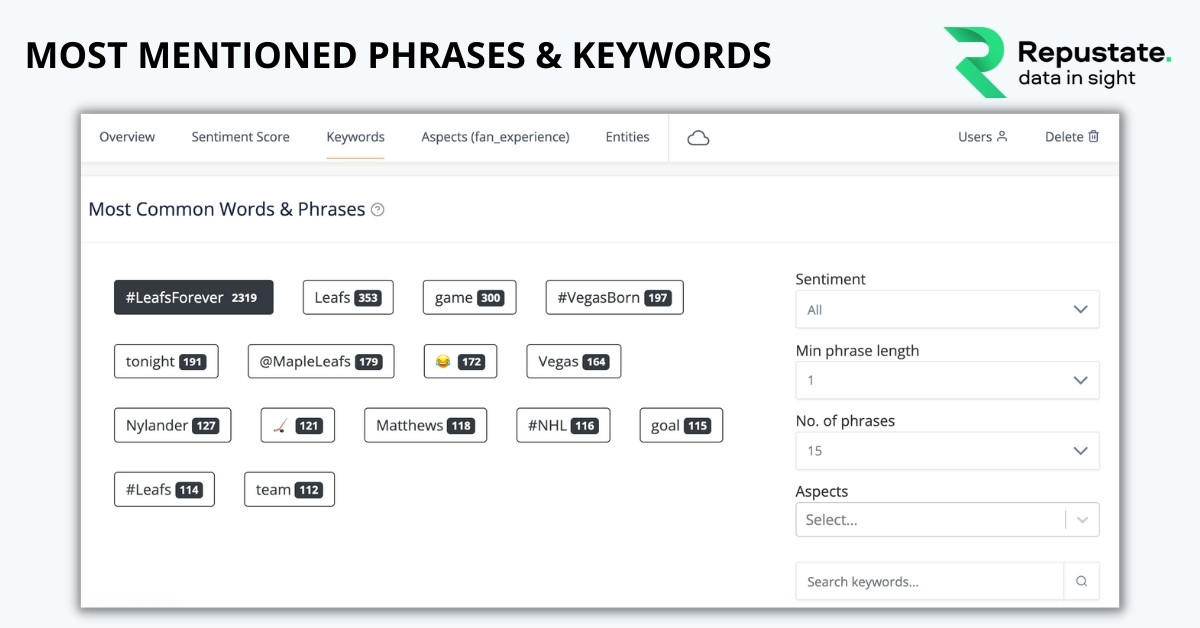 4. Aspect Co-occurrence
The fan experience analysis gets more interesting as we get into more details. Repustate IQ collates all the aspects, compares them with each other, and then gives you a graphical representation of how many aspects were mentioned in conjunction with each other. In other words, it tells you how many times people mentioned certain aspects together. For example, in the below screen-grab you can see that tickets were mentioned 29% of the time along with the price.
This is how you come to know how to please fans from different backgrounds and demographics. For example, while a feeling of personal connection with a team may be a major factor with a boomer fan base, accessibility to digital apps and mobile-phone based conveniences account for a big crowd-puller for millennial fans.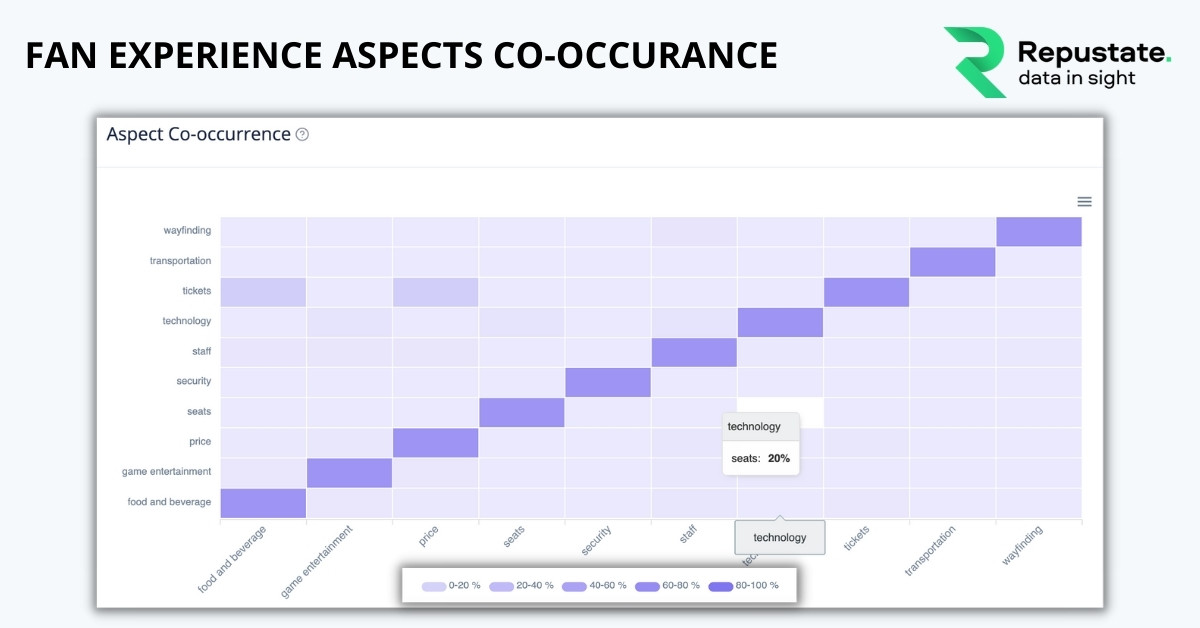 5. Emotion-aspect co-occurrence
Similar to aspect co-occurrence, the dashboard gives you the ability to see which sentiments were expressed for which aspects, and to what extent. Powered by AI-driven video content analysis, the dashboard gives you insights such as the percentage of how many times emotional aspects gathered from the social data, such as "happiness" or "love" occurred with aspects like "staff", "food & beverage", "price", "seats", and others.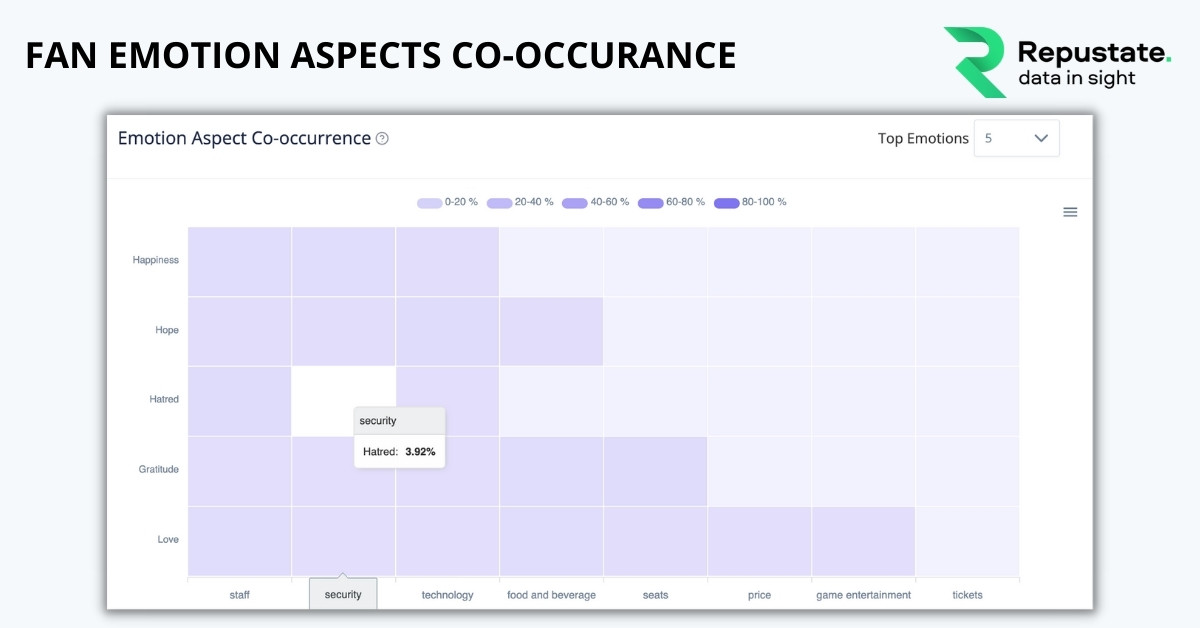 6. Source-based insights
You get to see fan experience analysis insights based on the different sources that were used to gather the data. In this example, you can see that the dashboard shows a higher level of negative sentiment on Twitter compared to TikTok. At the same time, we see that TikTokers were more neutral in their opinions.
This could be an indicator that data from Twitter was from users who comprised hard-core fans, while a large portion of the TikTok data for the hashtag was from casual fans who enjoy a good game once in a while and so were not that passionate with their opinions.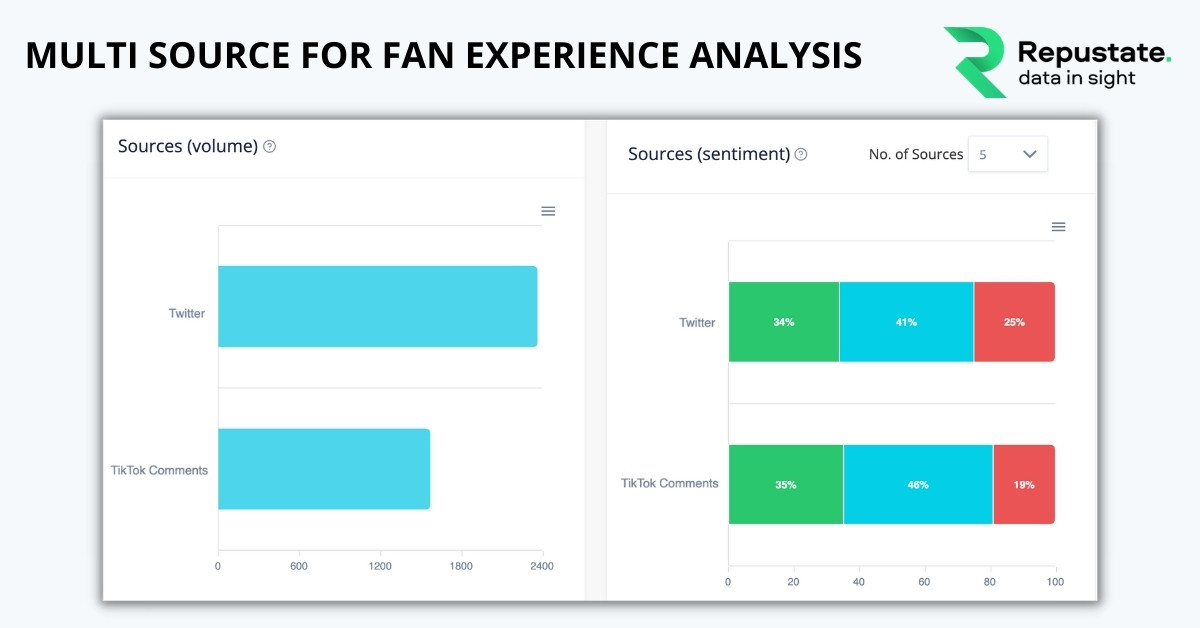 7. Hashtag combinations
You can see what fan experience data is pulled from various sources if you want in-depth insights for different topics for the same game. For example, you can see fan sentiments from those who mentioned both #leafsforever and #vegasborn for the same Jan 12 game. See image below.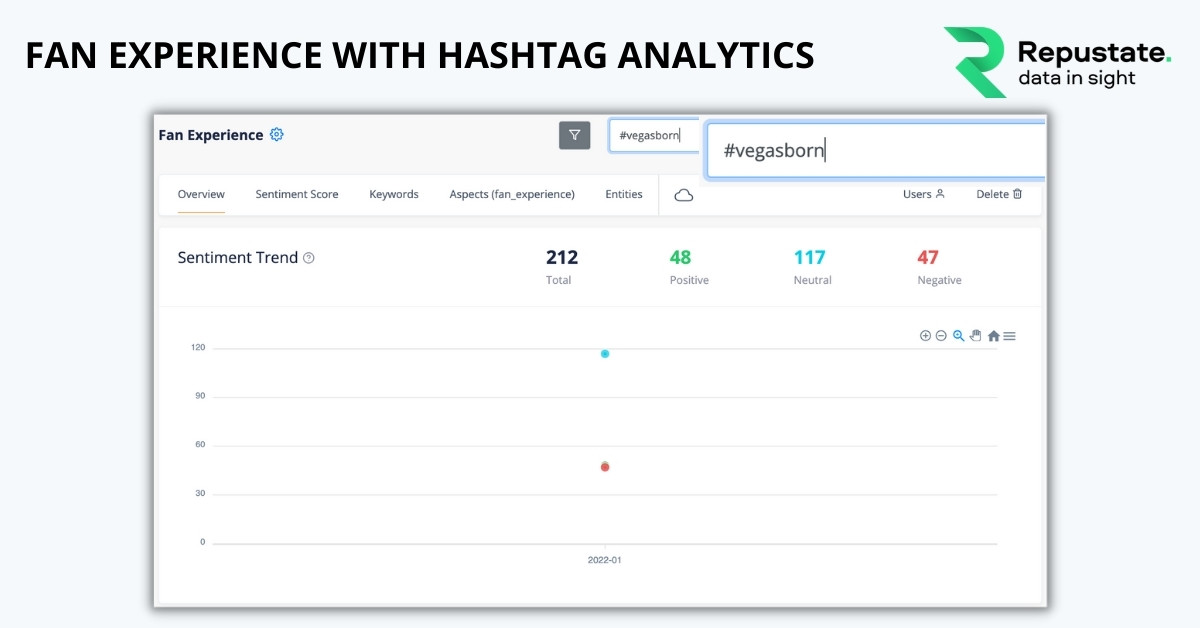 Further analysis shows that most sentiments with this set were neutral as seen below.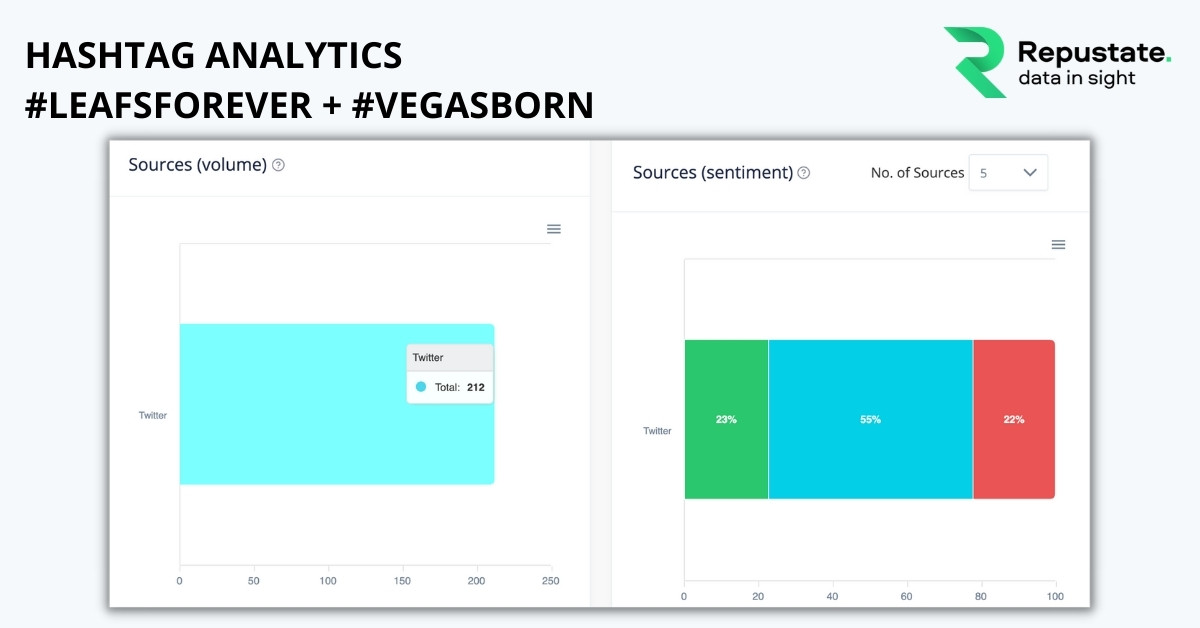 8. Word Cloud
You can get a holistic view of the fan experience analysis and see what the major topics of discussion were across all sources of data with the help of a word cloud. This is immensely helpful due to the visual representation of words, rather than a numerical or statistical breakdown.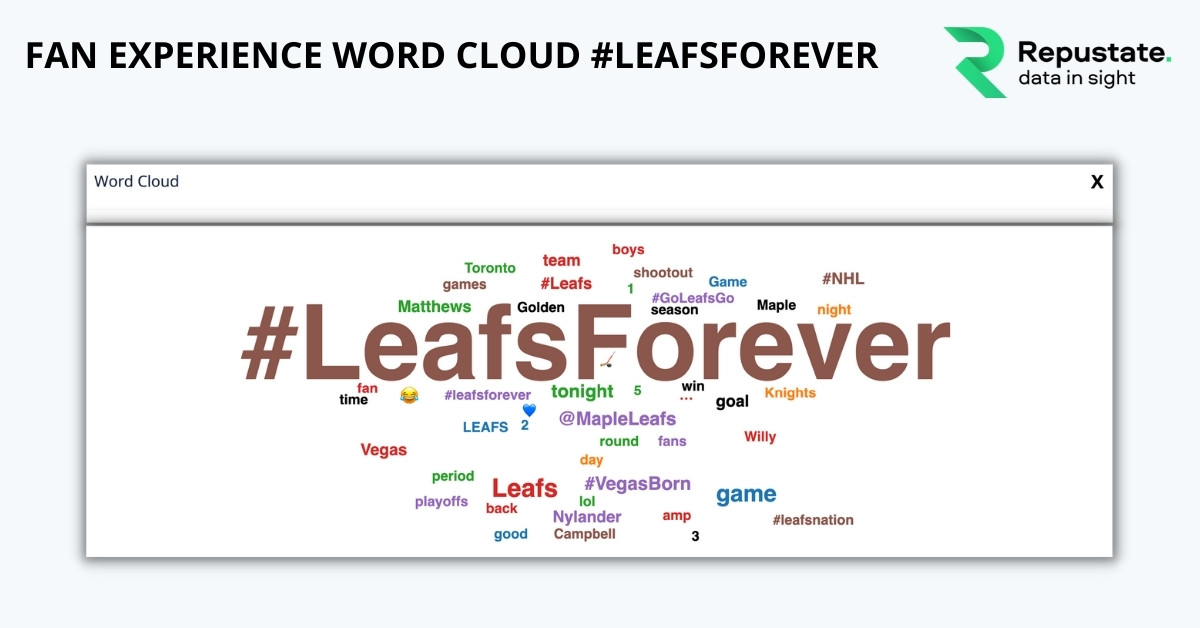 Ending Notes
There are several other deep fan experience insights you can get apart from the ones showcased above. As you can see, sports leagues need data-driven insights for efficient plans that can elevate fan experience in order to engage fans more profoundly, with the same depth as that of their love for the game. This is where the future of sports entertainment lies. The WNBA understands this and that's why they boast an enviable level of fan satisfaction, with fans attending 40% more games every year compared to the average across other leagues.
More stadium attendance leads to more money on tickets, which equals more total season spend. There is more than enough data to show that fan satisfaction is in direct proportion to revenues generated. AI can help you achieve your revenue goals while pointing you in the right direction to invigorate fan satisfaction and electrify fan loyalty.
Repustate IQ is a sophisticated sentiment analysis platform that you can highly customize to your needs. It offers you flexibility with no-code technology so you can add your own aspects and sentiment rules. It comprises video AI-driven search inside video capability, robust named entity recognition, speech taggers for each of the 23 languages it supports, and more, so that you get better results every time.