News Sentiment Analysis API for Articles, Video Feeds & Audio
One key part of maintaining a brand is monitoring how it is perceived and written about. This can be achieved most effectively by monitoring news feeds, news sites, and other sources for something known as "sentiment". By the end of this article, you'll understand how a news sentiment analysis API helps in deriving business insights.
What is News Sentiment Analysis?
News sentiment analysis involves using automated methods for delving through all the outlets for news and reviews of your business, then aggregating that information to present a picture of what users really feel about your brand.
Sentiment is shorthand for "public perception", and it touches upon both conscious appraisals and emotional response. Things you might want to find out through your news monitoring might include:
How a recent product launch has been perceived

What effect rebranding has had

Whether users associate your brand with key values

Whether a new mission statement has hit home

How your rival's products are considered, alongside your own
And the above is just a small sampling of the information that can be gleaned by using a news sentiment analysis API.
How Does a News Sentiment Analysis API Work?
It's not all about the words on a screen. The types of research possible with a News Sentiment API include audio analysis (from video and sound-only content), image recognition, AND text sources.
Repustate's API does this through a three-step process: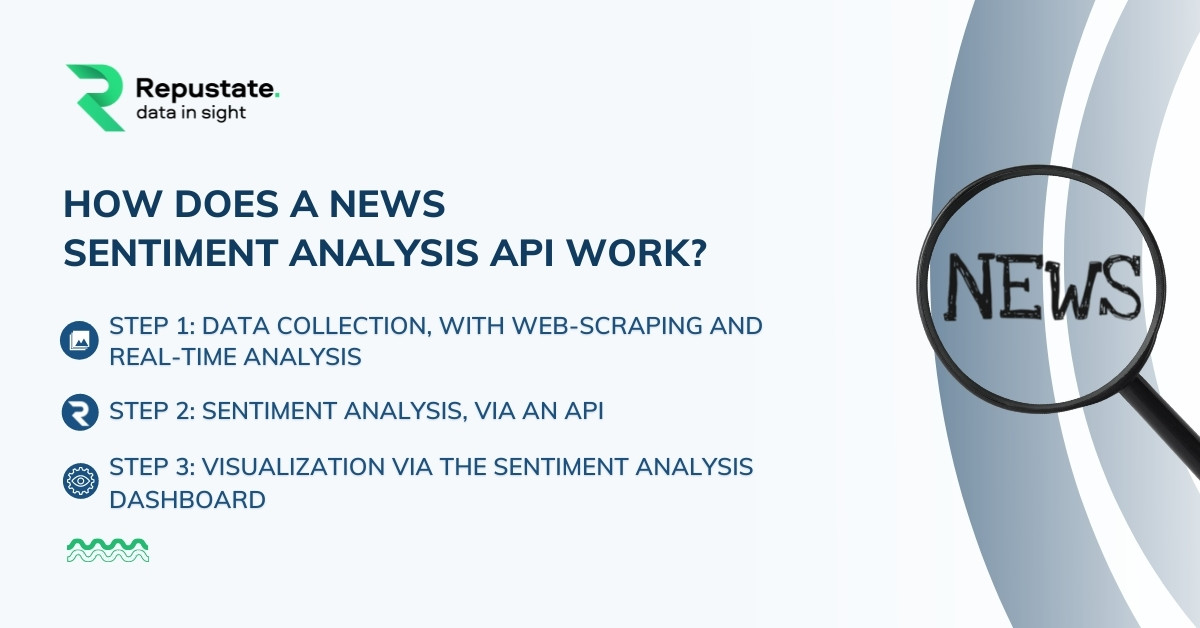 Step 1: Data Collection, with web-scraping and real-time analysis
A news analysis API will allow you to search text strings using arithmetic, boolean, or constrained text parameters. For images, it will identify your logo when it appears in a photograph or video. The API will extract the text from audio and video content, as well as live video streams. This may include transcribing the voices of customers providing feedback. The methods available can transcribe on-screen text too, so nothing is missed from pop-up chats, subtitles, and other text overlaying images or video content.
Step 2: Sentiment Analysis, via an API
The automated process will take over, aggregating the data and displaying it according to parameters you specify. Perhaps you want to know about negative user reviews (one or two stars), or maybe it would be helpful to know how often a new function is queried on FAQs. A well-designed and versatile news analysis will give you this and more.
Step 3: Visualization via the Sentiment Analysis Dashboard
Here's where the data pulled from the many thousands of potential online sources comes together. Common talking points, splits of positive and negative reviews, keywords, and other key data indicators are displayed intuitively in a sentiment analysis dashboard which is simple but impactful.
Why Do Companies Need a Sentiment Analysis API for News Articles?
Sentiment Analysis APIs take the pain out of monitoring potentially thousands of sources of data including news articles, blogs, influencer social media accounts, consumer review sites, and more. In an ever-expanding media landscape, both on desktop and mobile platforms, to attempt such analysis manually would be impossibly time-consuming.
Using a clever API, with a well-designed dashboard and reporting tools will ensure that you don't miss anything important and that trends don't escape your notice while they're unfolding.
Here's what you'll get from an effective news analysis API: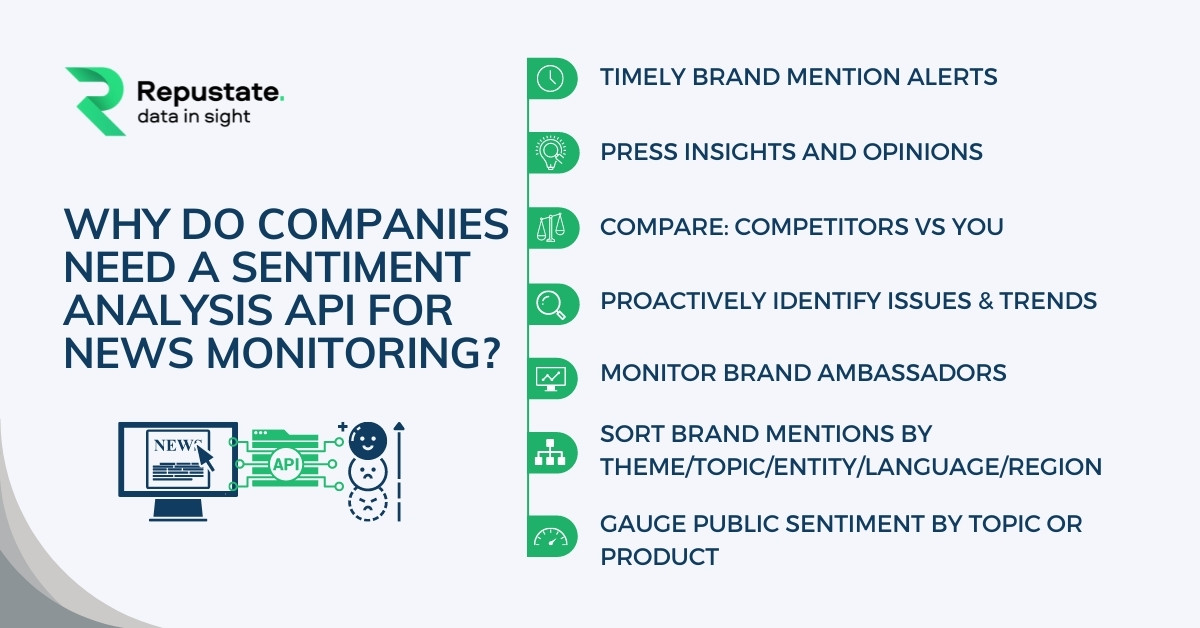 Timely identification of brand mentioned across various media

Including websites, blogs, social media accounts, e-commerce platforms, review sites, and other outlets. The API will harvest data strings mentioning your product or brand.

Insight into press opinion of your brand or company

From national newspaper sites (even when they are behind paywalls) to independent journalists using Sub Stack, Patreon, or other news platforms to disseminate their opinions.

The ability to compare your performance against main competitors

Compare the number of mentions, the average star ratings awarded by consumers, the keywords most used with reference to your competitors, compared to your own brand (keywords might include things like "intuitive", "fun", "different" or "best").

Identification of issues and trends before they impact your business

If there's a common bug in your SaaS product, News Sentiment APIs will find it being discussed by users on user forums, support pages, and review sites. Trends like a movement towards subscriptions, ethical sourcing, social movements, and more can be spotted and leveraged quickly.

Tracking and monitoring of brand ambassadors

Whether you use social media influencers, individual product adopters, or sponsored individuals, news sentiment APIs can be used to make sure they remain on track when referring to the product, and that their own public image does not taint your brand.

Organize your brand mentions by theme, topic, entity, language & region.

The API will aggregate, and filter mentions on themes or topics you find useful to track. It will tell you which outlet generated the most buzz, helping you direct your marketing and ad campaigns more effectively.

Gauge overall public sentiment about a topic or product

A news sentiment API will help you tell when a topic such as sustainability, intuitiveness, cultural sensitivity, global reach, etc is affecting the way people see your brand, like lately during the Covid19 pandemic. If a negative association develops, you'll spot it early and can set in motion corrective measures.
Sentiment analysis for news articles: Practical application
Use Case Of Sentiment Analysis of News Articles for Real-time Trading Insights
Let's look at a real-world example to see how the News Sentiment Analysis API works in practice. A hedge fund manager for a leading investment bank wanted to corral all current news sentiment relating to the market's perception of various stocks.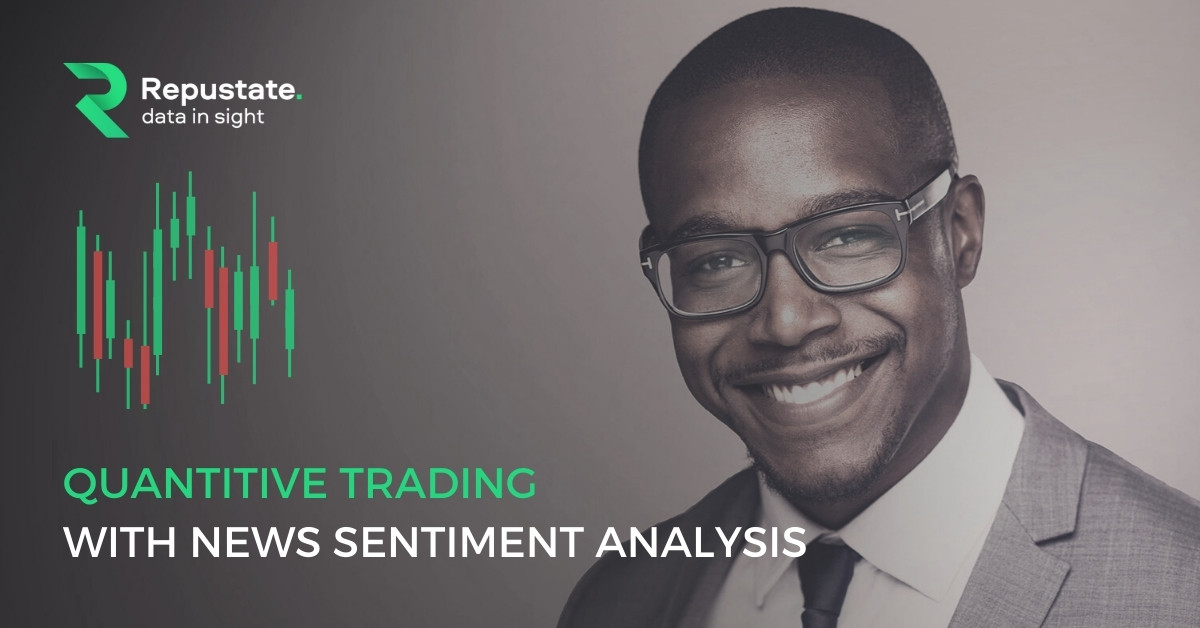 CUSTOMER OVERVIEW
The manager wanted Forex insight relating to trends and occurrences within the Asia-Pacific region. News from Chinese sources would be a vital component, meaning the news analysis API had to be able to scrape Mandarin characters to identify stock labels.
This was a hugely challenging task as the news analysis API had to tackle everything from the Dow Jones newswire to social media updates, video content analysis, plus text scraped from sources including MarketWatch and Bloomberg Updates. A sophistical and all-encompassing solution was essential.
BUSINESS CHALLENGE
Since the international trading marketplace is fast-moving, real-time solutions giving up to the moment insights were required. Sentiment analysis would be used to aggregate information about companies within the given sector, without having to individually list each individual brand (by selecting "aerospace" or "forestry" for example). Forums like Seeking Alpha and Chinese news sources would also be scraped, with real-time analysis provided to extract data as urgently as possible. Repustate's suite of news analysis tools allowed the leveraging of aggregated data and insight for sub-second transactions.
TECHNICAL REQUIREMENTS
Repustate had to provide real-time multilingual insight, including:
Text analytics in Mandarin and English

Audio and Video analysis

Bespoke dashboard construction

Tracking market sentiment against share price moment by moment

Across a range of debt instruments and equities
BENEFITS
The hedge fund manager was able to visualize and demonstrate correlations between market perceptions and share price, helping inform minute-by-minute decisions, providing a powerful competitive edge.
This was accomplished with minimum set-up time and a significant reduction of manual labor. Confidence, in terms of the breadth and depth of the analysis provided, was assured.
Learn more about Repustate's News Monitoring Services.
Conclusion
Data scraping using an API for dedicated news sentiment analysis can glean huge and subtle insights at both cost and scale. It is a sophisticated tool for an ever more complex business environment and could prove the secret weapon that separates you from your competition.