Patient Experience Analytics for Hospitals & Doctor's Offices
Patient experience in healthcare should be the main focus of any healthcare provider, whether it is a hospital chain, private medical practice, pharmacy, or a lab. Thankfully, medical practices can keep a close eye on customer satisfaction with the help of AI-driven machine learning platforms that can analyze patient experience data to give valuable information.
This article details how healthcare organizations can use patient experience analytics to improve operations, and as a result, increase growth and revenues.
What Is Patient Experience Analytics?
Patient experience (PX) analytics is the computational analysis of patient satisfaction or sentiment data, which is based on the range of interactions patients and caregivers have had with a healthcare provider. Sentiment analysis of patient experience in healthcare provides important insights that hospitals and doctor's offices can harness to make improvements in their operations. This results in increased customer satisfaction that is driven by data-backed strategies for a better patient experience.
Machine learning (ML) platforms can analyze patient experience reviews from a variety of sources, such as Google Reviews, patient forums, social media channels such as Twitter or Facebook, as well as surveys. AI-based platforms use ML tasks such as natural language processing (NLP), semantic clustering, sentiment analysis, and others to extract accurate information from sources of patient voice.
How Does Sentiment Analysis Improve Patient Experience In Healthcare?
An AI-enabled sentiment analysis API processes patient satisfaction data and brings to notice certain issues and challenges that hospitals may not be aware of but which can greatly affect patient satisfaction. Through NLP in Healthcare, you can analyze and extract key information from patient reviews, automatically and with precision, and use it to improve business processes.
Machine learning algorithms identify elements, topics, and themes mentioned in the patient voice data and provide sentiments attached to each of them. Thus, fine-grained analysis of patient voice data can not only serve towards better patient experience in healthcare but also better organization-wide productivity and efficiency, leading to increased revenues.
An in-depth analysis of patient opinions in comments and reviews can help you strategize the following -
1. Drive patient satisfaction
Healthcare data analysis helps in identifying areas that are crucial to increasing patient satisfaction. This includes not only data points for better in-patient and out-patient services but also enhanced preventative care measures by analyzing electronic medical health records (EMRs).
2. Build trust
Gaining a patient's trust is very important not only because it's good for a hospital's reputation and business but more importantly because a patient needs to feel reassured and cared for at a time when they are most vulnerable.
3. Improve operations
Aspect-based sentiment analysis improves patient experience in healthcare in various ways. For example, it can tell a doctor's office if the wait times are too long, if medical facilities are up to the mark, or if patients are experiencing the right diagnosis of their ailments frequently or not. It can offer these and many such insights that can help a healthcare provider improve patient satisfaction levels.
4. Expand healthcare offerings
Analyzing patient data analytics can tell you what more customers want from you. If you are a medical center, are patients looking for an in-house blood lab as well? Do they hope you had a pharmacy on location so they could buy their prescriptions on the spot?
5. Monitor brand reputation
In a competitive market with a healthcare center around every corner, and the total abandon with which people take to social media, it is imperative that healthcare companies monitor and track their brand reputation regularly.
6. Nurture employee satisfaction
Employee burnout and frustration are very common in a healthcare setting. Sentiment analysis of patient data can help you see what patient satisfaction levels regarding the staff are, so you can dig deeper to find out the reason behind them and take measures.
Patient Experience Analytics With Sentiment Analysis
Let's look at a practical example of how an AI-powered machine learning solution can extract important insights to improve patient experience in healthcare.
We used Repustate's PX analytics platform, Repustate IQ, to analyze 598 Google reviews of Toronto-based Sunnybrook Health Sciences Centre. Here are the many interesting insights we extracted from the PX sentiment analysis dashboard.
We noticed that the overall sentiment for the hospital was average.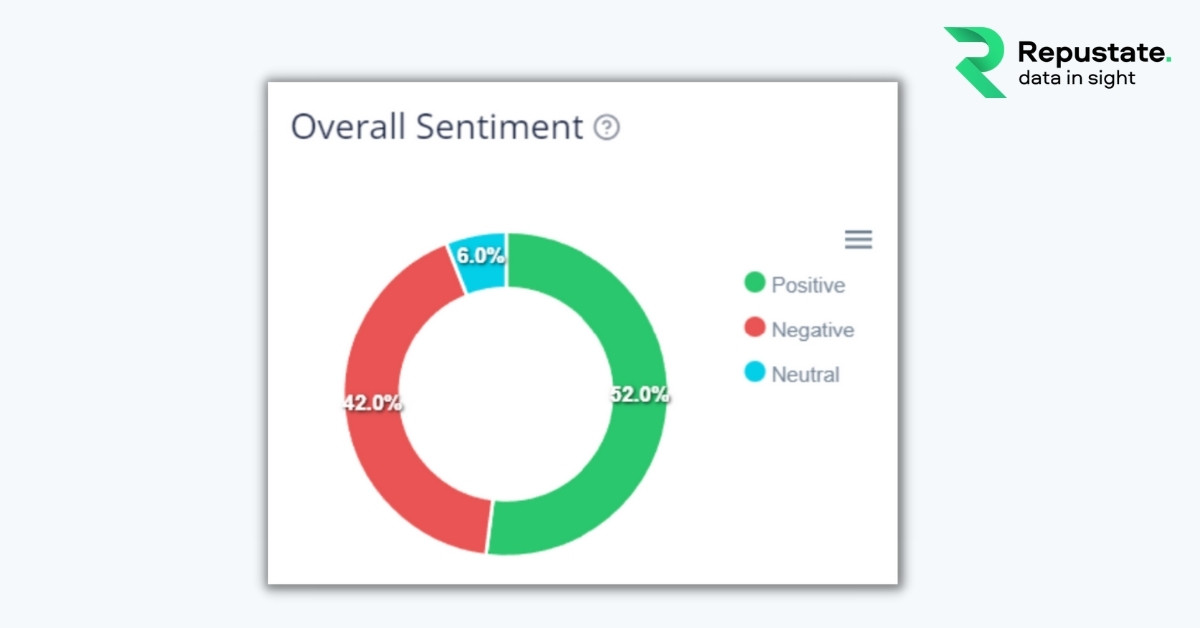 We checked the sentiment trends to get an exact representation of how many reviews were positive, negative, and neutral.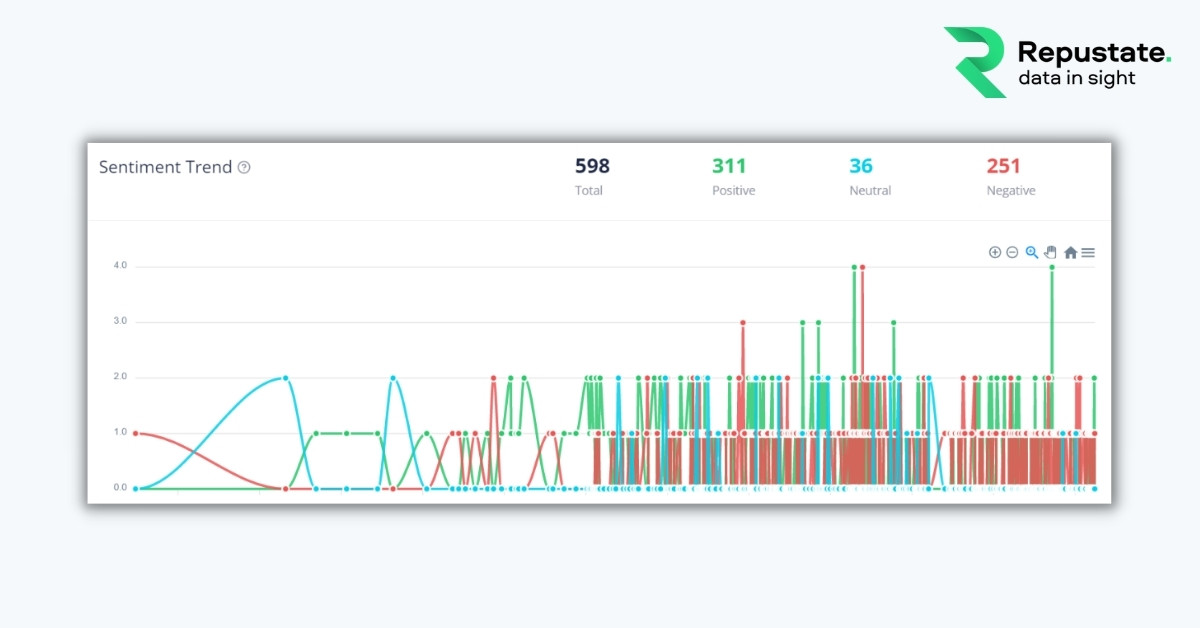 To examine further, we dug deeper to see what aspects of the hospital patients and caregivers were talking about the most. The chart showed that people were talking about the facilities and the hospital staff the most, and aspects like medication and billing the least.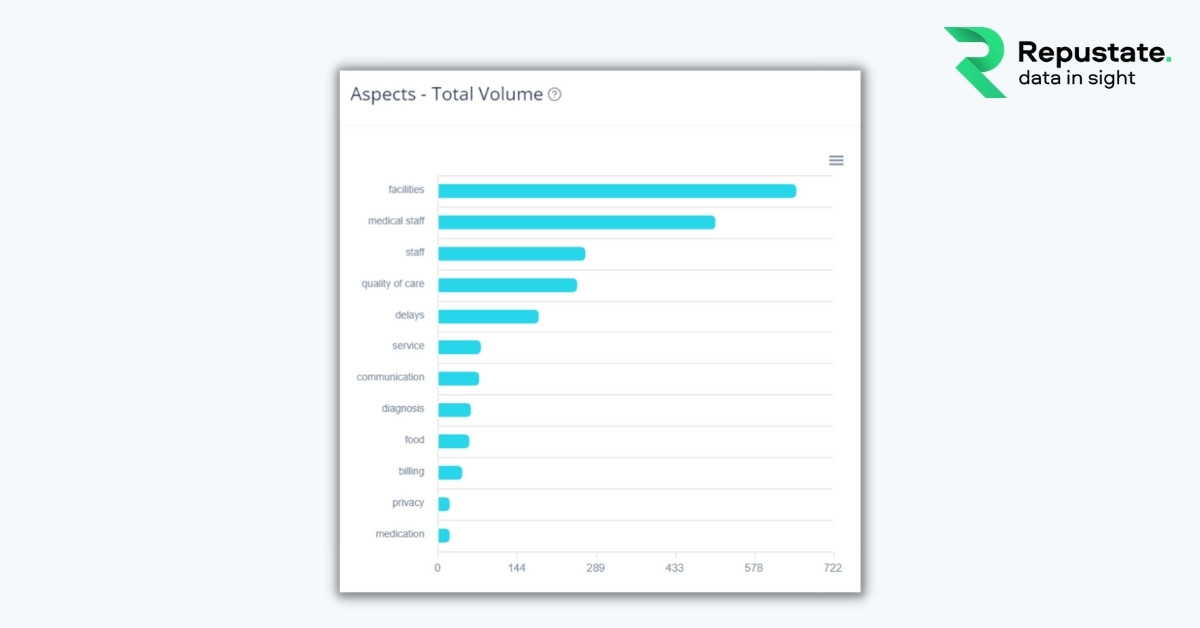 We wanted to get the same details in a percentage form and got the following pie chart.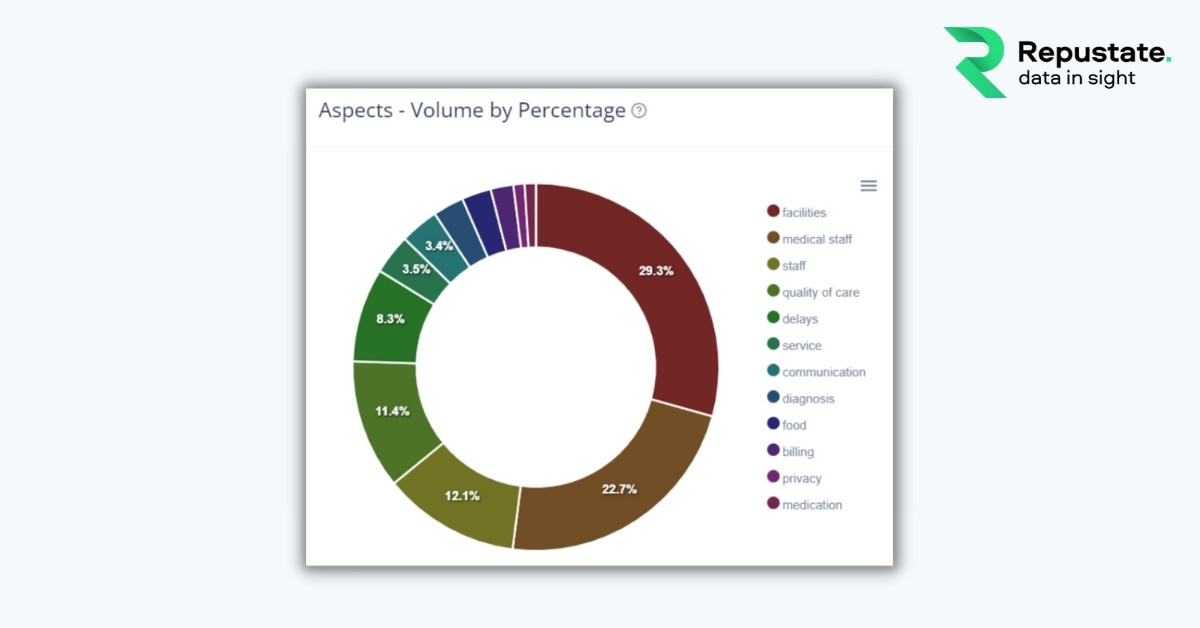 To get a snapshot of what people were exactly mentioning in their reviews that comprised the aspect sentiment score, we generated a word cloud. We immediately saw items like emergency, hours, doctors, care, etc.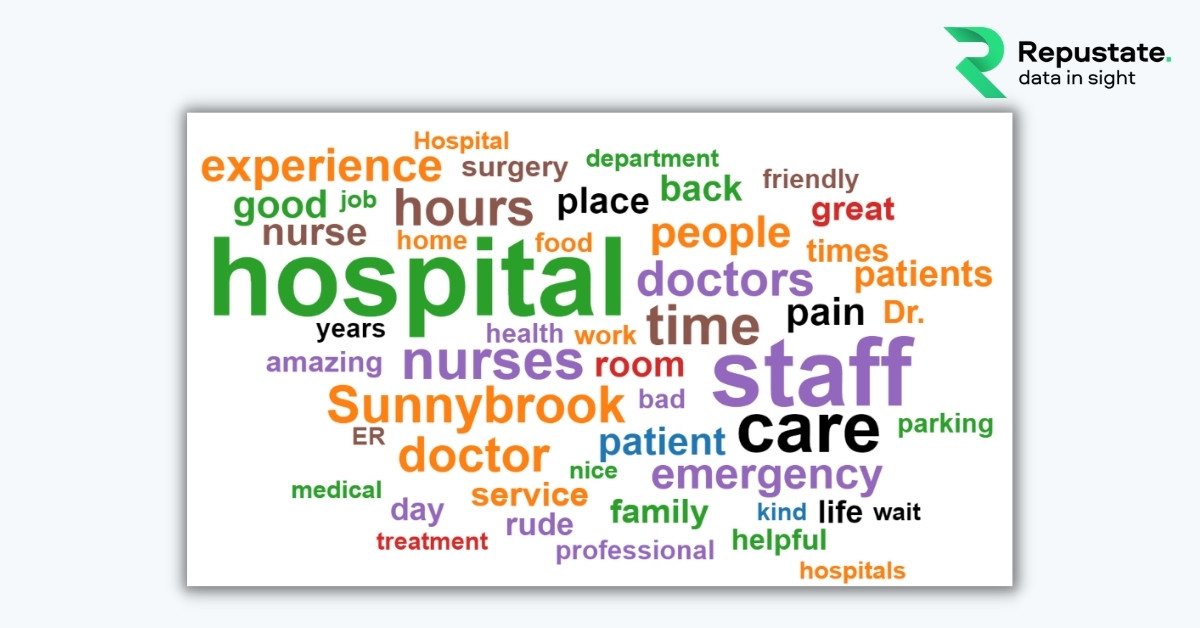 We decided to dig deeper and see positive, negative, and neutral sentiments for each aspect. This is the chart we got.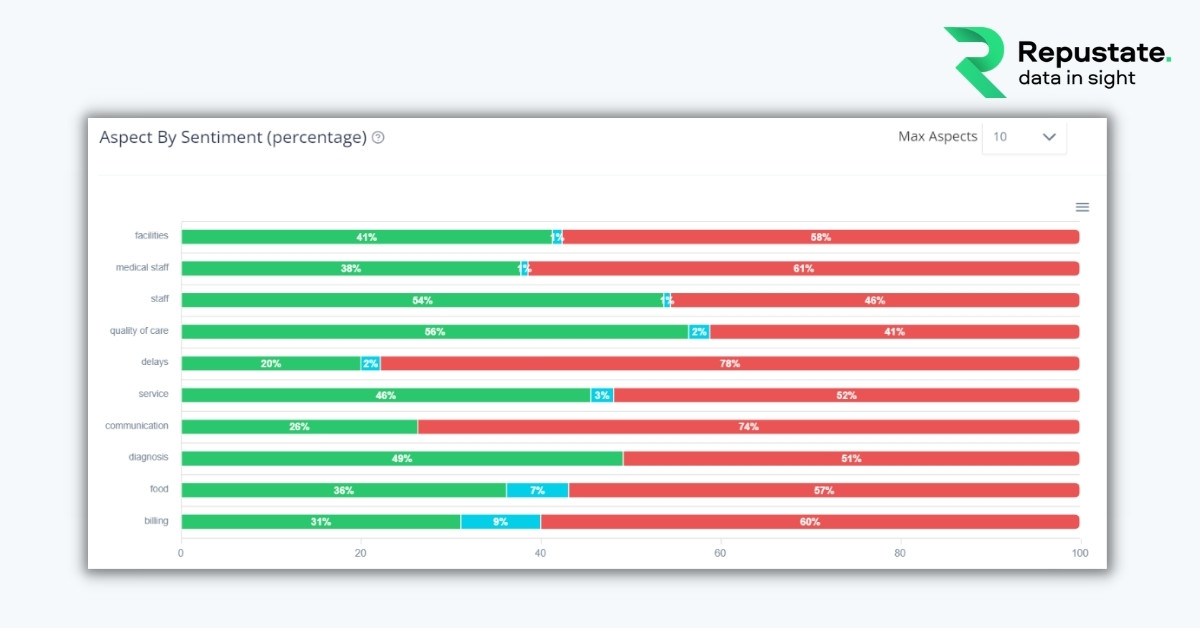 On clicking on the green or red bars, we got to see the actual reviews that people had written from which the model had extracted the sentiment. For example, when we clicked on the green positive sentiment of the aspect "facilities", we saw reviews mostly talking about the staff and hospital in general.

Similarly, on clicking the negative part of the aspect, we saw reviews mentioning an over-crowded emergency room with minimal staff.
Conclusion
The above is a bird's eye view of the insights that Repustate's PX analytics model can provide for patient experience in healthcare. The platform gives several in-depth insights such as aspect co-occurrence, aspect-emotion co-occurrence, and others that can be instrumental in driving an organization's productivity and efficiency.
Furthermore, the platform automatically recognizes the different languages in which the data may be in and analyzes them natively without using translations. This results in accurate results no matter the language.
How Can You Capture Patient Sentiment?
To get a rich view of patient experience performance at your medical center, you need to conduct sentiment analysis on a large set of patient satisfaction data. You can capture this data via the following sources.
1. Social media
Twitter, Facebook, and other social media platforms are a great way to harness patient experience data. An intelligent PX sentiment analysis platform can collect insights from any data type. For example, you can use hashtags to gather patient tweets from Twitter, or extract sentiment from a review video and its comments on YouTube through social video analysis.
2. Google Reviews
Unfortunately, people leave reviews more often than not when they are unhappy about a service, which is why it is important to maintain patient engagement and request for reviews so that there is a balance of opinions. Some hospitals also offer discount coupons to motivate patients to leave a review.
3. Surveys
Surveys are another great way to know what patients need and want, as well as for you to gather critical information as to how to expand operations for healthcare outreach services. Read this customer success story and see how Repustate helped Health-Links analyze millions of surveys to provide greater healthcare services in the Middle East.
4. Patient Forums
Patient community forums are another resourceful way of knowing how the patient experience in healthcare practices are. You can gather vital information not only from the point of view of the patient but also their caregivers and use this to your advantage.
5. Healthcare/doctor review websites
Doctor review websites offer many key findings that can assist your medical practice in enhancing patient experience. This is helpful in improving the performance of your healthcare facility whether you are a dental clinic, ophthalmologist, or a children's hospital.
Improve Patient Experience With Repustate PX Analytics
Repustate's patient experience analytics solution, Repustate IQ, gives you the most in-depth sentiment analysis insights from your patient experience data. The platform is highly customizable so as to fit your requirements in the best possible manner. Once the model is trained, it becomes smarter every time it analyzes data and offers insights at speed and scale.
Repustate IQ analyzes 23 languages natively through individual speech taggers, which leads to highly accurate insights. This means, wherever your location may be, or whichever language your patients prefer to use for their comments and reviews, Repustate's solution gives you intelligent results every single time.