Sentiment Analysis of Facebook Posts & Comments
Facebook sentiment analysis is the automated process of understanding a person's opinion about a particular subject based on a comment or post. When you can't figure out the emotion that fueled a customer's written response, you run the risk of staring at the same words for hours on end. Thankfully, that's where sentiment analysis comes in. Using AI technology, sentiment analysis can interpret customer's feelings by using natural language processing models.
How Does Sentiment Analysis of Facebook Posts Work?
Repustate extracts semantic insights from Facebook posts using a multi-phase approach: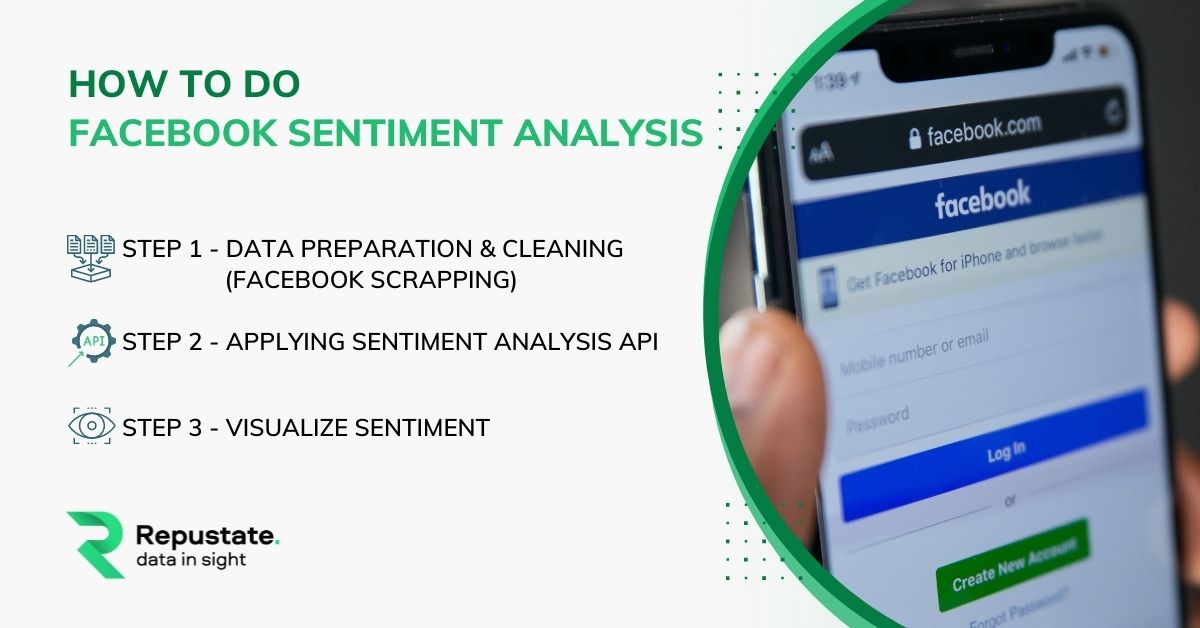 Step 1: Data Preparation & Cleaning (And How to Do Facebook Scraping)
You can extract and download any public information from Facebook using a scraper. An automated scraper can find posts, comments, pictures, reviews, videos, and more without manual intervention. Popular online scrapers include Apify and Octoparse. Both scrapers have templates that are designed specifically for extracting data from Facebook.
You can specify what information you're looking for, and enter a live URL, to get the information. You can download the results in multiple formats for analysis. Before analyzing the data, we need to clean the data to ensure that quality. This means manually checking for incorrect grammar, special characters, or any other irrelevant details.
Step 2: Applying Sentiment Analysis
The data can now run through the sentiment analysis model. Various NLP tasks such as speech tagging, lemmatization, and prior polarity, will analyse the data. Repustate's API will also decipher the tone of hashtags, emojis, and social media jargon. The model will then return data with sentiment scores on a scale of -1 to 1 for each relevant topic. -1 represents entirely negative emotions, 0 represents neutral feelings, and 1 represents entirely positive emotions.
Data can be analyzed in 3 ways:
Document-level sentiment analysis: evaluates the full context of a statement

Topic-based sentiment analysis: derives sentiment based on different themes within a statement

Aspect-based sentiment analysis: derives opinion from each individual part of a statement
Step 3: Sentiment Visualization
Once the text analytics tool returns the sentiment scores, the results are quickly turned into visual reports consisting of charts, graphs, and tables. These visual sentiment reports are displayed on a dashboard that allows the user to observe trends and patterns in the data.
Learn About Facebook Video Sentiment Analysis including Video analysis
Repustate's Sentiment Analysis Dashboard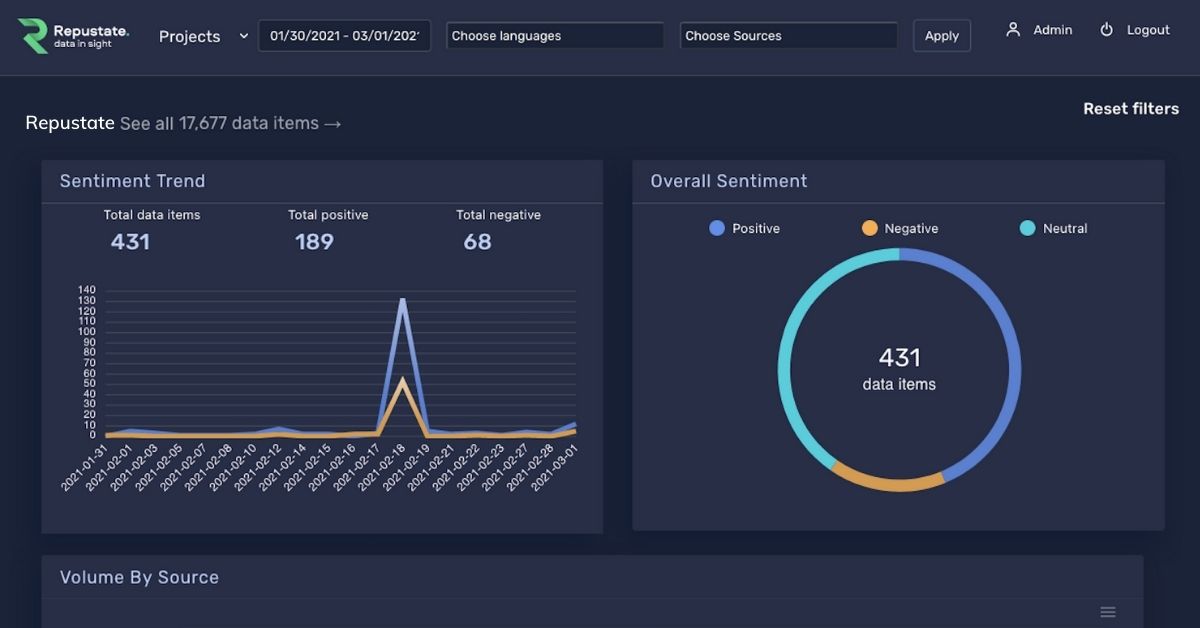 Having sentiment insights available in a format, and in permutations and combinations, that you need, is absolutely essential. Only then can you draw conclusions and leverage customer insights for important business decisions. Repustate's Sentiment Analysis Dashboard provides you with all the right tools you need for this. It presents you with:
General sentiment overview
Aspect-based sentiment breakdown
Aspect occurrence frequency rates
Aspect co-occurrence
Named entities, classifications, and entity frequency
Toggle between aspect sentiment and text chunks
Alerts and notifications in real-timeChanges in opinion over time
Changes in aspect sentiment over time
Sentiment overview by data source
Sentiment overview by country, state, or region
Sentiment overview on specific social media channels
How Can You Choose The Best Sentiment Analysis Tool for Facebook Posts?
The best Facebook sentiment analysis tool should be accurate, quick, and scalable, as it analyses thousands of comments through social media listening. It should understand different languages while interpreting accurate sentiment scores for each entity extracted. This is possible only if it knows each language natively, like Repustate's solution does, without the need for translations.
Below are ten essential requirements the best Facebook sentiment analysis tool should have.
Speed and Scale: The sentiment analysis solution should be able to process at least 500 posts per second, and scale to more than 100,000+.
Accuracy: This is an important aspect that is needed to truly gauge sentiment. As a model is trained, the accuracy scores increase, but what is also important is that accuracy is maintained as the data scales.
Aspect-Based Analysis: The sentiment analysis model needs to robustly extract aspects from entities and topics and analyse them for emotions. Only then can you get the most granular customer insights.
Multilingual: The solution should be able to understand multiple languages without translations so as not to dilute the message and nuance of the comments. This way a brand will be able to reach out to all critical demographics regardless of language.
Social Media Friendly: The best Facebook sentiment analysis tool should be able to understand hashtags, emojis, and all the colloquialisms and code switches that people on social media use.
Multimedia: The tool should be able to extract sentiment even from images and video formats, as videos and photos make more than half of what's posted on FB. User-generated video content has increased multiple fold, and so the sentiment analysis tool should be able to process non-textual content as accurately as it does text.
Entity Extraction: The model needs to have the ability to recognize important names of brands, businesses, people, websites, products, locations, and more, in order to give a holistic analysis of sentiment.
Dashboard & Reporting: Your sentiment analysis tool should give the insights in a way that makes sense to you. This means giving you scores in charts and graphs, across filters and entities, and any other way that you want.
Customization: Sentiment analysis is not a one-size-fits-all application. Every industry has its specific topics, entities, competitors, and various other factors that need to be taken into account as data scientists train the model.
Flexible Deployment: Your platform should be available as an on-premise installation if you want it so, as well as on cloud. There are benefits to having either option, and the best Facebook sentiment analysis tool will offer both.
What Are the Benefits of Using Sentiment Analysis for Facebook?
Facebook is one of the largest social media networks in the world. It allows you to connect with current customers and potential leads. You can use user-generated content to continue improving your business, and stay on top of new trends. With sentiment analysis on facebook, you can:
Keep Tabs on Your Brand Reputation: Sentiment analysis can chart customers' feelings for your products or services so you can observe growth over time
Avoid Negative PR: Analysing sentiment can warn you if something negative associated with your brand pops up, so you aren't caught backtracking when it's too late
Offer Better Customer Service: People usually only post about things they really love or hate, so if someone posts a negative review, you'll have the opportunity to review what you can improve. Learn how Amazon review analysis is helping companies offer better customer service.
Analyze Your Brand Message: You can use word cloud visuals crafted by sentiment analysis to see stand-out words that customers associate with your product or service. This will give you an at-a-glance view of what clicks and what doesn't about your brand
Keep Track of Competitors: With sentiment analysis, you can compare customer responses vis-a-vis your brand and your competitor's brand
Learn more about social media sentiment analysis.
Take advantage of the trusted solution for social media sentiment analysis
At Repustate, we understand that your business is unique, and therefore the way your data is analyzed needs to be unique too. That is why our sentiment analysis is made especially for social media sentiment analysis and understands 23 languages and dialects, without the need for translations. With the highest accuracy scores in named entity recognition in comparison to even our competitors in the Gartner Magic Quadrant, we have helped clients across industries understand customer opinions. Talk to us and leverage the most trusted solution for social media sentiment analysis.