The Importance Of Guest Experience In Hospitality
Guest experience management is a very crucial part of the hospitality industry because it can be the biggest differentiating factor when it comes to how successful an establishment is. Whether you are an international hotel chain, a motel chain, an independent hotel, Spa or Golf resort, Bed & Breakfast, or any other of the hundreds of variations available to an excited traveler, guest experience feedback analysis needs to be the cornerstone of your business strategy.
In this article, we discuss in detail how technology is your best friend in extracting the most intelligent insights from the thousands of comments that your guests leave. You will read how an AI platform gives you these insights. You will also get to know live examples of how AI is helping million-dollar hotel reputation and management organizations in building powerful guest experience management strategies.
What Is Guest Experience?
Guest experience is used in the hospitality industry to measure the cumulative experience you provide to your guests, beginning from search and booking to the check-out stage. The better the quality of your guest experience, the more successful your business will be. This is because it increases the chances of having repeat customers as well as brand promotion through word-of-mouth, guest reviews, or customer satisfaction scores like Star ratings.
This guest experience feedback is what you harness through AI-enabled machine learning tools and platforms. These platforms help you derive action-oriented guest experience management insights from various sources such as Instagram social listening, Twitter, or customer surveys.
How Do You Do Guest Experience Management?
To conduct effective guest experience management, it is very important to first understand the guest's journey. To do this, you need a two-phased approach.
First, you need to segregate the different touch points of the guest journey, right from the moment guests begin their search for a quality hospitality provider, to ultimately, their departure and check-out. And second, once you have created this foundation, you need to extract insights about each of these stages through highly precise customer experience analysis.
We elaborate on these two phases below.
Phase 1. Mapping The Guest Experience Journey
The highest level of guest satisfaction that you can strive for is where there is complete harmony between what is advertised and what guests experience at your establishment. This creates brand trust and trust in your particular property. That's why it's crucial that you only promote what is true and not what you think would attract a guest. Because a guest that is dejected at a dismal service is not likely to return and will also publish a negative review, which can really be bad for business.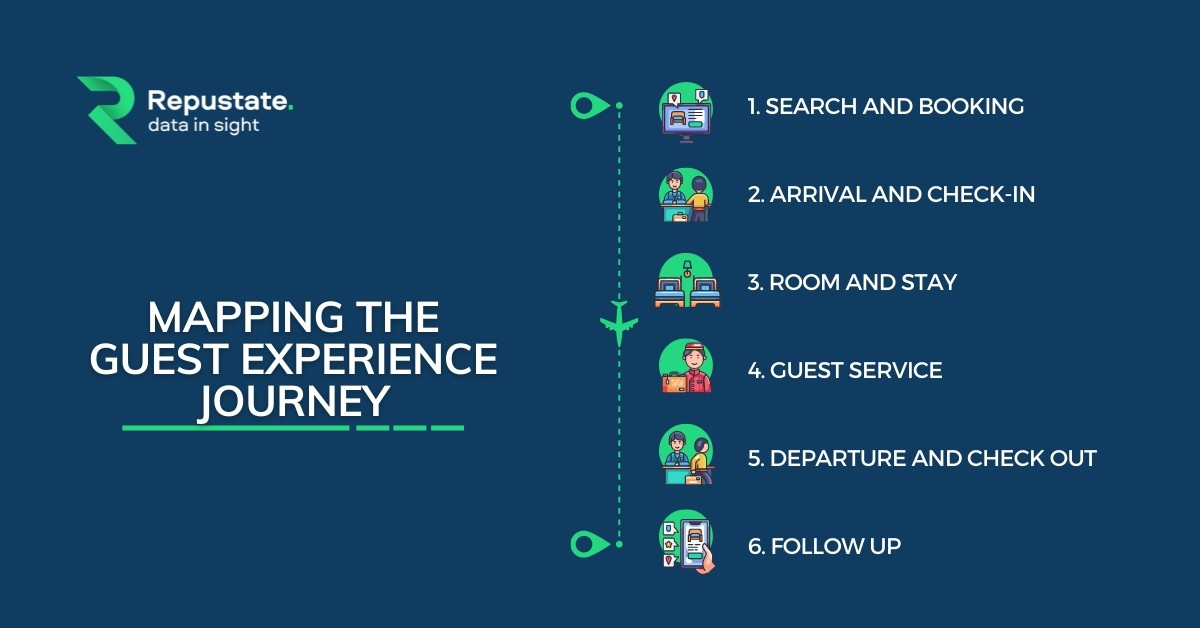 So let's take a quick look at the important aspects of the guest journey.
1. Search and booking
Guest experience management needs to take into account the first stage of the guest journey, which is when a guest begins their search online. This stage is critical because it sets the first impression that a guest gets about your property through your website, online review, or advertisements and promotions.
It is important that you avoid the need to make false claims about "all-inclusive" packages, cancellation policies, guest services, etc. This can cause great resentment in guests who feel duped and it does not bode well for business longevity.
Indeed, fraudulent and misleading advertisements have become such a problem in the US alone that 77% of guests feel that there should be strict government-enforced consumer protection laws against such hotels and third-party hotel resellers.
2. Arrival and check-in
Once guests have arrived, they should not be made to wait unceremoniously or face any kind of check-in issues. Guests often arrive after a long trip and look forward to their accommodations. Having a negative experience the first thing they arrive is definitely not the best start anybody would want for their holiday.
In fact, hotels like the Marriot are actually installing kiosks to ensure that guests who have made online bookings can do a self-check-in and not have to wait at the reception desk. This has been especially helpful during the non-contact Covid19 protocols.
3. Room and stay
Rooms need to be exactly as advertised. There is nothing worse than being excited about a stay and discovering that the room is not comfortable, does not have amenities that meet your standards, or the view is not what you expected.
4. Guest service
Services like the reception, room service, pool and spa, restaurants, and other amenities are all crucial aspects that should be analyzed for superior guest experience management. And therefore you need to pay attention to them.
5. Departure and check out
Finally, guests need to have a smooth, positive experience during their check-out. Waiting in line for a long-drawn check-out is a pet peeve amongst customers, and so is being overcharged for an upgrade without being informed. Ensuring that your guests leave with a smile on their faces can be a big step towards having loyal guests who return when they have the chance.
6. Follow up
Once your guests have completed their journey and it culminates in a successful brand experience for them, it is important that you reach out to them with a thank you note and request for a review. You can also have other follow-up communication with promotions or incentives for a future stay.
Phase 2. AI-Driven Guest Service Experience Analysis
The guest feedback that you collect is important not only from the point of view of doing a sentiment analysis of your performance but also because replying to guest comments helps build a meaningful relationship with them and gets you better ratings.
Now that you have terabytes of feedback in the form of guest comments, Google reviews, TikTok and YouTube review videos, Facebook and Instagram posts, and such, you need a robust machine learning-driven automated customer experience feedback analysis platform to leverage all this raw data.
The ML platform uses several ML subtasks such as natural language processing (NLP), named entity recognition (NER), semantic classification, and aspect-based sentiment analysis (ABSA) for insights to help you drive efficient guest experience management insights.
Let us explore in detail the various steps in which the platform performs this function.
Step 1 - Data collection
Guest experience data is first gathered from all relevant customer review data sources such as TripAdvisor, Reddit, YouTube comments, TrustPilot, GoogleMyBusiness, surveys, or any other source. The data can either be uploaded on the platform's dashboard as a URL from the website or in an excel file. Now the algorithms prepare for Step 2.
However, before we commence the second step, it is important to note that the platform you use for guest experience analysis is customized to your industry. For this, the platform is trained using a relevant dataset. The results are checked and then compared against a validation dataset. This process is repeated a few more times until you get the highest degree of accuracy.
Repustate's sentiment analysis solution for customer experience analysis gives you 85% or higher precision in results.
Step 2 - Data Processing In the second step, the platform processes the data, as shown below, by separating text and non-text data in order to prepare it for semantic and sentiment analysis for the 3rd step.
Audio and video - All audio data is transcribed through speech-to-text software and turned into text format

Captions - ML algorithms identify and extract text from caption overlays in video data found in social media listening

Text - All text data from comments and reviews is extracted. This includes emojis and hashtags from social media like Twitter or TikTok, thus ensuring that you don't get false positives or negatives. This step is essentially how the guest experience management platform gives you TikTok insights or insights from YouTube comments.
Step 3 - Data Analysis
Now that all the data is processed, the platform analyzes it for sentiment and performs the following tasks.
Topic classification. The data is separated into different categories and classified into topics such as room, price, customer service, etc.

Custom tagging. Every aspect or theme is tagged manually to ensure that sentiment is attached to the right aspect or topic. Once the model is up and running, it will automatically assign sentiment to the right aspect or topic based on these custom-created tags.

Multilingual data analysis. Every language is analyzed with its own language model driven by its own part-of-speech tagger. Native natural language processing (NLP) leads to more accurate insights as machine translations are not needed.

Sentiment Analysis. The data now goes through our sentiment analyzer. Each aspect is analyzed for sentiment and assigned a sentiment score in the range of -1 to +1. Eventually, you get an overall brand sentiment in percentile form as well as aspect-based sentiment scores.
Step 4 - Data visualization
All the insights that you need for your guest experience management are now available on a customer experience dashboard. These insights can also be shared with the larger marketing team for building strategies.
Why Do We Need A Guest Experience Management Platform?
A guest experience management platform gives you granular insights from guest comments, reviews, and other feedback that you can use to your advantage. These insights can tremendously help you in the following areas -
Build customer trust
Become more competitive
Attract new customers
Increase sales conversions
Drive customer satisfaction
Increase guest engagement
Maintain a loyal customer base
Use guest insights to improve staff training
Streamline operations
Sell additional services
Enhance brand perception
Build lasting relationships
Read in detail about the importance of guest experience.
Guest Experience Examples
Below are some key examples of how an intelligent customer experience analytics platform can provide significant business intelligence for high-quality guest experience management to hotels and hotel management companies.
1. Hotel Reputation Management.
An award-winning, guest experience and reputation management solutions provider headquartered in Europe was looking for a sentiment analysis platform that could provide insights from non-English guest feedback at the same speed and scale as English data. This was extremely important to the company as most of the 60,000+ high-end hotels and resorts it managed are based in Europe.
Since the company provides detailed insights to its clients through data analytics, it was crucial that their solutions were based on accurate findings and discoveries from the mined guest feedback. It was a conundrum because the company's legacy models were unable to give accurate insights from the non-English data and this was affecting their guest experience management system badly.
Repustate was able to provide the client with a customized, multilingual, aspect-based sentiment analysis platform for their hotel reputation and guest experience management solutions. The platform can analyze 1000 comments per second natively and semantically in all 23 languages including Arabic, Spanish, Italian, Korean, Japanese, and German.
Furthermore, because the ML model is proficient in social media listening, it can read and analyze colloquial words and phrases, code switches, industry jargon, emojis, and hashtags. This improved the overall accuracy of the insights and delivered them at exceptional speed so the company can keep up with historic material as well as live data. Along with this, the model was also able to process old, archived data, and extract more topics and aspects from them, thus enriching the company's own existing metadata.
Read the detailed customer success story.
2. Hotel Marketing & Management Solutions
When US-based hospitality marketing partner, Travel Media Group, approached Repusate, they were in search of a business intelligence solution that could help them build more targeted digital marketing strategies for the hundreds of hotels they manage in North America. Because the company's marketing and branding strategies are heavily social media-focussed, it was imperative that they were always ahead of the curve and could foresee market and customer trends in the travel and leisure industry.
Travel Media needed a solution that could extract high-precision insights from user-generated review videos and content on social media such as Facebook, Twitter, TikTok, as well as discover hidden entities and aspects from millions of text reviews on various sites. They required a comprehensive yet highly customizable aspect sentiment model to achieve their goal. They also wanted the solution to keep a close eye on the competition in the hotel reputation management industry as well.
With the help of Repustate's solution for guest experience management, the company was able to derive statistics on quantitative ratings as well as qualitative insights from positive and negative reviews. The company can now provide granular advice and prepare holistic campaigns for their clients to manage each property based on guest experience feedback. Travel media has also been able to enrich metadata for its own analysis, analyze and get insights from reviews based on customer demographics, as well as visualize all emotion-aspect co-occurrence insights in a single dashboard.
Read the detailed Travel Media client success story.
3. Personalized Guest Experiences.
Semantic analysis of guest experience feedback can help you strategize and build personalized guest experiences. Personalized experiences for guests can be a valuable asset in building lasting relationships with frequent travelers who find comfort in going back to a hotel that they feel knows them well and caters to their needs in the most exceptional manner. It is the perfect way to remain relevant in a highly competitive industry where customers are spoilt for choice.
Repustate's sentiment analysis solution for guest experience provides you with this precise capability through semantic clustering. The AI algorithms scan millions of hotel reviews and searches and connect aspects semantically, telling you what kind of guests are searching for what kinds of services. Third-party hotel bookings providers like TripAdvisor, hotel reputation management companies like ReviewPro, or chains like the Hyatt can use this information to provide the best results for guests looking for specific services like the best breakfast in a particular city or the best in-house Spa service.
Furthermore, because Repustate's solution helps you go beyond star ratings and derive insights from comments as well, you get a more accurate and fine-grained insight into the minds of your guests.
Read the detailed analysis here.
Conclusion
Repustate's AI-driven guest experience management platform, Repusate IQ, can analyse customer reviews to give you insights in 23 languages. It allows you to get a better understanding of your brand reputation and helps you enhance your performance by giving you deep insights into your strengths and weaknesses. These insights help you increase guest satisfaction, and therefore, your rankings on review sites and social media, which ultimately lead to renewed growth and profitability.
You can alter aspects for sentiment analysis, monitor sentiment trends over time, and get alerts for any social mentions - all this without any coding required. Furthermore, you can choose to use the Cloud version of the solution or have it installed on your premises.