News Monitoring for Banking & Finance
The metaverse has been around for more than 30 years, yet news monitoring shows that media frenzy has piqued lately due to some major factors in recent times. After all, when a tech mammoth like Microsoft invests US$69 Bn in purchasing Activision Blizzard, owner of legendary video game franchises like Call of Duty and Candy Crush Saga, in order to have a foothold in the metaverse, it gets noticed. Media hype also gained momentum after Facebook changed its name to Meta in a major rebrand after announcing its investment decision, notwithstanding the hilarious memes that mushroomed after the news.
Metaverse news analysis shows that investors are confident that the metaverse will ultimately replace live entertainment, something along the lines of Lil Nas X's virtual performance in Robolox. Unlike virtual reality (VR) and augmented reality (AR) games today, where one picks up where one has stopped, in an idealistic metaverse, the experience is in perpetuity, where everything continues despite a person logging off.
Tech investors and companies, NFT shareholders, investors in AI and emerging technologies, stock investors, the cryptocurrency market, and others are betting on a whole new economy, estimated to be worth trillions of dollars, that can be built in this virtual world, per news sentiment analysis.
Given this background, we decided to analyze sentiment surrounding the metaverse. We analyzed over 10,000 news articles talking about Metaverse using Repustate's news monitoring tool to know exactly what the dominant topics in all this big data were, and what they were all about.
Here are some insights you might like.
What Insights Did We Find When We Scanned News Sites For Metaverse?
News sentiment analysis with Repustate IQ found that the metaverse had a generally positive sentiment in the financial industry. Metaverse news analysis also showed varying sentiments about Facebook joining the bandwagon. Further, Repustate IQ recognized several terms or entities popping up frequently such as blockchain, Facebook, and others.
Below we discuss these and other major insights, and the factors behind them, in detail.
1. Sentiment trend
Metaverse news analysis reflects the positive sentiment in the industry. Analysts at PWC predict that the metaverse ecosystem may be worth US$1.5 Trillion by 2030. Much of this is because tech companies believe that eventually, the metaverse will become interoperable, meaning that you can carry virtual items from one platform to another, thus catalyzing a whole new economy. This is the idea behind Facebook's or Meta's high profile announcement of its investing US$10 Bn in the metaverse - ten times what it paid for the purchase of Instagram. Mark Zuckerberg believes he will make billions selling virtual clothes.
In short, tech companies investing in the metaverse hope to control a dominating portion of the Trillion-dollar digital economy.
The negative sentiment, however, reflects cautious investors and market watchers who buy into the idea of Metaverse's virtual economy but believe that plans will come to fruition but ofcourse once the metaverse becomes mainstream - something that will take a long time.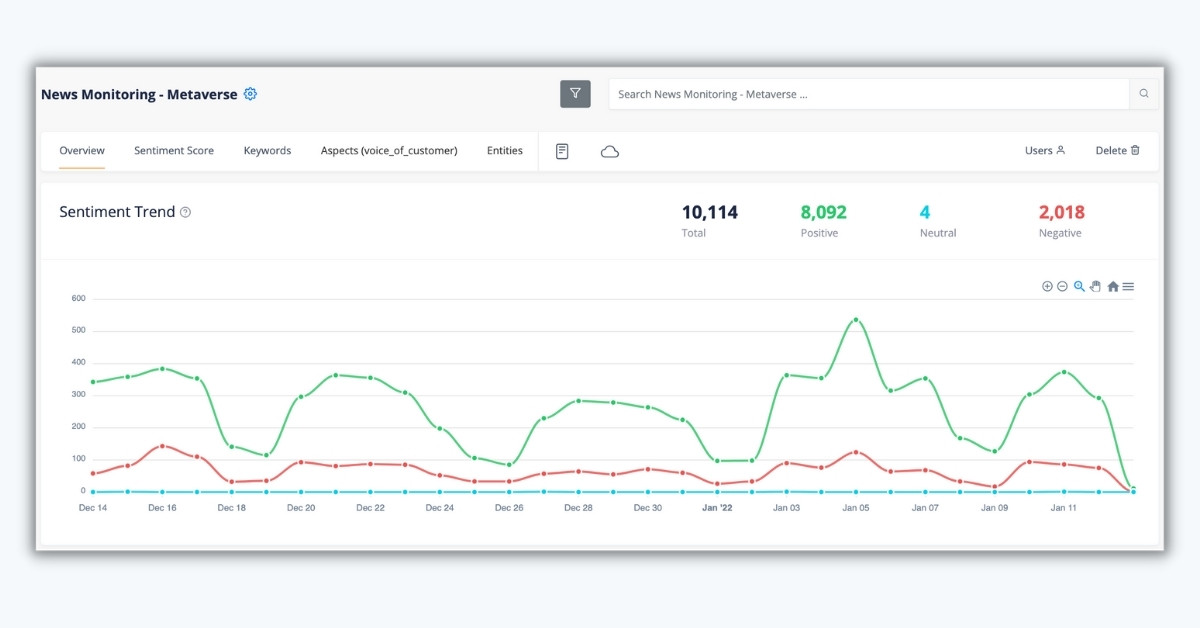 2. Sentiment distribution trend and Overall sentiment
Metaverse news analysis indicates that the general sentiment around the metaverse is positive, as can be seen in the screenshot below. The Repustate news monitoring platform identified 13 key aspects from such stories related to the metaverse and related news. The data showed that there was more positive content in January covering over 13 aspects.
This ties in with investment reports that showed that US$1.9 Bn of venture capital was invested in AV and VR companies towards the end of 2021. This included startups and hardware companies that manufacture google, headsets, screens, and keyboards 2021. Significantly, similar news stories of how AppliedVR received an FDA breakthrough designation for its platform's use in chronic lower back pain and treatment-resistant fibromyalgia in October 2011 have driven positive sentiment. AppliedVR already offers VR-based therapeutic treatments to more than 30,000 patients in more than 240 health systems globally. The company recently collected US$29 Mn from investors like JAZZ Venture Partners, GSR Ventures, F-Prime Capital, and Cedars-Sinai.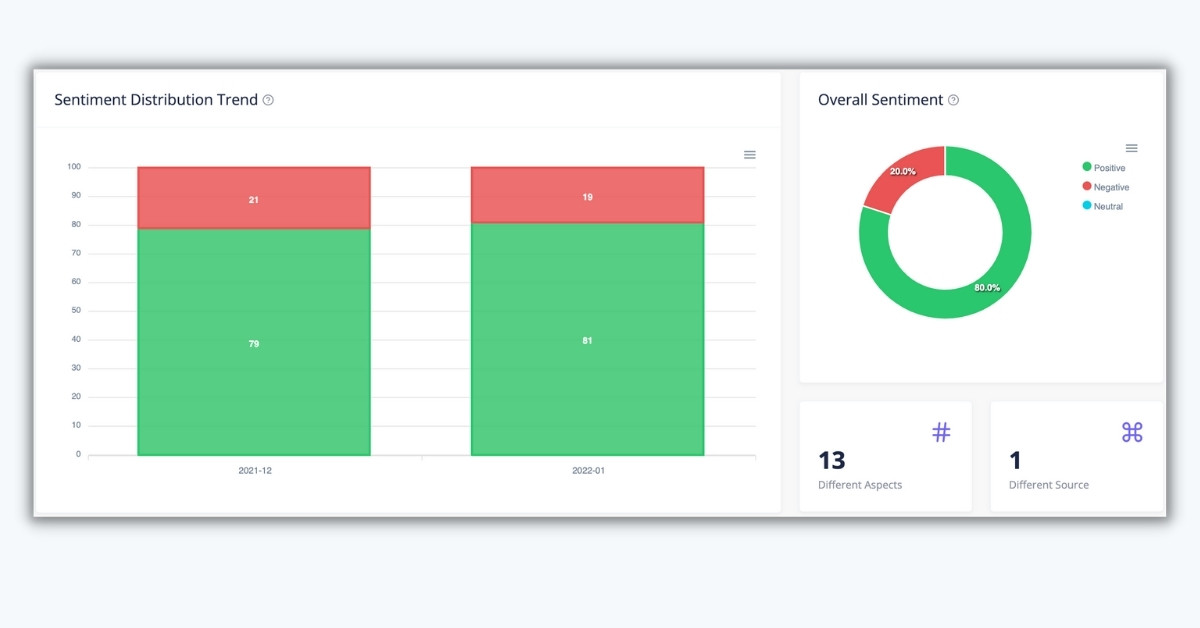 3. Size of Data Source
Our Metaverse news analysis showed the total number of articles with positive sentiments as well as the total number of sources it got the information from. The news monitoring platform thus allows you to see how many exact articles show what sentiment.
In this case, we see that 8092 of the 10,114 articles were positive.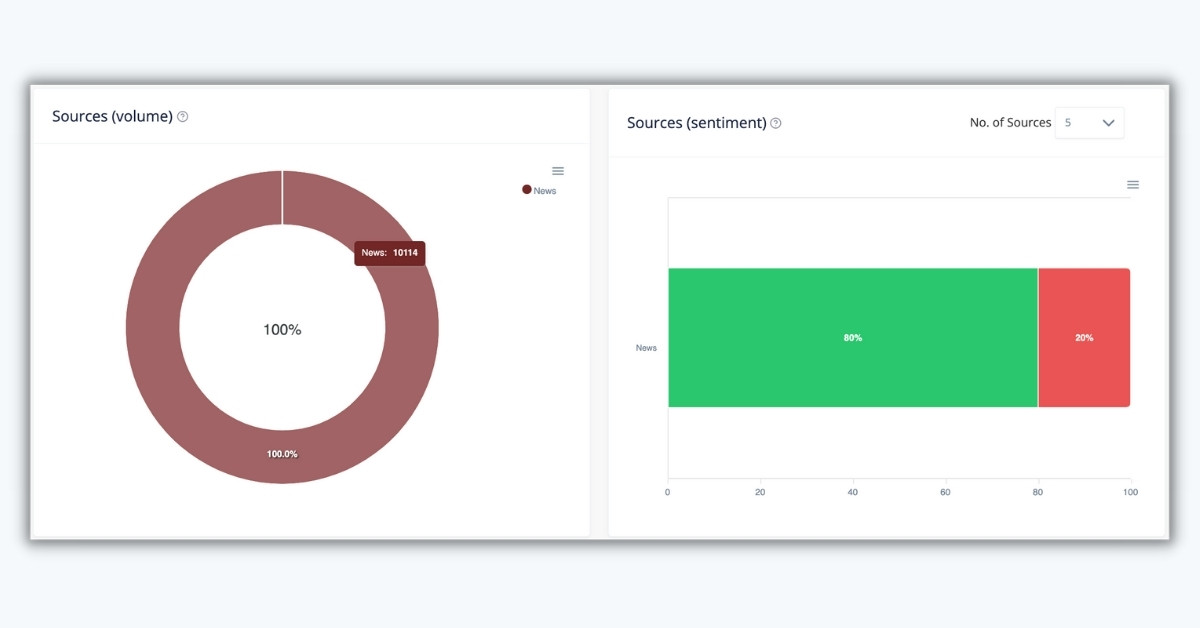 4. Most common Entities
The ability to identify, extract, and analyze sentiment from entities is a critical part of news monitoring services. Repustate IQ's news monitoring algorithm extracted several entities from the news articles, as can be seen in the screen-grab below. These are terms that had the most overlap and occurred most frequently throughout the 10,000+ articles.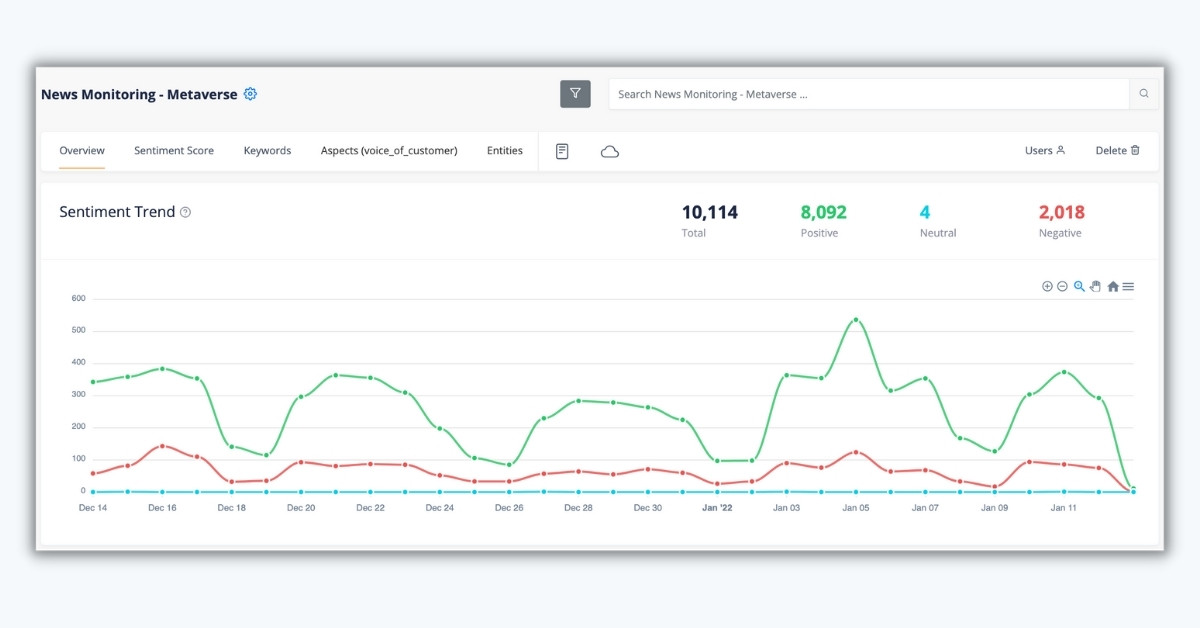 A quick look into the background of why these entities appeared.
Blockchain
Blockchain is the most significant technology behind Metaverse's financial transactions. It uses an established decentralized ledger that maintains the seamless functioning of the metaverse digital assets and transactions. It is assumed that transactions are safe and hack-proof because of Blockchain thanks to the transparency it offers by keeping tamper-resistant transaction records. Metaverse news analysis has shown it is because the metaverse's innovative e-commerce opportunities are driven under Blockchain, that tech investors are confident in investing in the digital-reality world.
Facebook
News monitoring shows that Facebook's entry into the metaverse has made not only tech companies and financial firms cautious but also people who invest in NFTs, given the company's history with nefarious privacy-related issues over users' data. The company has already faced a loss in billions of dollars after Apple overhauled its iPhone lineup's privacy settings to give users more control over their data in April 2011. Apple's privacy update has hit it Facebook hard, especially because the company earns 98% of its profits through advertising. Its interest in Metaverse seems to stem from the heavy loss of its revenue stream from Apple. But this has made the financial market vigilant.
Cryptocurrency
Cryptocurrencies like Bitcoin, Litecoin, and others are digital assets that are created and supported by Blockchain technology that enables secure trading and ownership. Public Blockchains don't have a governing body because they are decentralized, which means they operate without any overseeing agency. This has, however, lead to several cryptocurrency scams. Chief among them being, people attempting to sell copies of their holdings in order to spend them twice, and fraudulent companies swindling people out of thousands of dollars. Not good news per Metaverse news analysis.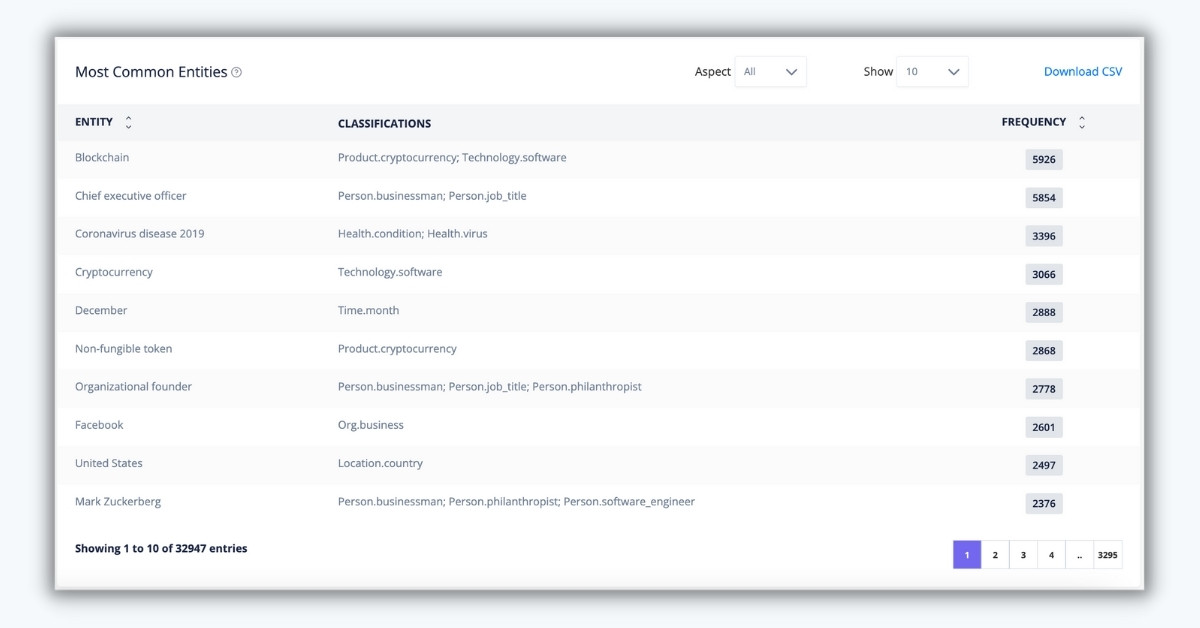 5. Average sentiment score
Repustate's sentiment API for news monitoring also gives you the average sentiment score. Here, we see that it rests at 66%.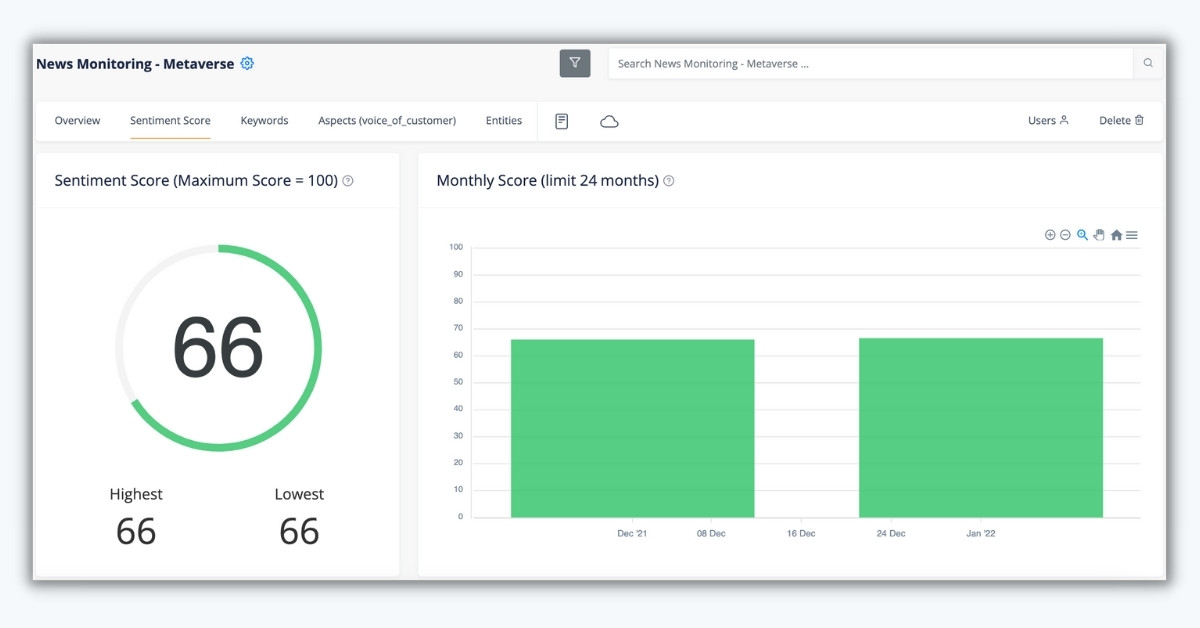 6. Language-based sentiment analysis
The multilingual capability of Repustate IQ automatically detects the language in the data by using native speech taggers and gives you the total languages break-up. This can tell you about the audience demographic.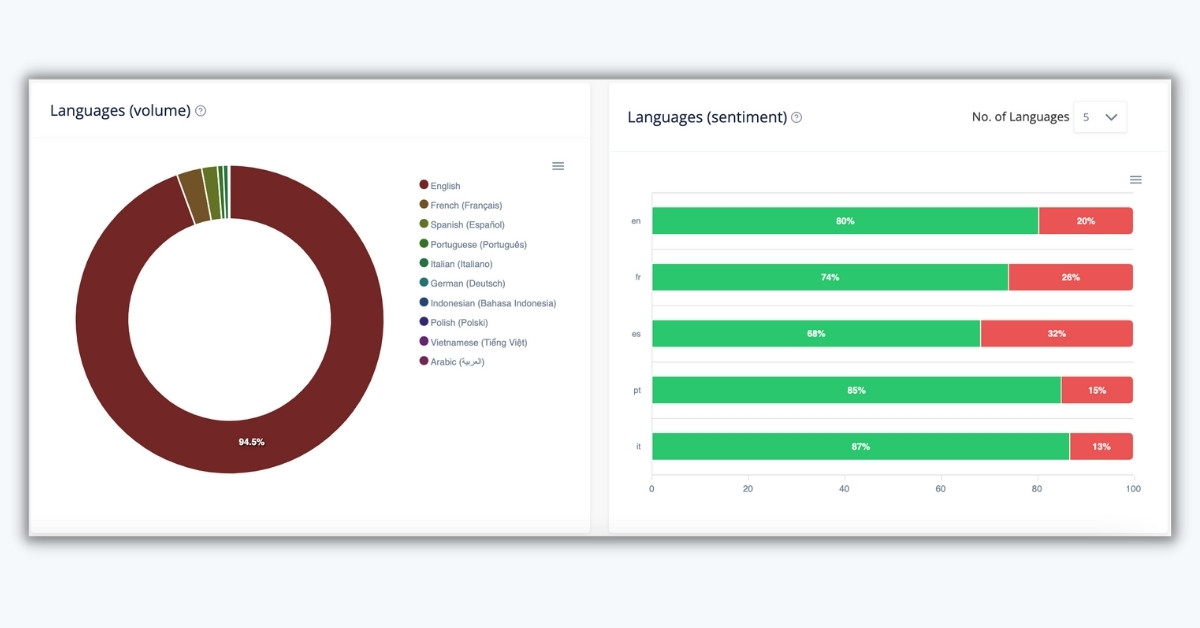 7. Sentiment score of specific terms
You can find out the sentiment score of specific terms in the news monitoring. For this example, we chose the term Facebook. The sentiment score of the term Facebook is lower less positive than average. Repustate IQ's Metaverse news analysis thus shows that the market is less than enthusiastic about the company's entry.
To understand this, let's know a little more about the background.
Even as Microsoft and Facebook rekindle interest in the metaverse, it is important to note that major players like Snap, Robolox, and Epic Games have been building parts of the metaverse for years. Interestingly, gaming giant Epic Games earns more than US$9 Bn annually from its free game Fortnite, using a business model, where players can buy character skins with digital tokens. Roblox employs the same method, earning US$454 Mn in revenue for Q2 2021, up 127% year-over-year. Given this, tech insiders were not amused when Facebook announced that it was going to set up a similar business model as Robolox and Epic Games to sell virtual clothes.
Some were not surprised either, aware of the fact that Facebook's, or Meta as it calls itself now, foray into the Metaverse may be driven by the fact that it suffered an estimated loss of US$8.3 Bn in revenue in the second half of 2021, thanks to Apple's new privacy policy.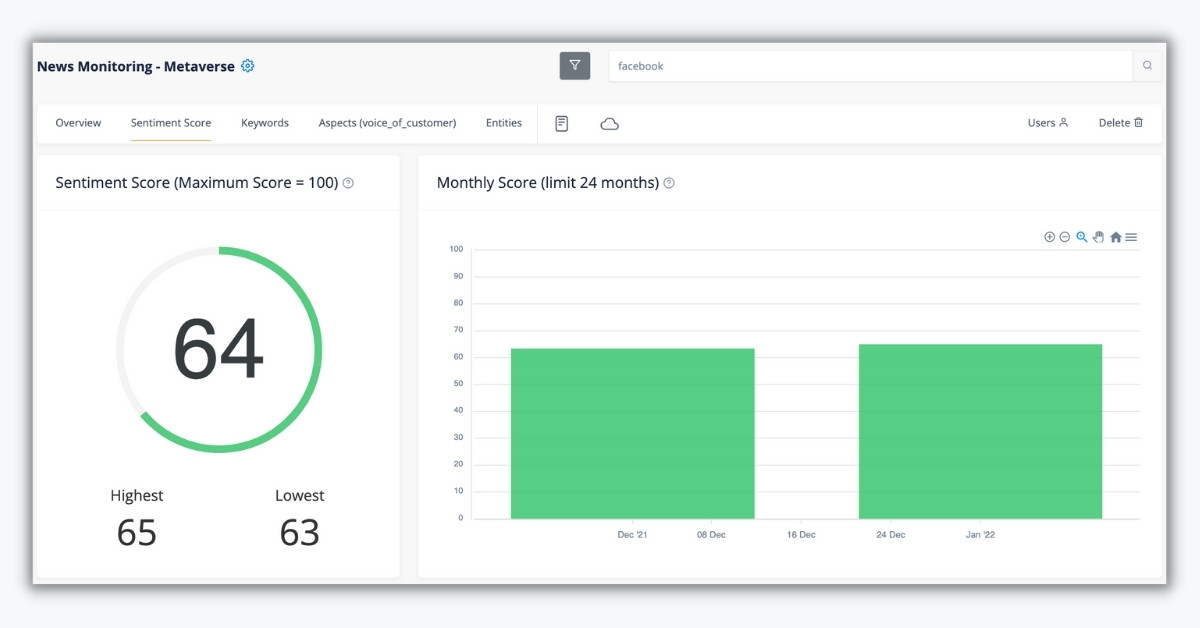 8. Total mentions for specific terms
Repustate IQ's Metaverse news analysis has shown that only 3223 news articles out of 10114 talk about the term "Facebook". Given the market sentiment around the company as seen above, this revelation may seem to be surprising. But there is a reason for this.
The fact that Epic Games and Robolox have earned much-deserved recognition and ROI on their investments and passion in AR and VR is a culmination of hard work that has spanned around 30 years. And this has what has boosted the confidence of venture fund capital bigwigs who maintain that the returns will be evident once there is mainstream adoption of live AR and VR - which to them is still far away.
Crypto investment giant Grayscale says that the metaverse may be worth US$1 Trillion annually but only once it has matured and is driven by e-commerce, cryptocurrency and investments, gaming, sports, and entertainment experiences, advertising, and other business activities.
That is why, even though Facebook may be big on the social media scene, it does not catch mention amongst industry bigwigs much who consider it a novice on the scene. Hence, we see only a few articles, comparatively, talking about the term "Facebook".
Learn more about the Top News Monitoring Tools.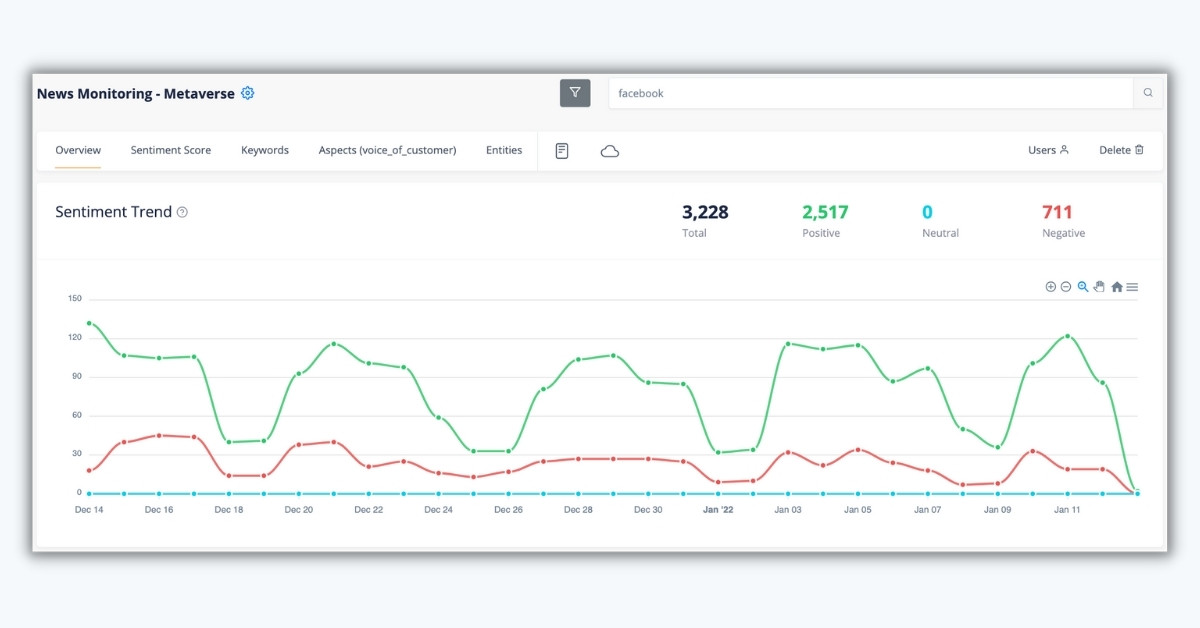 How News Monitoring Works
Machine learning-based news monitoring is a culmination of several algorithms working in sync. There are 4 steps to the entire process, comprising several ML subtasks that include video content analysis, text analytics, natural language processing, sentiment analysis, and others.
In a brief overview of the process
Step 1 comprises data collection i.e. all the news sources for your subject
Step 2 includes processing of all this data to extract entities, aspects, video analysis, and the like
Step 3 is where the processed data gets analyzed by a sentiment analysis API; And
Step 4 is eventually when all the news monitoring insights are presented on a visualization dashboard in the form of charts and graphs.
Read in detail the internal mechanisms of how a news monitoring services work.
Summary
The Metaverse is made up of several AI computing platforms - AR, VR, and brain-computer interfaces (BCI). The combination of these technologies gives it its perpetual virtual worlds - ones that exist even when a player is not online. That the metaverse continues regardless, is what makes it different from a VR game like Grand Theft Auto, where you pick up where you left off. Metaverse news analysis has shown us many insights, the crux of which is that AI-driven machine learning-based algorithms are transforming the world we live in - both in entertainment and business & finance.
AI-driven machine learning algorithms are driven by efficiency and precision. As above, you can explore AI-enabled news monitoring for brand experience management, enriching marketing & advertising campaigns, and shaping business strategies for epic growth scales. Whether it's social media analysis for TikTok social listening or to gain a competitive edge in a cut-throat market, AI-driven data analytics can give you insights that are accurate and actionable.
Repustate IQ - Intelligent news sentiment analysis
Repustate IQ's intelligent news sentiment analysis platform can natively read 23 languages because of built-in speech taggers for each language. This means that it never uses machine translation - an extremely important feature in international news analysis. Powered by a robust named entity recognition (NER) capability, the platform ensures that you get the most accurate insights quickly and effortlessly.