10 Sentiment Analysis Features To Look Out For
Sentiment analysis is a type of data analytics that deals specifically with text that expresses various forms of emotions - from love to hate. An emotion mining API with its precision-laden sentiment analysis features prompts the digital transformation of organizations through their big data. Big data needs to be leveraged and so it must be mined for insights that companies can use to formulate solutions and strategies for growth. After all, to be data-driven does not just mean data-gathering but truly understanding it as well.
What is Sentiment Analysis?
Some of the most useful insights are opinions and feelings that customers and consumers express about their purchase journey and experience. The process of extracting and scoring this type of customer data is called sentiment analysis or sentiment mining.
When applied, sentiment analysis rates chunks of such text data as positive, neutral or negative. It empowers you to understand your customers, employees, or patients better - regardless of your industry or countries. This is how a good multilingual sentiment analysis software can help boost your business intelligence and build brand reputation.
What are key sentiment analysis features?
Key features that are essential in a sentiment monitoring tool are multilingual efficacy, precise aspect-based sentiment analysis, named entity recognition, and an effective visualization dashboard. The following list has more details on the features and benefits you should look at, if you are in the market for a sentiment analysis tool.
1. Speed and Scale:
One of the most important sentiment analysis features is speed. If you have decided to invest in any automation, it's usually because you want to do something faster and optimize efficiency. In sentiment analysis, speed refers to the velocity in which a platform can analyze pieces of content (social post, video email, survey answer, etc.) per second.
Realistically a sentiment analysis tool should process no less than 500 posts per second for sentiment. It should also be able to handle millions of API calls per day, allowing developers to process API requests in parallel, and in bulk, to improve throughput. To put it in perspective, Repustate's sentiment analysis tool can process 1,000 comments per second. It can also easily scale from 1 to 10,000,000 and to 100,000,000 documents and beyond.
2. Accuracy:
Another key criterion in sentiment analysis features is accuracy. The accuracy of a text analytics API or a sentiment analysis platform can be summarized as its ability to precisely score the sentiment expressed to various degrees of accuracy. Sentiment analysis scoring uses a range polarity of -1 (negative emotions) to 1 (positive sentiments). For example a post such as "I hated my haircut, it's brutal", should return a score of -1 for precision. "I love my new car cuz it's super-fast" is expected to have a 1 scoring.
An accurate sentiment model or engine powered by machine learning usually begins with a baseline accuracy of no less than 75%. This depends on the degree of text complexity, after training with relevant sentiment analysis data sets that number should rise to no less than 90%. The Repustate Sentiment Analysis Tool gives a much higher accuracy rate. It is deeply enriched by its named entity recognition capability and can identify millions of entities across 22 languages in just a few milliseconds. All contributing to its impressive precision.
3. Aspect Based Analysis:
Consumers often touch on many aspects of a product or service. Complaints or praise for price, quality, or ease-of-use can all be mentioned in one comment. Sentiment analysis at the aspect level first determines which categories are being mentioned, and then calculates the sentiment for each of those categories. When compiled in aggregate, across a large number of reviews, the strengths and weaknesses of a product or service surface quickly, and actionable insights become instantly obvious.
A major highlight in sentiment analysis features, Aspect based sentiment analysis (ABSA) is by far the quickest way to get insights and gain a more nuanced understanding of your customer's opinions. That is why Repustate's sentiment analysis tool uses meticulous aspect-based sentiment analysis, which means you can get multiple sentiment scores for each text document, varying in sentiment from positive to negative. It is also highly customizable, which means it will be unique in its fit to your business.
Discover More: Amazon review analysis
4. Multilingual:
Another one of the vital sentiment analysis features, tied closely to accuracy, is an API's multilingual capabilities. This simply means that the robust tool you choose should be capable of scoring in many different languages. This feature should not be based on translations. Rather, each language - Arabic, Chinese, French, Dutch, German, etc. - should be processed by its machine-learned model based on native language rules. True multilingual abilities deliver a much higher degree of accuracy, allowing you to better serve your multiple markets while empowering you to quickly grow into other countries.
At Repustate, our multilingual sentiment analysis software has integrated part-of-speech taggers, lemmatizers, and specific sentiment models for each of the 23 languages and dialects it supports. These language-specific tools decipher words, industry jargon, feelings, and the emotional tone of words expressed in texts from not only text sources but also videos and images. It is for this reason that our API gives higher-accuracy results while processing languages as diverse as Finnish or Arabic, compared to other tools that might have equally good sentiment analysis features.
5. Social Media:
In today's world of social media, a world-class sentiment analysis platform should be designed just for social media. Made for emotion analysis, it should be able to understand the meanings of things like emojis, short forms, and slang. It should be trained to deal with the nuances of social media vernacular, be it Twitter, Facebook, Instagram, TikTok, or YouTube. If a solution possesses this aspect amongst its other sentiment analysis features, it can even break down hashtags into their individual words and analyzes them for sentiment (#ihatemylife => I hate my life => negative).
Repustate's sentiment analysis API gleans all the information you are looking for in social media listening and takes customer feedback management to another level. Importantly, our software also understands social media slang, industry-specific jargon, hashtags, as well as emojis and emoticons. This is key for emotion mining from social media.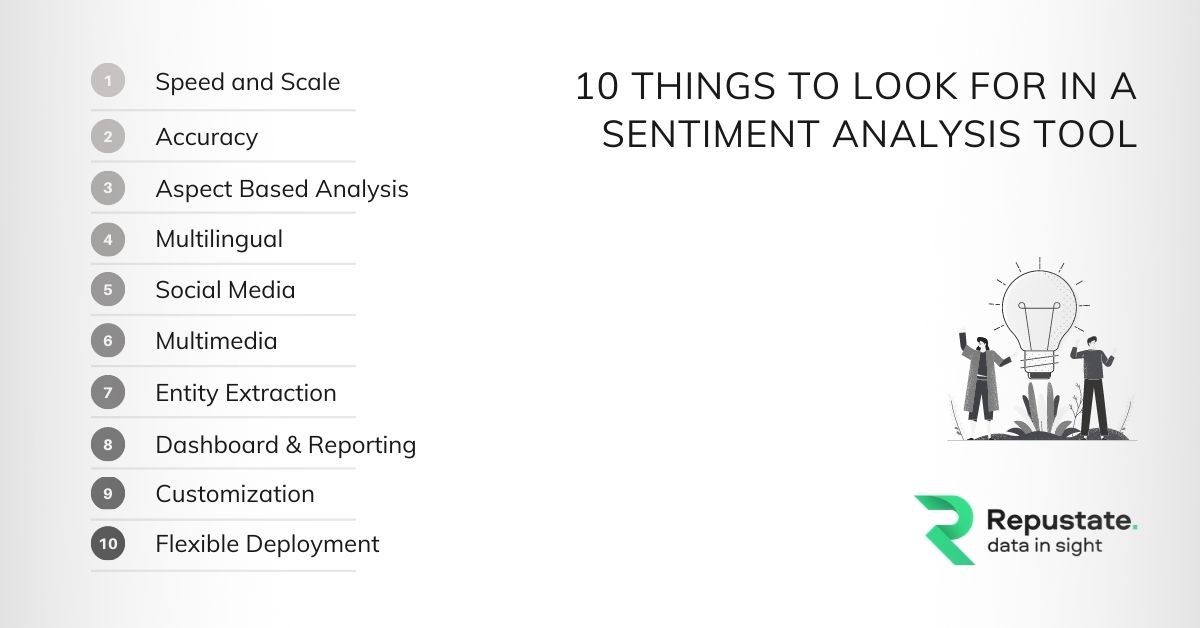 6. Multimedia:
Your sentiment analysis tool should not be limited to only text data. It should also have the capability to perform sentiment analysis on audio and video data. Video analytics is one of the most complicated challenges of sentiment analysis. Regardless of the complications, it is the most rewarding feature of sentiment analysis API. It enables you to discover and analyze topics, themes, and entities from social media platforms like YouTube, Facebook, Tik Tok, Instagram Live, etc, or audio-based data like podcasts, radio, call center log
Repustate's intuitive tool has multimedia comprehension capabilities as one of its key sentiment analysis features. That's how it extracts information from text as well as video data. It uses video content analysis to identify brand logos that appear in videos in the background imagery or even on a t-shirt someone is wearing. This way it creates a thorough and complete analysis of the video content relevant to you.
7. Entity Extraction:
Amongst its class-A sentiment analysis features, the best sentiment analysis tool should also be intelligent enough to detect and classify any entities mentioned in a block of text. Entities are the names of people, businesses, brands, products, locations, or other things of note. It also should have the ability for entities to be added regularly in all languages. Entities can be known in one of many ways, as aliases that can occur. For example, FB, Facebook, FaceBook, $FB all refer to Facebook Inc.
Thus entity extraction provides the most granular and useful results possible. Repustate's sophisticated text analytics software studies data at a granular level through named entity recognition (NER) technology. Our engineers have built a collection of 6 million entities and 300 classifications. This means that our metadata is so detailed that it gives you more than just a name, unlike other solutions in the market.
8. Reporting Dashboard:
One of the most important of all sentiment analysis features in an API is one that is directly meant for the user i.e. a customer dashboard for easy insight reporting. Are you looking to make sentiment analysis insights easy to analyze and actionable? Then make sure your solution provides a visualization dashboard that gives you unparalleled insights into your data for strategic decision making. It should give you the ability to track and simplify complex data sets.
By using charts, graphs, and tables, your business can gain quick insight into current performance and future trends. You can predict what your customers will want, when they want it, and grasp emotional motivations that will assist in making better business decisions. Repustate's Sentiment Analysis Dashboard makes this possible. With its simple, easy-to-use format, it provides you with uncomplicated reporting for all your data and insights in one easily accessible environment.
9. Customization:
Sentiment mining, while integral to many industry verticals, cannot be bought as a "one-size-fits-all" solution. The type of sentiment analysis approach you decide to choose should cater to your individual needs and your industry's while allowing you to tweak and customize its sentiment engine according to your own needs. This is one of the many sentiment analysis features that you need to look out for when deciding upon an API.
Customization inherently leads to greater accuracy and relevancy of outputs. A flexible sentiment analysis tool should allow you to cater its engine to your industry-speak, product names, important entities, and specific semantic nuances. That's why Repustate's solution is highly flexible and customizable - so it fits your needs more efficiently. It can be personalized to your industry, environment, location, and demographic. All this, without disrupting the efficacy of the solution, nor its processing speed.
10. Flexible Deployment:
Whichever sentiment analysis API or tool you decide on, it should offer you the flexibility of deployment. An on-premise solution, although a bit more expensive, provides greater flexibility, reliability, and security. Alternatively, cloud software removes the pressure of maintaining and updating systems, allowing you to focus your time, effort, and money into fulfilling your core business capabilities. Because of these factors, Repustate's Sentiment Analysis API is available as both an on-premise installation and as a cloud API. We know that your data security is as important as having a seamless workflow.
Discover More: Types of sentiment analysis.
An API with the best sentiment analysis features
Repustate's sentiment analysis engine is supported by the world's most efficient named entity recognition (NER). The intuitive sentiment analysis solution comprises all the top ten sentiment analysis features noted above and is driven by its NER that is the foundation of the engine's deep semantic search capability. Because of this, the model gives a stellar performance in the four most important areas - accuracy, granularity, languages, and speed. The very fact that our sentiment analysis API supports more than 23 languages natively, tells you how painstakingly the corpus for each language has been manually curated and tagged by our data scientists over a decade, and the model trained to achieve more than an 85% accuracy rate.
At Repustate, we understand that product support is as critical as all of the above-mentioned features expected of a great sentiment analysis tool. That's why we provide our clients, worldwide, with personalized and meticulous product support - from custom API calls to one-off features. We offer the kind of expertise that not only comes with years of complex research in data sciences but also from listening to our clients' needs.