Tiktok Social Listening With Sentiment Analysis
Marketing & advertising has moved beyond traditional mediums like never before. User-generated social media content by consumers and influencers, especially on TikTok, is a gamechanger in influencing consumers. A company can thrive and outpace competition by smartly leveraging sentiment analysis of TikTok videos for rich business intelligence. In this article, we tell you how.
How to use TikTok Sentiment Analysis for Brand Insights
Today, user-generated content plays a bigger part in influencing consumer behavior than ever before. In fact, research shows that user-generated videos get 10 times more views than brand content. Platforms like YouTube and TikTok provide them just the right forum, even as businesses use TikTok as a marketing tool. And why not. However extraordinary the marketing, consumers still want authenticity in their product reviews and look to their peers for advice. As a marketer, whether you use TikTok for business or not, keeping track of thousands and thousands of hours of video content in related conversations is next to impossible. How then, do you extract any actionable insights from the seemingly never-ending explosion of data? TikTok sentiment analysis gives you important insights into your brand's performance.
TikTok as a marketing tool
Why is it that TikTok video sentiment analysis seems so pivotal today? The answer is simple. With over 800-million users and over 2-billion downloads, TikTok has quickly become the most widely used social video platform in 4 short years. It's a whirlwind of emotions from one swipe up to the next. It truly is the social mecca of user-generated content even as influencers and businesses use TikTok as a marketing tool. Even closer to home, it's one of those apps my teenagers, and even my wife, can't go without. They spend hours each day browsing through videos of funny pranks, lip syncs, recipes, reviews, fitness, beauty tips, art and entertainment. That's why this is a great opportunity for TikTok affiliate marketing as well.
With their short, bite-sized formats, these videos are almost as easy to create as they are to view, allowing for non-stop addition of new content and user engagement. With virtually millions of product reviews created each month, the platform has become possibly the most important source of authentic, user-generated brand insights in the world of social media. Imagine how TikTok sentiment analysis could open up a whole new dimension in social media listening for Brands to understand their customers.
All this drives home one simple point - TikTok videos and influencers propel purchase-behavior and the motivation to buy. This fact alone has driven thousands of brands as diverse as Amazon, BMW, MAC Cosmetics, and the National Basketball League to be active daily on TikTok to drive maximum reach and consumer engagement. It is one of the quickest and easiest ways for companies to use TikTok for business and drive awareness and sales, both online and in-store.
Learn more about finding TikTok influencers.
TikTok social listening using Sentiment Analysis
Sentiment analysis is a natural language process (NPL) used to identify, extract and analyze a torrent of data in the form of opinions, feelings, and emotions in social media texts and videos. Sentiment analysis evaluates posts and determines whether users are positive, negative, or simply neutral, in their opinions. It's a part of social media sentiment analysis that can spot, extract and score the most relevant brand insights buried in the tons of unstructured data spread across billions of social posts.
TikTok video sentiment analysis has deep value considering the millions of brand review videos consisting of audio, visual, text overlays, and captions on the platform. These videos provide an incredible opportunity for businesses to unearth how and why consumers feel the way they do about their products and services. Brands using TikTok as a marketing tool and otherwise can take this vital intelligence and apply it strategically to improve their products, channels, marketing, and overall customer experience.
This is why Brands love to mine for opinions. They want to bring essential audience insights form TikTok, buried in social media posts and customer surveys, to the surface. They want to understand how their customers feel about them, whether they are looking to establish the voice-of-customer, conduct market research, or monitor online brand reputation. In short, TikTok sentiment analysis is good for business.
Discover more: TikTok Social Listening.
How do you Extract Brand Insights from TikTok Videos?
The challenge marketers face today, is how to effectively extract vital brand insights from short-form videos on such platforms like TikTok. Repustate's sophisticated AI-powered machine learning (ML) and natural language processing (NLP) API extracts meaningful insights from these videos to give Brands using Tik Tok for business, precisely what they are looking for.
There are three components to how Repustate does TikTok social listening:
The audio channel
The caption overlay
Any branded content or imagery in the background
To analyze the audio channel, TikTok videos are run through a speech-to-text neural network (NN). The resulting text is then piped through the existing Repustate text analytics API for insights.
To detect the caption overlay, we trained our own neural network to do two things: a) detect whether or not there is a caption present and b) extract the actual text from the caption. In the image below, our neural network first detects the white speech bubble and then passes that onto another neural network to extract the text "and why do u dislike trump". That text is then sent to the Repustate's text analytics API for processing.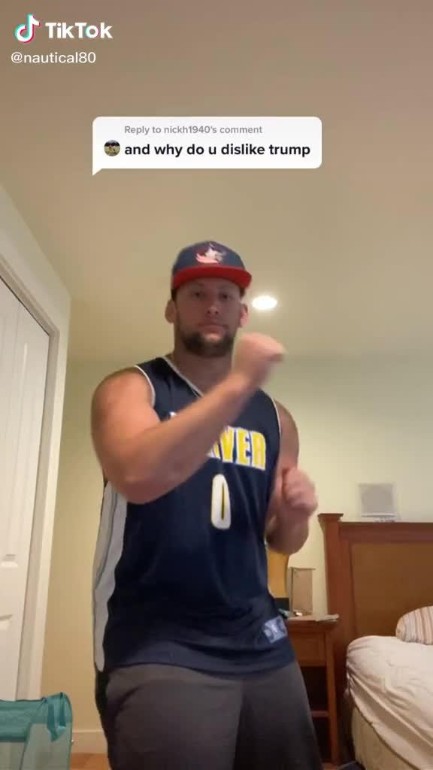 Lastly, we're able to detect prominent brands, people, or landmarks in videos. This is done by training a neural network to recognize logos, people's faces, landmark buildings, or objects, and then identify them in videos.
To accomplish both (a) and (b) above, the video is converted to a series of images. After all, a video is but image frames shown one after another in sequence, at speed. And so, in the end, a total of 3 to 4 neural networks are used to extract important insights for TikTok analytics for videos.
Learn more: TikTok for Business
Repustate's Video Content Analysis Tool
With Repustate's AI-driven semantic analysis engine, you'll be able to know what people are saying about your brand or product in over 23 languages. We can extract sentiment and brand mentions from videos on sites like YouTube or TikTok, and even dive into popular podcasts and other audio channels. Our intuitive video content analysis API will even identify brand logos that appear in videos, creating a thorough and complete analysis of the video content relevant to you. Access your video analysis over an API, or have results displayed to you in an easy-to-use and intuitive dashboard. At Repustate, we bring your data in sight.