How a Video Search Tool Works: Applications & Use Cases
A video search tool allows you to search and index videos to make them searchable for words, images, logos, and other metadata in video libraries. This means you can find information faster and more efficiently. Finding information online is relatively easy, most of it being just a search engine away. In other cases, you might need to use a specific tool to get the information you want. But what if the data you are searching for is in a video format? How do you find insights, whether they be employee, customer, market trends, survey analysis, or even specific references within a video repository?
Understandably, when it comes to video, search is a bit more complex than traditional text analytics-based sentiment analysis. However, an AI-powered automated solution could simplify this process. So let's take a closer look at how a video search engine works and its applications to see how a business like you can benefit from it.
What Is Video Content Search?
As the name implies, video content search allows you to search for videos based on their content. Because it eliminates the need to watch entire videos to find what you are looking for, it's especially helpful when you need to search vast video libraries. Moreover, by allowing you to search by using phrases and categories, it allows you to go to the relevant part of the video you require without depending on specific keywords.
Deeper into the article, you will read more in detail how a video search tool can do this through the process of video content analysis, which effectively allows you to conduct a search inside video data.
What Attributes Does a Video Search Tool Use To Make a Video Library Searchable?
When searching inside videos, a video search engine allows you to search a video library based on several attributes. This allows you to find specific videos or content far more easily. For example, you can get valuable YouTube, Facebook, or TikTok insights more easily, or even insights from your internal data like healthcare big data, or employee feedback interviews.
These attributes include: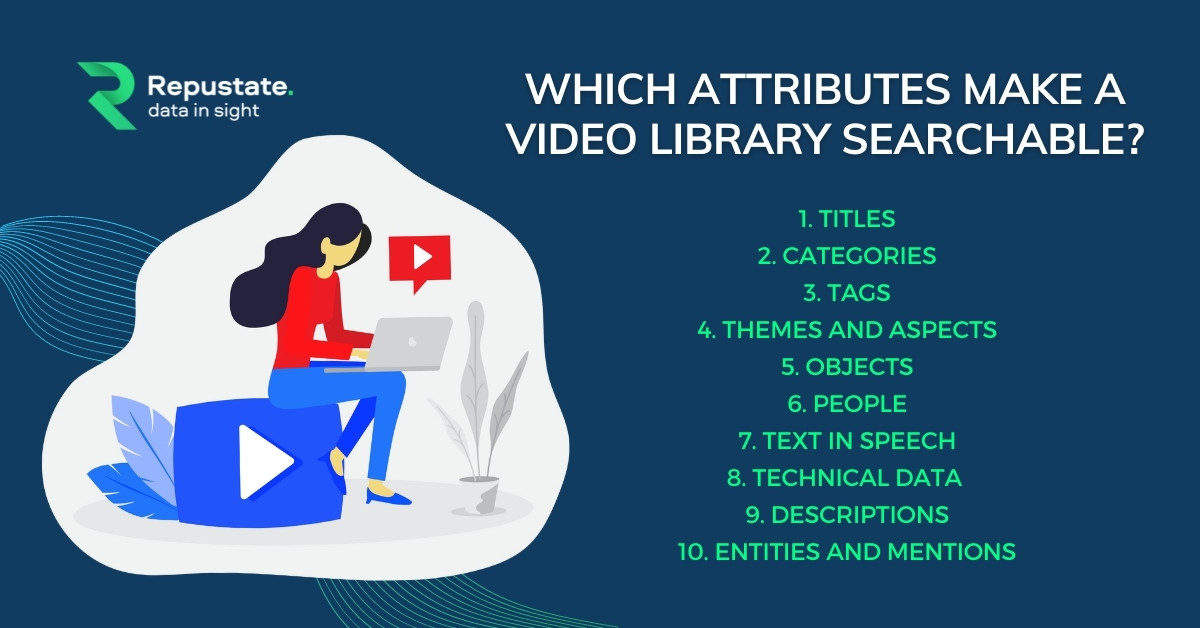 1. Titles
A video search engine allows you to search for the entire title or keywords in the title. Here, it's also able to remove common words and prepositions when searching, which allows it to provide you with semantically similar titles. This is especially helpful when you don't know the exact title of the video you're looking for.
2. Categories
With search inside video, you'll be able to search for specific categories in video content. It enables you to do this by scanning an entire library of video content and grouping similarly themed videos into categories.
3. Tags
You can search for videos, such as customer experience videos from social media listening, based on tags that have been added when uploading the video on the platform or automatically generated by AI algorithms
4. Themes and aspects
Through video content analysis, a video search engine can extract themes and aspects from videos. For example, this is helpful if you want to conduct voice of the customer analysis from video interviews done over the past 3 years and want to get insights only about aspects such as pricing or returns.
5. Objects
A video search engine can detect and identify objects in a video. You can then search for these specific objects. This is especially helpful where, for example, you're searching for something that isn't expressly mentioned in a video but rather shown or is present in the background.
6. People
With a video search tool, you'll be able to search for specific people in a video library. You'll then be able to watch the exact part of the video where the person appears.
7. Text in speech
By using natural language processing, a video search tool can convert all speech in the video to text. This, in turn, allows you to search for videos based on the specific content of the video. Suppose you were looking for TikTok customer insights, this attribute makes sure that you can actually analyze the video content itself for insights even if comments are turned off.
8. Technical data
With a video search engine, you'll be able to search beyond the content of the video and base your search on the technical data of the video. This feature is especially helpful when you don't know the specifics of the video, or you want an overview of all the data from the specific source like, for instance, the social media or video-sharing platform.
9. Descriptions
Through the process of video content analysis, a video search tool also analyzes the descriptions of videos. This, in turn, enables you to search for specific topics in the video library.
10. Entities and mentions
A video search tool can extract entities and mentions when analyzing a video by using a pre-trained model. These entities can then include anything from names, brands, locations, and the like which you'll be able to search for.
How Does A Video Search Tool Work?
If you are looking for a sentiment analysis API for brand insights for market outreach and organizational efficiency, you would need a solution that is able to leverage video AI, which begins with enabling a video searchable, in the first place. Let us look at how the video search tool works step by step, behind the scenes of a video search engine, to make this possible.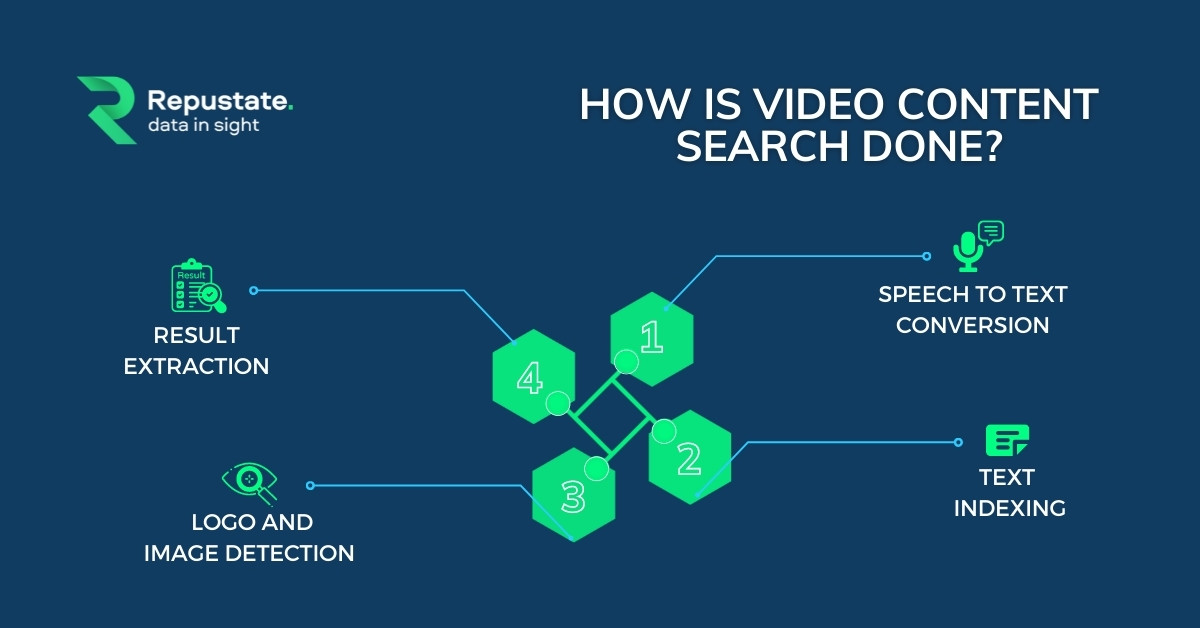 Step 1: Speech to Text Conversion
The process starts with the video search tool converting the video to text using a speech-to-text model. These models are built using neural networks and are unique to every language. This means that, depending on the tool, search inside video can be used in a variety of languages. For example, Repustate's search inside video tool supports 27 different languages and dialects.
Step 2: Text Indexing
Once the video search tool has converted the video to text, it will index the text, section by section. In other words, it will split videos into sections based on different parameters, like voice modulation, or a pause in speech. By analyzing the content section-wise in such a manner, the video search tool gets enough context to help it disambiguate different entities. This process also enables the video search engine to create timestamps for every keyword or defined entity in the video. It is, ultimately, these timestamps that allow you to search for specific content inside a video.
Step 3: Image Detection
Apart from analyzing the text as aforesaid, the video search tool is also able to detect and identify logos and images in the video. Here, the video search engine compares the detected images to the images categorized in a pre-trained machine learning model. This model is generally trained on a library of existing images and logos, which are labeled and annotated. Neural networks are used to pre-train these models in order to extract entities from these images based on their surrounding context and previous search histories. In addition, knowledge graphs, that contain millions of facts and data points about every entity, can provide even more context to the already extensive information.
Step 4: Extracting & Visualising Matching Results
With all the text and images in the video analyzed and timestamps associated with the defined entities, themes, topics, and keywords, the video search engine will enable you to search inside the video data. It does this by using named entity recognition that highlights the entities found at specific timestamps. As a result, when searching inside a video, you'll be able to find exactly what you're looking for at a particular specific timestamp.
Learn more about Repustate IQ sentiment dashboard.
What Are the Major Applications of A Video Search Tool?
Some of the major applications for a video search tool or video search engine include:
Podcasting
News monitoring
Knowledge management
Research
Business directories
Marketing campaigns
Smart devices
Academic archiving
Video editing platforms; and
Footage libraries
Discover more: Importance of Video Analysis
Business Use Case
Let's now look at some real-world use cases where organizations have become more efficient and effective through a video AI-based video search tool.
The David Allen Company uses Repustate's video search engine to categorize, manage, and organize their database of over 9 Terabytes of video content. This plays a vital role in the knowledge management of the company because this data is dynamic and grows every day. Read more.

Egypt-based mobile and web development company Appenza Studio used an AI-powered video search tool to create a learning app for the Egyptian Ministry of Education. Repustate's video content analysis solution first categorized the entire content repository of the Ministry according to language, subject matter, grades, etc, and then segregated the video data from the text data. It then made all video content available for search and retrieval in both English and Arabic. Read more.
Conclusion
A video search tool can be extremely valuable for your company regardless of your industry. For instance, it can help you with intra-organizational knowledge management, get insights from video sharing and social media platforms; or analyze healthcare data. It can help make your business more efficient, save time by removing manual intervention, and in effect, improve your operational management.
Based on this, and if you want to implement an intelligent search inside video platform in your business, Repustate's machine learning platform can help you take your business to the next level. With data insights available on an intuitive and feature-rich sentiment analysis dashboard, you can compare charts and graphs based on historical and current data, find emotion and aspect co-occurrence, and see what videos garner what kind of customer response for a more targeted marketing strategy.