Voice of the Customer Examples & Business Use Cases
This article showcases some of the Voice of the Customer (VoC) use cases in the real world and how VoC has helped companies grow.
If you're still not sure how useful a VoC approach is, and how it might apply in practice, read on to discover some real-world examples. We'll demonstrate that, rather than being an academic abstraction, Voice of the Customer tools provide a practical and thorough approach to data gathering.
In fact, as these examples will show, Voice of the Customer analysis may just prove of the most effective tool for insight into what your customers want, sometimes even before they do. And as a recent Forbes article pointed out, customer sentiment isn't static, it changes over time, so engaging in this research on a recurring program basis is vital. First let's make sure we're on the same page by clarifying what the VoC process actually is.
What are the Top Voice of Customer Examples?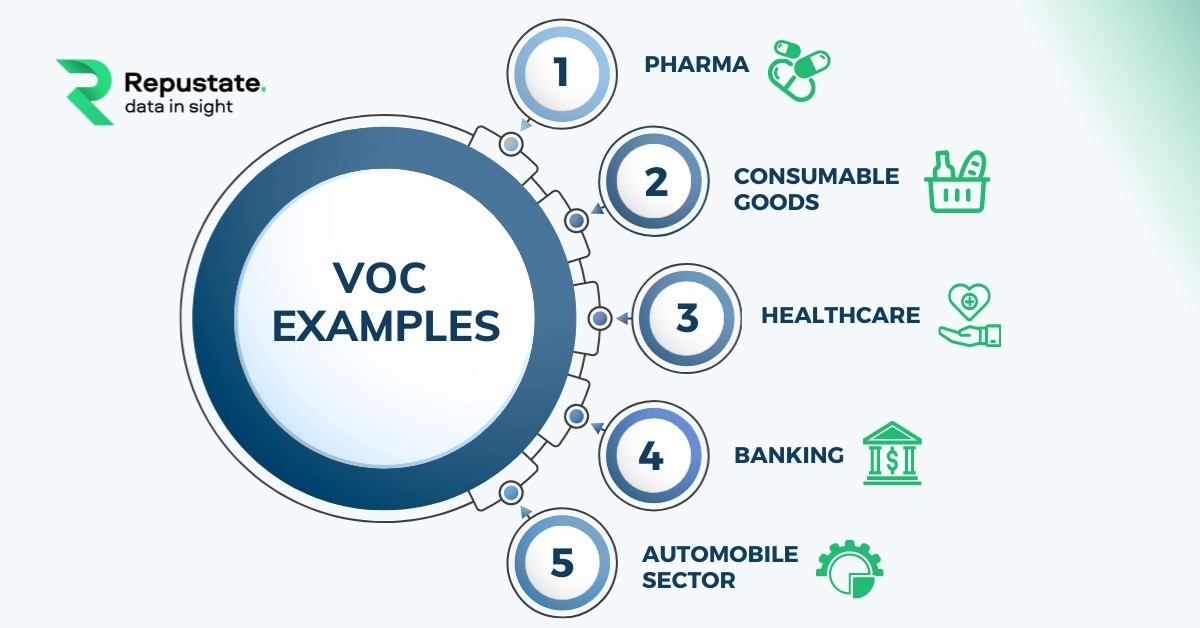 Here are the practical voice of the customer case studies:
1. VoC in Primary Healthcare
More than almost any other industry, healthcare provokes strong emotional reactions – hope, fear, anxiety, confusion, worry, relief, and delight. It makes sense, therefore, that this case study focuses on sentiment analysis, a method of divining emotion from the utterances of customers across different media.
Nahdi Medical is a major healthcare provider in Saudi Arabia with over 145 locations. It's one of the region's fastest-growing healthcare companies, offering radiology, oncology, cardiology, and pediatrics.
Nahdi invited feedback from both employees and customers and wanted to run VoC and VoE (Voice of the Employee) analysis on their survey documents and online forums.
Repustate first had to create a bespoke Arabic Sentiment Analysis AI, capturing the nuances, dialects, and linguistic structure of Arabic. This allowed the analysis to be applied to the source language, rather than to a secondary translation.
A two-stage process was adopted for text analytics. First a sampling of surveys was analyzed with NER (named entity recognition) and sentiment analysis. Comments which emerged most frequently were manually clustered into labelled aspects including pricing, quality, convenience, and appearance.
AI and machine learning took over at the secondary stage, analyzing the rest of the data and using the clustered samples as models for automated filtering. The result was a highly accurate and detailed picture of Nahdi's performance across a range of business concerns, and all achieved directly from Arabic sources.
2. VoC in Non-Profit Service Provision
This case study is about Peña Global, a research company who apply scientific and statistical analysis to consumer surveys, was working with the AARP (American Association of Retired Persons), who were designing a new diet plan aimed at elders. They were looking for a partner company to provide sentiment analysis on the open questions often posed in voice of customer surveys.
Open questions can be a problem for automation because the answers cannot easily be quantified and don't follow a predictable format. Peña Global wanted to ask older people for the pros and cons they'd experienced in existing diet plans, so that the AARP's plan could avoid common pitfalls. This is where Peña Global needed Repustate's assistance.
Repustate took consumer responses from surveys and Twitter replies and ran sentiment analysis on them to categorize them into key aspects. These included money, convenience, challenges, recipes, technology, results, and motivation.
Opportunities in technology proved a key takeaway with users responding well to fitness trackers, interactive apps and games that improve motivation. They disliked being sold expensive plans they were unable to cancel at short notice.
An custom sentiment visualization dashboard was created, drawing together the statistical results, sentiment analysis and key learnings. Peña Global and AARP received a more holistic, detailed, and practical analysis that they would otherwise have obtained.
3. VoC in Healthcare Data
Health-Links is a specialized consultancy in healthcare data analytics, based in Jeddah, Saudi Arabia (KSA). This voice of customer case study in about Health-Links strategical partnership with the KSA's Ministry of Health to improve overall healthcare within the Gulf Region.
There is a comprehensive and specific Saudi Complaints Taxonomy for healthcare queries, and accuracy is paramount in reporting any problems or concerns. Health-Links were looking for an accurate Natural Language Processing (NLP) solution to run sentiment analysis on various Arabic data sources. Unable to find a local automated solution, Health-Links were experiencing rising costs and delays working manually.
Repustate had already developed Arabic text analytics software and were able to adapt these to take the relevant taxonomy into account. Their sentiment analysis solution was trained on a sample data set and thematic groupings formed around the Ministry's standard classifications to find Patient Voice.
This holistic approach also managed to unearth new themes and discoveries, amongst the anticipated ones, leading the client to remark that "this definitely will help in providing Healthcare Leaders with insights to what patients are looking for."
4. VoC in Banking
If there's one industry that has seen rapid change and disruption in recent decades, it's banking and personal finance. With digital banks opening up and branches becoming ever more automated, it's a highly competitive space with a lot of potential for customers to respond emotionally or, in the worst-case scenario, vote with their feet.
Keeping churn rate low is one of the biggest challenges in the sector with banks offering a range of offers and bonuses to retain customers or steal them from competitors. Repustate's client wanted to get a step ahead of the competition by making this less of a guessing game and finding out what their customers actually wanted.
The Johannesburg bank in question wanted to perform comprehensive sentiment analysis on customer feedback, across both official channels and social media platforms. Their efforts included a hashtag-based campaign to ask customers what they loved and hated about their bank, which generated over two million pieces of text.
Faced with such a volume of data, Repustate had to work methodically. First, we collaborated with the client to create seven custom categories into which to sort comments. For instance, categories were created for fees and charges, branch banking and mobile banking comments.
Then NER was employed to break comments up into constituent parts and allocate a sentiment score (for positive, negative, or neutral emotional response). This allowed the client to identify clear themes within the data as well as provide a statistical breakdown of which areas needed the most intense focus.
From a huge volume of data came a very targeted set of insights, demonstrating the power of Voice of the Customer analysis in action.
5. VoC in the Automotive Sector
In car manufacture, product recalls are not uncommon. However, when there are too many, in too short a space of time, the brand reputation may suffer. This VoC case study is abot a major car manufacturer, that began to worry that its position within a competitive industry might be slipping due to negative perception.
The automotive company wanted to analyze the response to their latest recall on social media, product review, news, and commentary sites, and among ordinary consumers and car aficionados who acted as "tastemakers".
Repustate were brought in, and fifty blogs and social media sites were identified as data sources. Since this was an internationally recognized brand, text analysis had to be run in a range of languages including English, Arabic, German, and Spanish.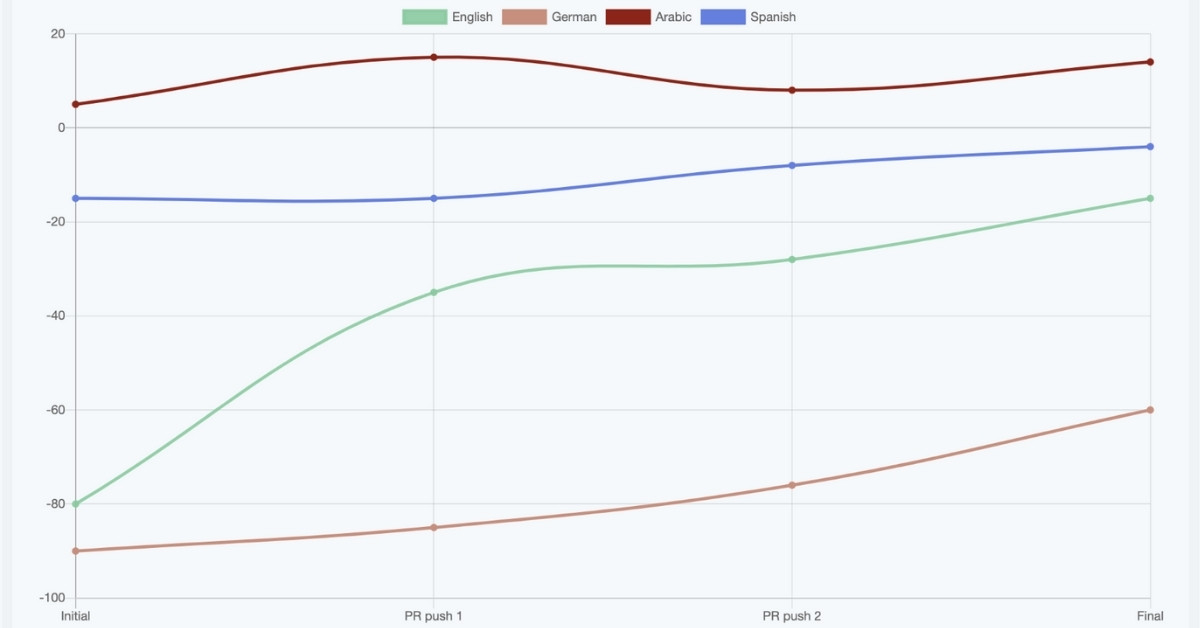 The client and its PR agency were keen to discover if there were differing perceptions across different regions. Repustate ran its multilingual textual analysis several times while the PR agency rolled out campaigns at periodic intervals to reassure the public that steps were being undertaken to address the issues thrown up in their comments.
The results were graphed over time, and for each of the four languages. Remarkably, the different markets displayed different responses to the PR campaigns, with Germans proving most resistant and the English most receptive. The analysis also revealed that the Arabic market wasn't adversely affected by the product recalls even before the PR campaigns ran.
Clear signals were extracted from the data which helped the client shape its PR strategies across different markets in the coming years.
What is the Voice of the Customer Process?
Before we go into the examples of VoC lets take a quick look into Voice of the Customer (VoC) process is a 4-step task that can be detailed as:
1. Identification of VoC data sources
Data sources can be direct, indirect, and inferred. Direct sources include surveys, call center logs and customer emails. Indirect data sources include social media videos and comments, review blogs and platforms, and news articles and videos. Inferred data sources include website data such as time on the website, time spent on a particular web page, conversion rate, purchase history, etc. Click here to learn more about Voice of Customer data collection.
2. Capturing the VoC data
Once the data source has been identified, it needs to be captured for analysis. We need a video content analysis (VCA) tool for this process that will help us examine all the available data, no matter its format - text, image, or video. This step itself takes place in 4 stages - Audio transcription; Caption overlay; Image recognition; and Text extraction.
3. Sentiment analysis
A machine learning engine processes all the data from the above step through a text analytics API and extracts all the entities and aspects. It then runs them through a sentiment analysis process. In this stage, positive, negative, and neutral sentiments are assigned for the entities and the sentiment scores are arrived at.
4. Data visualization
When all the VoC data has been processed for emotion mining, the insights are presented on a customer dashboard in the form of simple charts and graphs. This helps in focussing on actionable strategies that can be developed based on the findings.
Learn more about the Voice of Customer process.
Conclusion
VoC analysis is critical across a range of use cases, as these examples demonstrate. Whether the client needs a snapshot of how customers feel right now, or wants to track changing sentiment over time, VoC techniques are perfect for digging deep into the data.
Repustate are leaders in the field of Voice of the Customer analytics, working across a wide range of languages and the full spectrum of media. We use our bespoke sentiment analysis API and text analytics API to derive the insight that each client requires. Repustate also understands the need to demonstrate data visually. To this end, we use a variety of dashboards and reporting formats to present the themes and insights our processes generate.
We work much faster than many of our competitors and are always happy to collaborate with clients on new use cases, new methods of working and new languages. Above all, our team relish new challenges.