How to Master the Voice of the Customer Process (VOC)
Let us dig deeper into the voice of the customer (VoC) process and how to interpret customer voice from the current sources for capturing VoC.
VoC allows businesses (both B2C and B2B) to learn what their customers really think of them, as well as to identify aspects of the business which are underperforming, or where there are opportunities for improvement.
To gather this intelligence, various data sources are mined, depending on the nature of your business. There is a four-step procedure for identifying these data sources and gleaning helpful insights from them. Let's look at that in more detail.
Voice of the Customer Process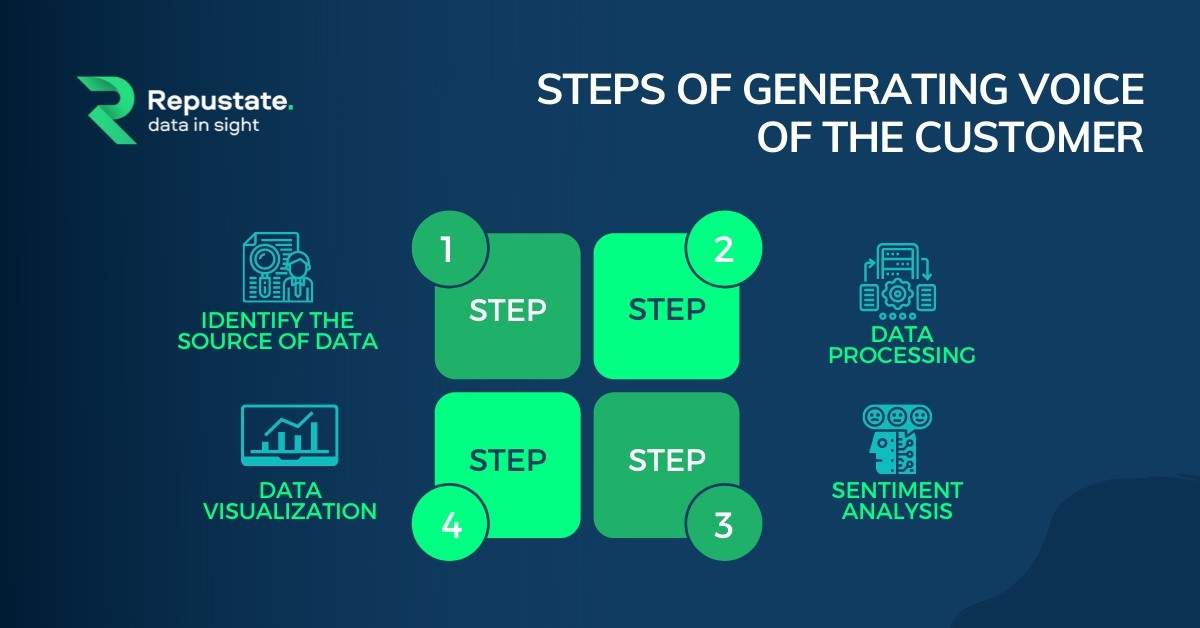 Step 1: Identify Data Sources
Depending on whether you sell primarily to individuals (B2C) or to other businesses (B2B), your data sources will differ. For example, LinkedIn is a great resource for brand mentions if you are B2B, while Amazon is useful for consumer products. Broadly-speaking, data sources break down into three categories – direct, indirect, and inferred.
Direct – Surveys, Call Centers, Emails
Direct sources comprise communications that are directly from customers like complaints, suggestions, and queries. Voice of customer Surveys and user forums set up by businesses are an excellent source of such data too, and so are customer care logs.
When users talk to one another about your product, or influencers promote or criticize your offerings, these positive or negative sentiments can be extracted and categorized by data savvy businesses. Similarly, news monitoring gives insights into what professional reviewers and industry journalists have to say about you. All this chatter can be harnessed with social media listening.
Inferred – Website Data, Purchase History
Time on the website, time on page, conversion rate and time, purchase history and items browsed but not bought - all these metrics give useful insight into where useful changes could be made. There are many other subtle indicators of user behavior which a clever data analysis tool can extract too.
Learn in detail about the Voice of Customer data collection.
STEP 2: Process the Data (Capturing Voice of the Customer)
Once you've obtained data from all three types of data source listed above, an immediate challenge presents itself – you have a large volume of complex data to deal with. There's far too much to analyze by hand and each source offers a different challenge, with different methodology required.
This is where you need a specialist data analysis API. Such a tool will analyze data across all media (data, text, audio, images and video content analysis) and present insights in an easily understood dashboard or report. It will do this in four basic stages:
Audio Transcription

Audio from video reviews, as well as audio-only content from support calls or podcasts will be transcribed using AI-based systems for speech to text translation. Repustate uses a system backed by neural network technology, mimicking the way humans learn to comprehend speech.

Caption Overlay

Any text overlaid onto video content (for example influencer reviews) is identified and extracted. It's always important to Search inside video for text you may otherwise miss.

Image Recognition

AI-based algorithms identify brand logos and signifiers (from content such as YouTube unboxing or product review videos) and extract these from still or moving image content, identifying the results as entities.

Text Extraction

Our text analytics API looks at comments left to video content, social media mentions and can identify and categorize the sentiments therein as positive or negative. It will even include hashtags and emojis. All these pieces of data are sourced, processed, and extracted.
STEP 3: Analyze for Sentiment
Sentiment analysis is the process of categorizing mentions and reviews from the above-mentioned sources, as positive, neutral, or negative, as well as drawing together trends in the data. Once the ML engine extracts the entities through text analysis and natural language processing tasks, it runs the data for assigning sentiment scores to them.
Setting polarity is essential here as it gives a benchmark. For example, +1 will be considered high polarity, and can be assigned to words like "delighted" or "excited". -1 is considered high polarity too but at the other end of the spectrum where it is associated with negative sentiment words like "disgraceful" or "bad". A really clever sentiment analysis API will also have been trained on idioms and phrases to understand figures of speech. For example, a phrase like "so, so, could've been better" will be recognised as meaning "average" and assigned a mid-polarity score like +.50. In this way, a gradual aggregate of customer and public opinion on various products and services can be created. Learn more about calculating sentiment score.
Over a period of time, the algorithm learns more and more about your business and starts correlating words and phrases to your entities and aspects. It begins putting things together by understanding context and thus gives more accurate readings of your data as time goes by through its iterative process.
The data is hard to interpret or share more widely within the company because it needs to be presented to a human in an easy to understand manner. That's why you will need a visualization tool.
STEP 4: Visualize the Data
All the insights gathered through the ML process mentioned above is presented by means of easy-to-read metrics combined in customizable dashboards and reports. Clients can decide which information to foreground, and what to leave off as irrelevant or inconclusive.
For instance, you might choose to focus on the online reviews of a new product, or on the uptake of a new service. You may wish to list the terms commonly associated with the brand, as a way of identifying its values and ensuring they are aligned with corporate strategy:
A FinTech provider of a SaaS product might want to emphasize how trusted it is.
A car brand may want to aggregate reviews of their new models.
A clothing retailer may want to know how quickly a new item is selling, compared to their competitors.
An R&D department may want a report they can use to inform the next iteration of their product.
Read more in detail about these Voice of Customer examples.
These are just four examples of how you might create different dashboards or reports to suit each use case or audience. Fortunately, Repustate's unique AI/ML API can do just that – offering you maximum flexibility to inspire your colleagues to make the necessary changes inside our customer insights dashboard.
After Insight: Action
Once the VoC data processing is complete, you'll want to review the user sentiments expressed and put together strategies for improvement. This process, driven by a data analysis API, will enable you to remain ahead of your competitors, align with customer opinion, and protect your public perception.
Repustate's sentiment analysis solution for Voice of the Customer analysis has helped multiple clients across industries. We have helped banks, automotive clients, and even FMCG companies understand their VoC data to develop stellar strategies for product and service enhancements.