Voice of the Customer Tools for Customer Insights
Using a voice of the customer (VoC) tool is the most critical element to retain happy customers and turn potential customers into loyal customers. But what exactly is VoC, and what are the best tools to explore to improve your customer relations and increase profitability?
VoC is an aggregation of the attitudes and beliefs that your customers hold about your brand. This shouldn't be confused with customer feedback, a direct source of information which constitutes just one element of the VoC mix.
Data scraping tools can be used, along with text analytics and sentiment analysis to create a composite portrait of how your customers see you. Here we'll rundown a few of the best tools for carrying out this research. But first…
Why do we Need VoC Tools?
There are several reasons to carry our VoC analysis. These include:
Identifying any mismatches between your intended profile and customer perception.

Discovering opportunities for expansion, including new product lines and services.

Better understanding the concerns and personalities of your core customer base.

Identifying common problems, errors and bugs for product iterations or patches.

Answering FAQs more effectively.

Providing ammunition for rebranding or changes to corporate strategy.
Click here to learn more about Voice of Customer benefits
What are the Top 10 Voice of the Customer Tools?
Here is our rundown of the best tools out there for VoC analysis
1. Repustate
Our own VoC offering includes everything from text analytics to video content analysis, social media listening to monitoring news sentiment and more. We mine data from a host of different sources and deliver insights promptly to help you identify pressure points in your customer experience.
Repustate's sentiment analysis solutions for VoC analysis have been used by a wide range of clients over an equally broad range of industries. These have included banks, healthcare providers, hotels and FMCG companies.
We help brands understand their VoC data and the trends they reveal, allowing our customers to develop excellent strategies for enhancing products and services.
2. Medallia
Medallia positions itself as a "voice of everyone" tool, because it includes employees, vendors, suppliers and other corporate stakeholders as well as customers. Medallia Mobile and Medallia Voices mix solicited customer insight from voice of customer surveys and unsolicited information from customer data and web behavior to produce a composite summary of stakeholder opinion.
This information can be displayed on mobile devices, allowing users to access up to the minute insights when out of the office or outside office hours (important when you have a global customer base).
The Medallia Experience Cloud combines sentiment analysis with mined data, to help identify trends, problems, and opportunities.
3. Clarabridge
Clarabridge aims to go beyond mere customer sentiment, into "effort, emotion, intent and root cause analysis." It offers a range of insights, displayed in dramatic and graphically simple dashboards and reports. "Effort" is especially interesting, breaking down how proactively engaged users are with your brand.
This results in analysis broken down into 21 different customer "intents" including such things as requests, praise and "cries for help". Clarabridge also have an 11-point sentiment scale, rather than the reductive positive/negative/ neutral common elsewhere. Overall, this is a good tool for getting granular data.
4. Confirmit
Helpfully, Confirmit leads users through a five-stage process for VoC analysis: First you identify business needs and issues for exploration.Secondly, users design a VoC program which suits those ends.Next, a multi-channel data collection process is enacted.Analysis follows, on both structured and unstructured data.Finally, actions are defined from the results gleaned.
The aim is to produce a "big picture" portrait of your brand. Because of its methodical approach, Confirmit is a good tool to try out if you're new to VoC analysis.
5. SentiSum
Primarily a tool for automating, analyzing, and allocating support tickets, SentiSum uses AI to attach topic and sentiment tags to complaints and queries. As well as tagging such elements as "late delivery" or "refund required", SentiSum's AI will also assign a priority, meaning you don't have to perform manual triage on customer comments and complaints. SentiSum integrates with Zendesk and Freshdesk and will transcribe and analyze voice calls too, for a complete picture of active customer feedback.
6. InMoment
Similarly to Sentisum, albeit without being a support ticket tool, InMoment works from the assumption that your brand has room for improvement. They use the term "experience improvement" (XI) to encompass product, service, and customer experience enhancement.
Like Medallia, InMoment looks at more than customer sentiment and includes employee needs and the requirements of the business at large, together with customer needs, to define effective performance.
InMoment has been adopted by more than 90% of the automotive industry and by more than 2000 leading brands, apparently. Their VoC tool is part of a cloud-based suite of AI-powered analytical tools. It is probably better suited to established brands more than recent start-ups.
7. Verint ForeSEE
Like InMoment, Verint ForeSEE offer access to a cloud-based set of tools including VoC analytics. It is popular with service, utility and retail-based brands and has been adopted by 15 of the US's major banks.
Verint also run research projects and their blog gives useful insight into the competitive ranking of customer experience within specific industries.
ForeSEE works via surveying strategies such as NPS (Net Promoter Score) and CSAT (Customer Satisfaction). It collates and analyzes such data and delivers it to the relevant teams, including providing real time alerting.
InMoment recently incorporated close rival product Wootric, building upon its offering by combining sophisticated data analytics with customer sentiment analysis.
8. NICE Satmetrix
VoC analysis lies at the heart of NICE Satmetrix, which describes itself as "the only complete and integrated holistic VoC solution." It is designed to uncover blind spots in your customer experience strategy, and does so at all stages of the customer journey by adopting an omnichannel approach.
One innovation of Nice Satmetrix is its automated agent workflows, helping improve your customer support and complaints functions. It's another solution that works well at scale and would suit businesses using call centers to handle a high volume of customer interactions.
9. CallMiner
As its name suggests, CallMiner is a speech analytics specialist tool. It provides a suite of apps and functions which carry you across the full customer journey. These include Eureka, which analyzes customer interactions at scale and Visualize, a dashboard outlining the customer journey in terms of emotion, reason for call, impact and more.
CallMiner has one of the cleanest sets of dashboards and reports we've seen, but is highly focused on the specific dynamics of call centers, so wouldn't be helpful if you're looking into passive or inferred sources of data.
10. Qualtrics
Boasting some big clients (Spotify, HSBC, Microsoft) Qualtrics will pull in data from "websites, apps, SMS, voice assistants, chatbots and more."
It's especially good with mobile data sourcing, with surveys, text, and email feedback at the core of its offering. It also includes such passive sources as social media and websites.
Qualtrics uses a "predictive intelligence engine" called iQ, to derive hidden insights from customer feedback text.
Get to the basics of VoC with Voice of Customer Template for practical use.
What is the Voice of the Customer Process?
There is a sensible structure to follow in any VoC program, regardless of which tools you are using. Her is the summary of what a typical process looks like this: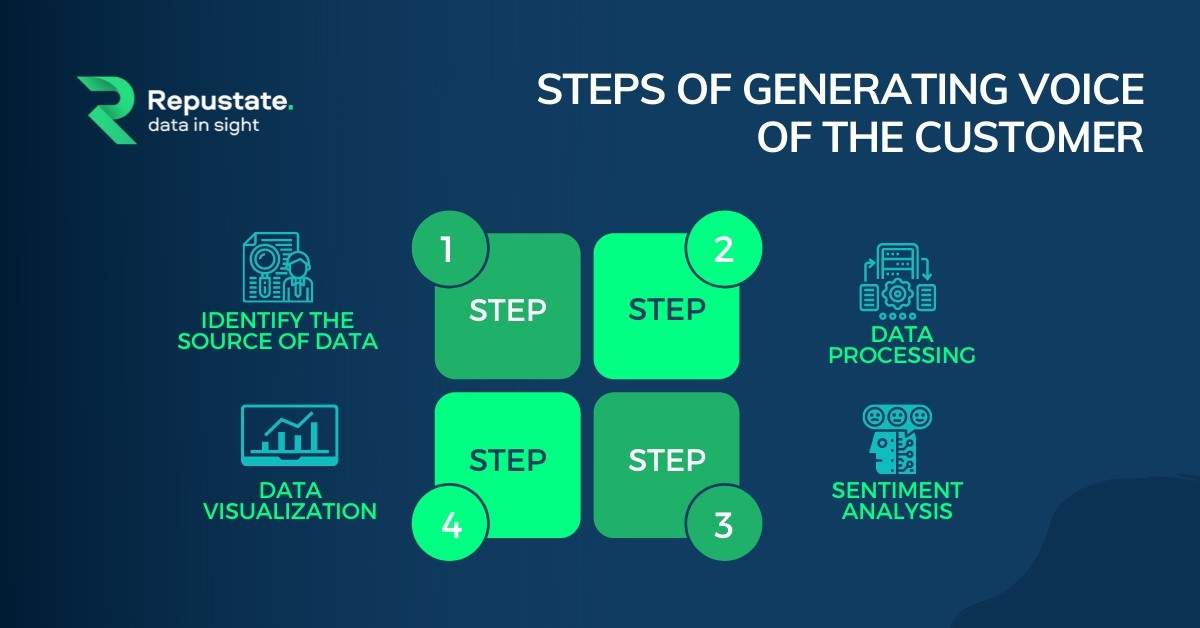 1. Identify your Data Sources
There are three areas to examine, including direct (the customer contacts you actively), indirect (information gleaned for social media platforms, news outlets et cetera) and inferred (data from sales / subscription uptake and other data sources). Click here to learn more about Voice of Customer data collection.
2. Process the Data
There you use various AI-driven analytic tools to interrogate the data, pulling out themes and areas for action.
3. Analyze for Sentiment
Looking deeper now, you try to derive themes based on the emotional states of customers interacting with your brand. Specialist AI and Machine Learning tools are used to reveal this deeper level of insight.
4. Visualize the Data
Customer insights dashboard is used present the conclusions derived from the above analytic procedures.
Discover More: Voice of the Customer process
Trust Repustate for Voice of the Customer Analysis
We believe we've created the best VoC tool on the market, primarily because it neglects nothing. Our VoC analysis tools pull both data-driven insights and sentiment analysis together, using the power of AI and Machine Learning (ML).
We neglect nothing – looking at everything from on-screen captions in YouTube videos to blog text, transcribed support calls, product reviews and much more. If the data is out there, you can trust Repustate to find it.
All these jigsaw pieces combine into a very detailed overview of how customers view your business or brand. We offer everything you need in one convenient package. Why not check out our Voice of Customer solution, or read some of our related blog posts?