Top Features of A Voice of The Customer Solution & How It Works
A voice of the customer solution collects customer feedback related to their needs, wants, and perceptions from different channels to generate actionable insights. Brands can use these voice of the customer (VoC) insights to tailor offerings to make sure that customers get exactly what they want.
In this article, we will look at what a VoC solution is and the top features a great voice of the customer platform should have. We will also have a peep into how the platform works.
What Is A Voice Of The Customer Solution?
A voice of the customer platform allows businesses to analyze customer feedback from various sources and gain valuable insights from it. Based on these insights, companies can then use the VoC solution to learn more about where they're performing well and where improvements might be necessary to products, services, or their overall customer experience.
What Are The Benefits Of Voice Of The Customer Analysis?
When you use an AI-enabled voice of the customer solution to analyze VoC data, you benefit from advantages like better customer retention, new market opportunities, staying ahead of market trends, as well as beating the competition. Let's look at the benefits in detail.
Targeted marketing campaigns

VoC analysis helps you truly know your customers, what they want, need, and expect from you. These can vary tremendously from one customer demographic to another. Therefore, this information can set the tone for the kind of targeted promotions, advertising, and loyalty programs you can offer.

Understanding your customers

With voice of customer analysis insights you can be certain of how your customers truly feel about your products, services, or customer experience. This will help you understand consumer behaviour, and prepare for a more strategic way to increase sales conversions.

Discovering new market trends

A voice of the customer platform will give you greater insights into new market trends when they emerge and as the market and customer expectations evolve. Knowing emerging market trends can help a company capitalize on them quicker. For example, Repustate's VoC solution gives invaluable TikTok insights that brands have used for marketing and advertising campaigns.

Differentiating yourself from your competition

Voice of the customer insights help you find out what it is that can tip the scales in favour of your competitor from a customer's point of view. You can take that information and use it to better tailor your products and services. You can also take a call if there is an area you need to stop investing in as the returns just don't make sense and it's not your USP compared to your competition, and instead divert your focus and investment towards what customers find truly unique about you.

Improving your products or services

A voice of the customer platform can show you the features and functions your customers want in a product or service offering. In turn, this allows you to make improvements to your products or services to better meet the needs of your customers.

Improve your customer retention rates

Ultimately, when you're able to offer your customers the products or services they really want, you'll be able to improve your customer retention rates. Moreover, a voice of the customer solution will also allow you to attract new customers and win back dissatisfied ones.
Learn more about the benefits of voice of customer.
What Are The Most Important Characteristics Of A Voice Of The Customer Solution?
Brands can enjoy the numerous benefits of VoC insights if they use the right voice of the customer platform. The best voice of the customer solution has certain features that give it the ability to extract accurate insights from customer feedback data. These important features include: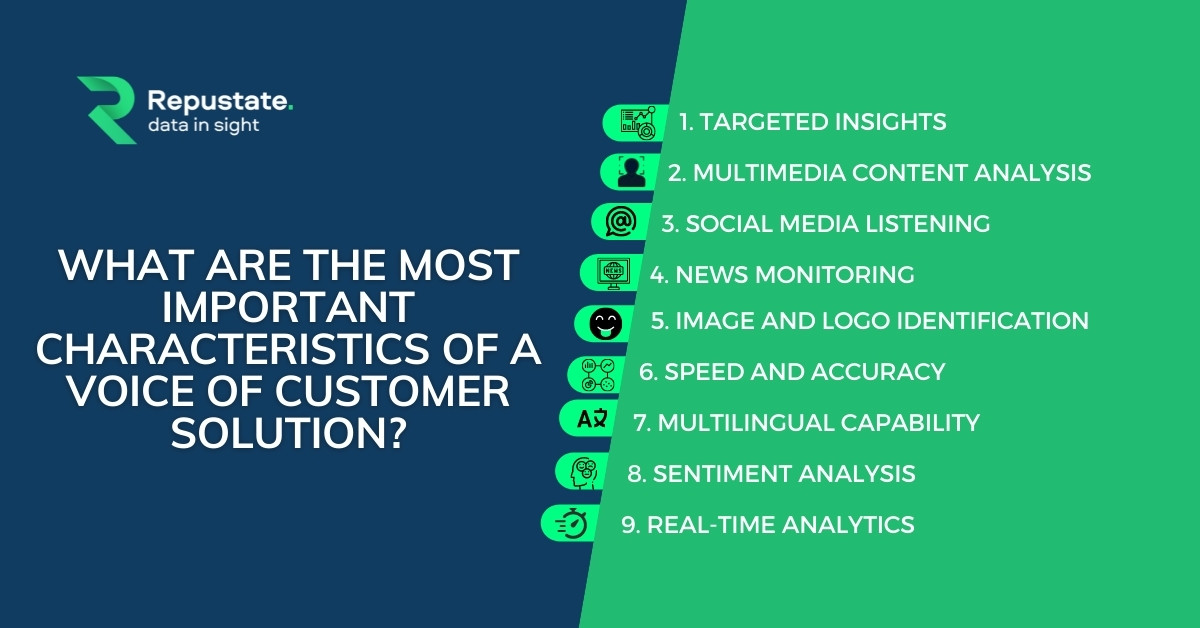 Targeted insights
The VoC analysis platform needs to provide insights based on your business goals and objectives. In other words, it must provide insights into those parts of your business that you want to improve.
Multimedia content analysis
The voice of the customer solution should be able to extract insights from data in any format. As such, it needs features like video content analysis, text analysis, audio analysis, and more. These features will allow you to discover topics, themes, and feedback from a variety of platforms.
Social media listening
With more people spending time on social media than ever before, it's understandable that customers voice their feedback and share their opinions about products or services on social media platforms. This feedback is not only in the form of comments but also user-generated videos. The best voice of the customer platform has video content analysis capability that extracts valuable insights from social media by extracting relevant information from hashtags, social mentions, emojis, and the like.
News monitoring
Social media isn't the only place where consumers mention and discuss brands and their products and you'll often be able to gain valuable insights from news sites, news feeds, and forums. As a result, the voice of the customer platform should have news monitoring capabilities.
Image and logo identification
An efficient voice of the customer solution will have the capability to identify images and logos in images and video content. This is especially helpful to identify your brand and products in social media videos. This ability to extract and give information on logos is very important for brand reputation protection, as well as to ensure that your logo is not used without your permission.
Speed and accuracy
The value of relevant insights diminishes as time passes and so for insights to be most valuable, you should be able to act on them quickly. The right voice of the customer platform gives accurate and relevant information without compromising on speed or scale.
Multilingual capability
Businesses can build a truly global customer base thanks to the advantages of e-commerce. This means that customers who buy your products won't necessarily be from the same location or speak the same language. This can also be the case of a small and medium business located in a metropolitan city like New York, or Toronto, which boasts millions of people of all ethnicities and cultures. The best voice of the customer platform therefore will definitely have the ability to process multilingual data so that you don't miss out on any information that can be vital to a particular customer base.
Sentiment analysis
Sentiment analysis helps you know what customers feel about a product's different aspects, or even the overall brand. For example, a brand may want to know how customers feel about the new design of the watch, its colours, sizes, materials used, etc. to get an idea as to what new ideas they can use for product innovations. They can also do the same by knowing what customers felt about their stay at a hotel, and the service they received. The voice of the customer platform should thus have sentiment analysis capabilities to be most effective.
Real-time analytics
Getting insights in real-time is a crucial feature that any voice of the customer solution should have. This gives you the insights you need when they occur, which makes it easier to react to them. The platform's integrated and extensive sentiment analysis dashboard can give you all the insights you need at a glance.
How Does A Voice Of The Customer Solution Work?
A voice of the customer solution extracts insights from customer feedback through machine learning that also comprises natural language processing and named entity recognition tasks. It is also enabled by a sentiment analysis API, which is what truly brings out the discoveries made by the solution from the overall data. A voice of the customer platform works in the following ways:
1. Gathers data from various data sources
These include direct sources like surveys and emails, indirect sources like social media and news monitoring, and inferred data sources like website data or a customer's purchase history.
2. Processes the data
The voice of the customer platform will process the gathered data. Depending on the data source, this can include processes like video content analysis, audio transcription, text analysis, image recognition, search inside video, and more.
3. Analyzes the data for sentiment
Once the voice of the customer solution has processed the data, it will analyze it by categorizing customer feedback as positive, neutral, and negative. It will also draw together any trends in the data and, in the process, give you a complete view of your customers' opinions and feedback.
4. Visualizes the insights
After the analysis of the data, the voice of the customer platform will present the insights gained from the data in a set of reports and on its sentiment analysis dashboard.
Learn more details of how a Voice of Customer process works.
Repustate IQ For Voice Of The Customer Analysis
There's arguably no better way to improve your products and increase your profitability than by listening to the opinions and feedback that should matter the most for your business - that of your customers. Repustate's voice of the customer solution, Repustate IQ, offers all the advantages through the top features and more, mentioned above. The platform has helped numerous clients in discovering market trends and enhancing company efficiency and productivity across industries. Access these client success stories for real-life examples of how a video AI-powered, voice of the customer platform from Repustate can boost your business.
Repustate helped the American American Association of Retired Persons (AARP) in developing a new diet program by listening to what customers had to say about existing diet programs like MyFitnessPal and Weightwatchers.
Repustate helped a band in Johannesburg better its productivity by listening to customer feedback. The bank made holistic changes to its banking services including bank timings to ensure that customers did not have to turn to competing banks. Not only did the bank see an increase in footfalls but also an increase in customer retention.
Repustate's voice of the customer platform helped an automotive company handle a PR crisis by giving accurate and targeted information on customer feedback from specific geographical locations with different languages including German and Arabic.
Repustate helped Nahdi Medical enhance the offerings at their pharmaceutical chains to give customers the best service possible, thus increasing Nahdi's profits and reputation across the Middle East.
Get all the information you need about a voice of the customer solution for your business.