8 Sentiment Analysis Real-World Use Cases
One of the most effective ways to measure marketing and branding campaigns is to analyze consumer sentiment around them. Sentiment analysis of your brand gives you tangible data to review your strengths, weaknesses and business opportunities. Let's see in-depth, what sentiment analysis is and what it can do for your business. As well as, eight real-world examples where companies have used sentiment analysis as a business strategy for growth, brand insights and competitor analysis.
What is Sentiment Analysis?
Sentiment analysis is the process of identifying feelings and emotions expressed in words, through Artificial Intelligence. Sentiment analysis in business empowers companies to spot negative or positive sentiments about their product or service with precision, and take necessary steps to address those areas. Through the millions of comments and opinions that are posted in social media chatter, online surveys, reviews, and even videos, businesses can find insights and know exactly what's expected of them and act in real time.!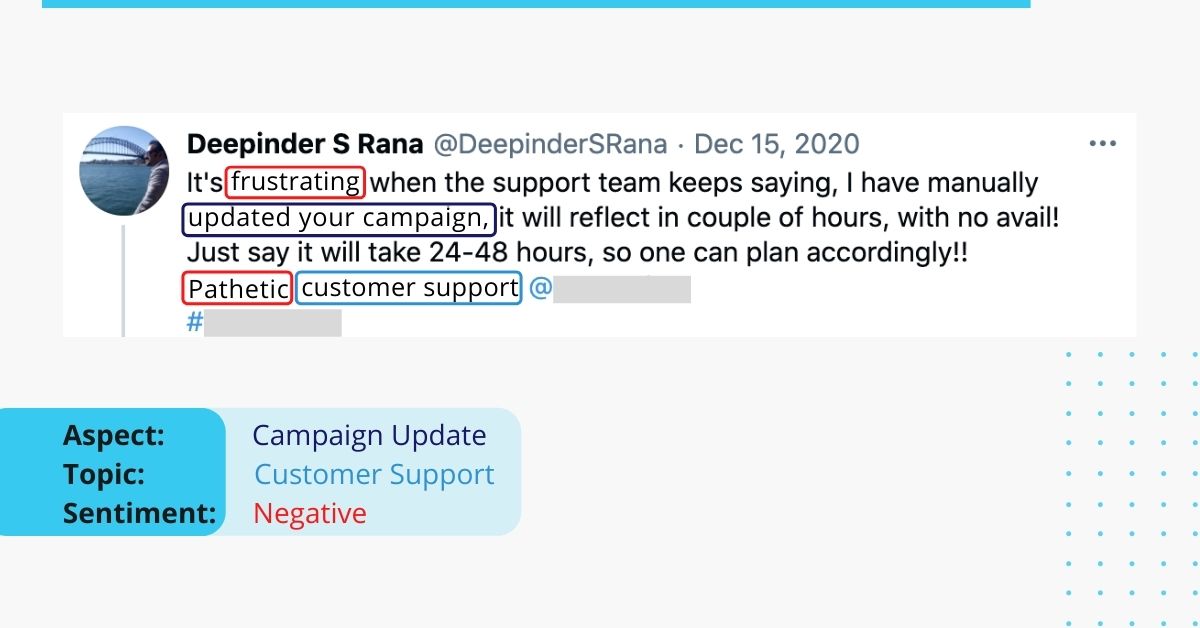 Sentiment analysis can benefit almost any area of business. Whether it's in politics where political parties try to better gauge electoral outcomes for the future, or finding out which hotel offers the best value for a budget vacation, sentiment analysis in the real-world is becoming increasingly pivotal.
Click Here to Learn About Sentiment Analysis Applications.
What Are Real-World Examples of Sentiment Analysis?
Almost every industry, company or organization today is going through some form of digital transformation that results in greater and greater quantities of both structured and unstructured data. The biggest challenge that companies have is turning their unusable, unstructured data into useful insights that can help them make data driven decisions, create operational efficiencies, value improvement, and overall competitive advantage. Any industry can benefit from text analytics and sentiment analysis, as all industries collect data and require that it is transformed into actionable, tangible intelligence that can be applied to drive change. Here are some real-world use cases of sentiment analysis across industries and geographies that demonstrate this.
1. Sentiment Analysis in Banking
Region: South Africa
A bank headquartered in Johannesburg, South Africa, was concerned about its perception in the market. Owing to a great churn rate due to cut-throat competition, the bank wanted to make sure that its customers did not turn to other banks. Repustate's clever AI-powered sentiment analysis API extracted all the data from the 2 million texts collected from the social media campaign run with hashtags over 3 months. It used named entity recognition and deciphered the true meaning in the intent of a comment. It then presented the resulting insight into a sentiment visualization dashboard for ease of understanding. See image below: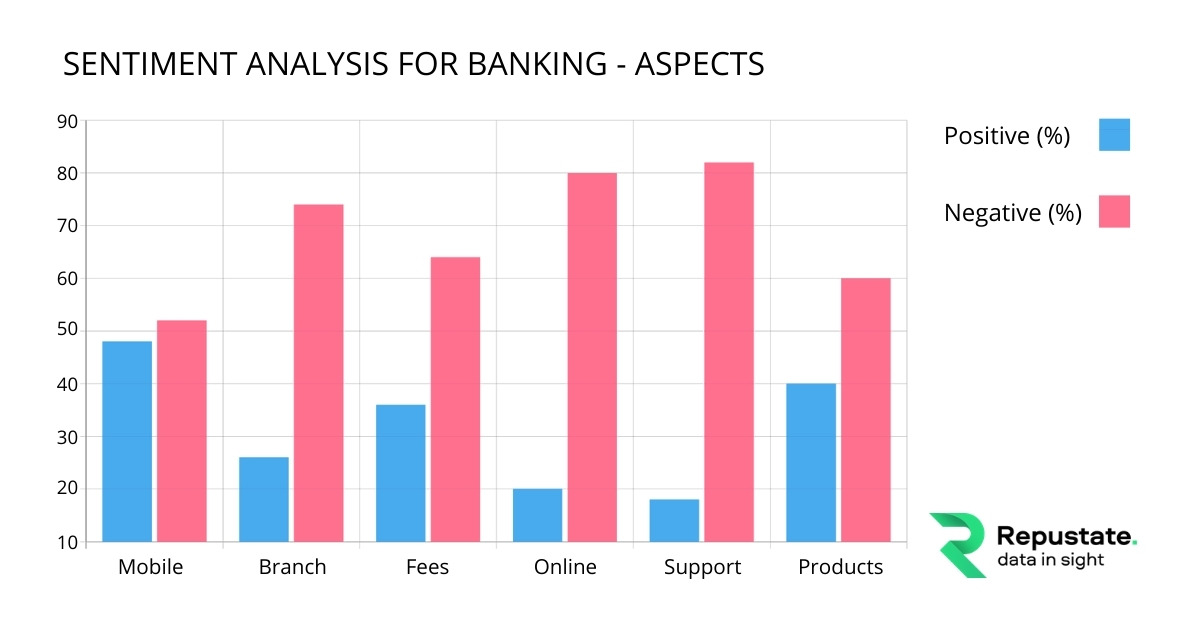 The bank noticed that most complaints were about not receiving any service at particular branches during lunch time. With the information in hand, the bank was able to address the customer issues. It ensured that its branches not only had more tellers during high volume hours, but also never had unmanned teller stations during peak traffic times such as lunch time and after-office hours. With these new systems in place, not only did the bank see a reduction in attrition, but also an increase in new customers.
2. Sentiment Analysis in Call Centers
Region: Europe
A European mobile network operator wanted to integrate its call center software so it could track and analyse all customer service representative (CSR) interactions. They wanted to get a sense as to what the tipping point of a certain number of negative interactions was, that was causing customer attrition.
Repustate's robust sentiment analysis software analysed each stored call. They were first converted to text using an intricate speech-text program and then decoded to look for semantic meaning in relation to products and services. All this data was further broken down into a granular level to check if a customer sustained a negative overall sentiment below a certain score. If the software identified this, a text message was sent to the customer apologizing for the inconvenience and they were also offered discounts and other promotional offers.
This was not all. On subsequent calls with the CSRs, a historical data would get pulled up from the database, and so the CSR was able to offer the customer promotions and enquire if they were happy with the service. Applying sentiment analysis in business for voice of customer analysis not only increased customer satisfaction but also created more goodwill, leading to more customers for the bank.
3. Sentiment Analysis in Healthcare
Region: Saudi Arabia (KSA)
A large healthcare consultancy company called Health-Links, based in Jeddah, reached out to Repustate because it needed help in its efforts to improve the overall quality of healthcare in the Gulf region including villages. The company locates the invisible dysfunctions and gaps in care services and maps every phase of the patient's journey at a hospital with thorough, data-backed information. They wanted a sentiment analysis solution that could read and analyse Arabic text accurately without using translations, and have the scalability and speed to process 12 million surveys, at the least.
Repustate provided Health-Links with a scalable sentiment analysis solution, powered by Arabic NLP. The platform could analyse terabytes of Arabic surveys annually and was also customized to fit the specific topics and aspects in the Saudi Complaints Taxonomy. Since now manual data processing was replaced by the implementation of Repustate's sentiment analysis API, the company was no longer wracked with high costs and inefficiencies. The insights were more accurate and results, faster. Additionally, the sentiment analysis model also discovered new topics and themes from the data that the Ministry of Health was earlier unaware of.
4. Sentiment Analysis in the Government Sector
Region: Asia-Pacific
A great example of semantic analysis in business is when Repustate was approached by a government ministry in Asia-Pacific. The government wanted to increase the efficiency of its public services and be proactive in order to serve its citizens better. It wanted to know the main issues that citizens faced, ranging from traffic jams, to erratic service at the passport office. The government wanted to ensure that not only were the problems solved, but that citizens did not face similar problems in the future.
Because of Repustate's semantic analysis solution's unique ability to analyse languages natively, it was able to accurately analyse every single piece of information that came in from the government's data centre. Aspect based sentiment analysis was further applied to the data to further segment it into other subsets based on gender, time of day, nature of the comment, and other variables.. Armed with this information used for semantic clustering, the solution offered predictive analysis. Being able to make good decisions based on historical data allowed the government to be more agile, efficient, and approachable.
5. Stock Sentiment Analysis
Region: Asia-Pacific
A large Hedge Fund Company specializing in the Asia-Pacific market wanted to analyse market data in real time. The main problem they faced was that most of the information that came across through newswires and other sources was in Mandarin. High volatility in the financial market means the need for lightning quick reflexes to make transactions in sub-second frequencies is intense. But not being able to make sense of the data, doubled down by the language barrier, was causing the Hedge Fund company serious problems. Repustate was able to provide the company with a solution to this issue.
Repustate's agile sentiment monitoring solution's multilingual entity extraction capability allowed the company to build a real-time dashboard that covered market sentiment and share prices for different debt instruments and equities. Strategic sentiment analysis in business gave the finance company real time insight into the tone of the market based on price movements of the securities traded. It also combed through news articles churned throughout the day that could affect the financial market, and allowed the company to prep for a dip or surge in the market, at a moment's notice.
6. Sentiment Analysis in Market Research
Region: North America
A new healthy snacks food company wanted to get a clear picture of its business prospects in the market it was trying to enter. Not only did they want information about what people usually had for snacks, but also what they thought when they heard the word "snack". To make the survey as unbiased as possible, the questions asked for open-ended, which meant that there was no ready list of snack brands that could be crossed out.
With data comprising thousands of answers, Repustate's sentiment analysis API was able to data mine all the open-ended questions in seconds and give meaningful insights. It not only gave an average of what food brands were being mentioned more frequently, but also who the new company was competing against. Knowledge is power, and so having this information at hand allowed the new entrant to develop specific strategies regarding its product roll-out and which segments to target.
7. Sentiment Analysis in Hospitality Industry
Region: North America
An international travel website company wants to know how best it can give personalized suggestions to savvy travelers by going beyond star ratings for hotels, spas, motels, bed & breakfasts, and other such establishments. In an industry with very high competition and extremely picky customers, it's not easy keeping in tune with the changing trends in the travel sector. The company needs to make sure that it can transform millions of hotel reviews into nuggets of key information and provide not just stay recommendations but also help customers plan an entire itinerary.
Repustate's advanced natural language processing based semantic analysis technology helps the client in this ambitious endeavor. Another sentiment analysis example is Repustate's hotel aggregator engine which enables a "smart" search that gives an overview of all hotel reviews based on aspect-based sentiment analysis. The platform recognizes and extracts the semantic aspects of each hotel's reviews. It then assigns an aggregate sentiment score to each hotel according to every semantic category present in the reviews (quiet, convenient, clean, etc). In this way, a customer would be able to see a hotel based on categories he is interested in, and not just based on star ratings, which can be based on very generalized criteria.
The same concept is applied to for Review sentiment analysis in a restaurant chain based on star ratings. When reviews for a restaurant were processed by Repustate's sentiment analysis platform myopically through an aspect-based approach, it noticed that even though the restaurant had 4.5 stars on Google My Business, there was a lot that customers were unhappy with. This solved the puzzle for the client who couldn't figure why business was slowing down despite a high star rating.
Through granular insights from aspect-based sentiment analysis of the restaurant reviews, Repustate's platform was able to find out that customers were unhappy about things that ranged from burnt pizza to very late delivery times. With these actionable insights on hand, the client was able to make the changes necessary to ensure client satisfaction and an increase in business.
Discover More: Amazon review analysis
8. Clothing Retail Industry Sentiment Mining
Region: North America
A clothing retail giant wants to analyze customer sentiments for changing industry trends and to stay ahead of competition. It approaches Repustate for a holistic view of its problem area and looks for in-depth semantic insights from social media websites, especially user-generated videos from TikTok. Repustate's sentiment analysis and video content analysis solution studies thousands of TikTok videos and comments. It analyzes them for TikTok trends and identifies patterns matched with user personas through semantic clustering and natural language processing techniques. The client now has deep insights into customer behaviour based on a number of factors such as age, geography, language, pricing, fabric, design, etc. Thus he is able to keep a tab on trends and stay ahead of the curve.
With an advanced TikTok social listening tool based on video AI, the retail giant can now use all this information to leverage its branding and marketing strategy as well. It can choose to have a single campaign, or have multiple ones based on the different factors it has new insights on.
Learn about the Top 10 Sentiment Analysis Features that will help you identify the best sentiment mining platform.
Why is Sentiment Analysis Important for Businesses?
Sentiment analysis turns unstructured data into meaningful information. It is powered by Machine Learning - a part of AI that runs on algorithms that propel the software to keep learning and improving itself automatically through experience. Unstructured data gathered from social media listening, chatbots, medical and call centre transcripts, survey responses, and the like, can be powerful reservoirs of intelligence. They can guide focused, strategic change for overall improvement in a brand's value proposition, brand experience, and value delivery.
The insights gained from sentiment analysis can help a company bring accurate change and transformation of their business. It can be in areas that are either creating the most negative sentiment such as product features, price, return policies, customer service, or prices, or areas that stakeholders are most positive about such as net banking, price match, and such. Overall, these strategic measures help businesses:
Become more competitive
Attract new customers
Retain present customers
Sell more products and services
Reduce customer servicing
Make customers more profitable
Improve marketing messages and campaigns
Learn more about sentiment analysis applications.
What are the Benefits of Sentiment Monitoring?
Sentiment analysis examples in various industries with real-world requirements, prove that the advantages of sentiment monitoring are pivotal to a modern-day organization. So to sum up, along with the areas mentioned earlier on, the three broad areas in which sentiment monitoring can bring huge return on investments for businesses are:
1. Product Insights:
Like the case of the new entrant in the health food market, it's absolutely essential for a brand to know what about its product works and what doesn't. No matter whether it's a luxury watch manufacturer or an automotive giant, keeping abreast of what customers feel about the brand and what they expect from them, is as important for business growth as maintaining prestige.
2. Market Trends:
Able to predict the future based on high-precision artificial intelligence is the next frontier in business. From predicting a fall in oil prices due to an impending political instability in a region, to knowing which programmes will be popular in which markets for an over-the-top content platform like Netflix or even the BBC - the areas in market trend that sentiment analysis can cover are innumerable. Checkout this example of how TikTok trend analysis is done in clothing retail sector using video content analysis tool.
3. Competitive Analysis:
Having an edge over your competitor means having all the information about how they affect you, at your fingertips, at any given time. Sentiment analysis in business allows you to find gaps in your marketing strategy, manage your brand reputation, and zero in on key areas where customer sentiments are positive or negative. Companies can work on audience engagement, contextualize and granulate key performance indicators, and build better messaging for their marketing and advertising campaigns.
4. Brand Perception:
Knowing your customer and understanding them, is very important for building and maintaining a positive brand perception. Sentiment Monitoring empowers a company to do this. It guides a business in their influencer marketing campaigns, helping them choose the right channels. A great example of sentiment analysis in real-world, would be Unilever's Dove Real Beauty Campaign. The idea behind the campaign, gathered from insights garnered from thousands of surveys, was to build the brand's perception as one that is positive, inclusive, and encouraging of women and children regardless of colour, size, or age. Through its marketing campaign, Dove countered the harsh and unrealistic beauty standards perpetuated by beauty brands and fashion magazines. It's campaign focussed on building the self confidence of everyday people. The campaign was a resounding success all over the world, leading to a boost in public opinion,and enhanced brand loyalty and customer base.
Discover More: Types of sentiment analysis.
At the end of the day, businesses can grow only when they truly understand the people using their products or services. This in itself is a momentous task as the human experience comes with a wide range of complicated emotions and interactions. Artificial Intelligence gives us the capability to delve deep into not only segregating these emotions, but also creating a threshold on which to use this emotional intelligence as a benchmark. Repustate is able to bring this intelligence to light via a simple, easy-to-use, sentiment analysis dashboard, where businesses can not only view the data, but track and simplify complex data sets too. The monitoring tool can also help businesses gain a quick insight into current and future trends by converting the data into charts, graphs, and tables.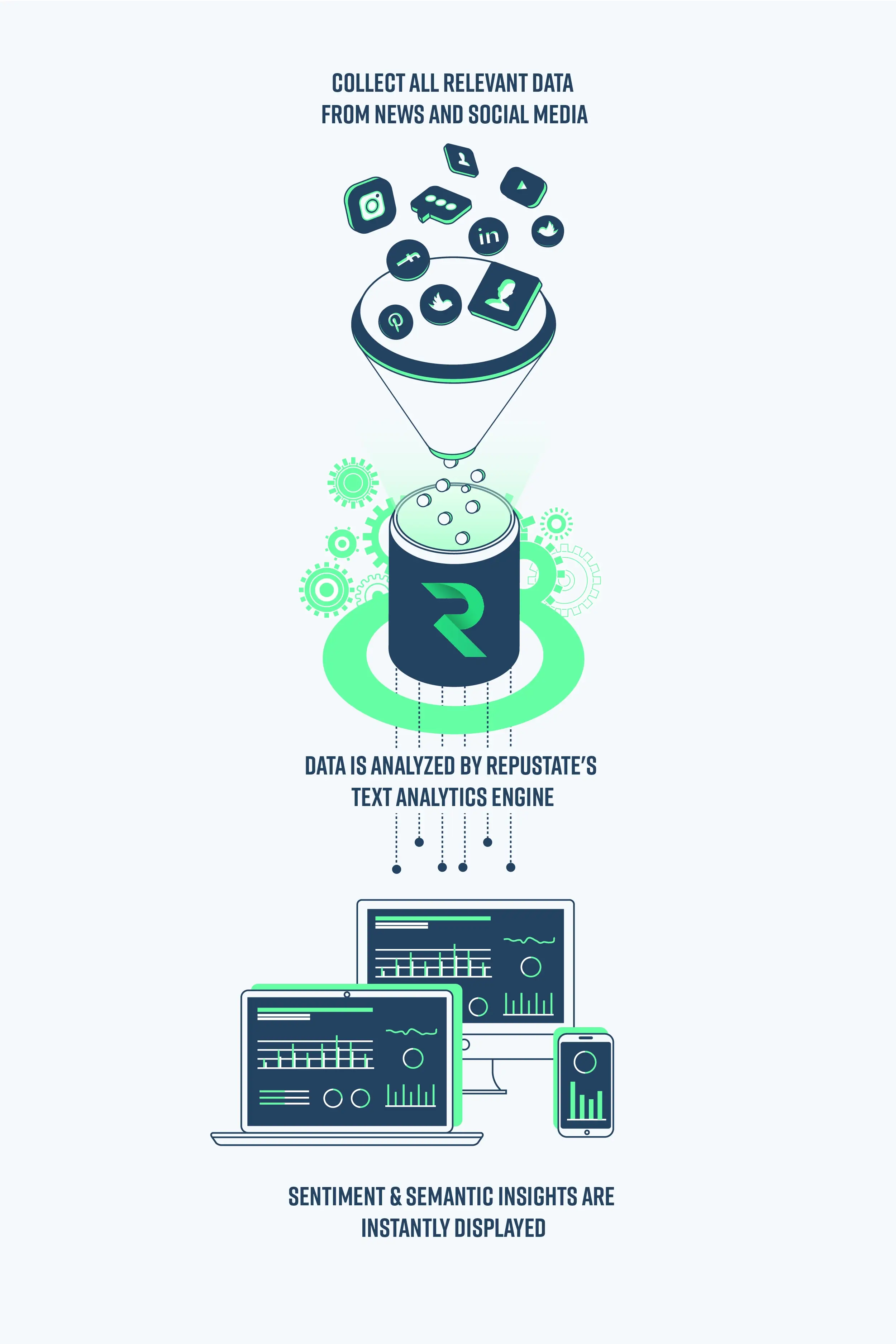 Repustate has been refining this craft of simplifying big data for clients for more than a decade. Through complex AI-powered, machine-learning based solutions for sentiment analysis in more than 23 languages that it analyzes natively, Repustate gives more accurate results, and with better understanding of the underlying problems.